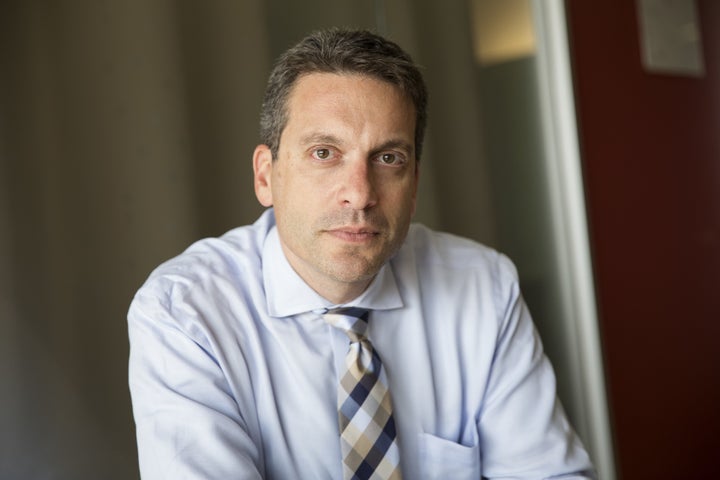 Clinical Professor of Psychiatry and Medical Education
Icahn School of Medicine at Mount Sinai
We huddle around the speakerphone in my medical school office in Manhattan, listening to the voice of a desperate woman in Texas whom we will never meet in person. I interview her, my medical student serves as loyal scribe and a bilingual volunteer on the other end translates the woman's Spanish for us.
We are conducting a psychiatric evaluation, staring at the phone in order to somehow picture her as we try to make sense of her psychological state: Is she depressed? Anxious? Suicidal? The result could make the difference between immediate deportation back to the mortal dangers the woman and her 10-year-old son fled in their native Honduras and release from a family detention center to pursue asylum here in America.
At the Mount Sinai Human Rights Program, we are often the last line of defense for immigrants who have failed multiple times to convince Immigration and Customs Enforcement (ICE) officers that they have a "credible fear of persecution or torture." The legal teams who work to help immigrant families at the South Texas Family Detention Center in Dilley, Texas, try to remain gracious and professional in the emails they send us for help. But the distress still comes through in their requests for "credible fear," evaluations, which go something like this: "I am writing today to see if your office would be able to do an urgent psych eval for a woman detained at Dilley."
ICE allows credentialed evaluators to interview detainees in person or on the telephone. We are invited to give our opinions on whether they have a psychiatric condition that is consistent with the traumas they recount and whether that condition could affect their ability to be coherent and collected during their interview with ICE. Holes in their "story" could arise from the effects of post-traumatic stress disorder rather than from dishonesty. We are not lie detectors, but we can say when someone looks the part of a traumatized (or resilient) individual and hence has a credible fear.
According to the Global Detention Project, a nonprofit research center based in Switzerland, the United States has the largest immigration detention system in the world, operating about 200 centers with a capacity to detain more than 30,000 immigrants at a time and detaining more than 600,000 immigrants in 2013. There are three family "reception" centers, and with 2,400 beds, Dilley is the largest in the nation. ICE expanded the capacity of Dilley and other centers in response to the increased flow of children and families from Central America in recent years. Four legal advocacy organizations question the expansion's legality, morality, and humanity, and have formed a consortium, the CARA Family Detention Project, which dispatches volunteer lawyers and paralegals to assist detained families.
In the case of the woman from Honduras, we found that she had both post-traumatic stress disorder and major depression, and thanks to the industry of my medical student, we completed a seven-page report within 48 hours.
But it was to no avail. Her final appeal, based on our report, was rejected by ICE days later, and she and her son were immediately deported to Honduras to face the gangs that had been extorting and menacing them. Our legal colleagues with CARA were especially troubled by this decision, because in deporting the woman, ICE had rejected not just our findings, but also the recommendation of the civil rights division of the Department of Homeland Security. This was a precedent which, the CARA team feared, reflected the increasingly anti-immigration policies of our country.
It is now more than four months since the mother and child were deported, and we do not know if they are alive. Our CARA colleagues could follow up by contacting her relatives in New York City. But the reality is that so many family detainees at Dilley need help, the CARA team is forced to move on, like wartime surgeons conducting triage. And, in truth, there is nothing more they can do for the woman, except send their sympathies.
Had the woman been deemed by ICE to have credible fear, she and her son could have remained in America while applying for asylum, a process that usually takes several years, rather than days, to unfold. There would be no guarantees in this next rung in the immigration process, but it would have extended both her time in the United States and her chance of never having to leave. Her attorneys would have likely called in psychiatrists to assist, because having a psychiatric evaluation can help the cause significantly. Being found to have medical or psychiatric conditions consistent with a human rights abuse has been found to increase the chance of being granted asylum in the United States from 37.5 percent to 89 percent.
CARA says it could help a lot more detainees successfully face credible fear interviews with ICE if they had more psychiatrists and other mental health professionals to work with. But our human rights clinic, like so many others in urban centers that are frequent destinations for immigrants, already has a backlog of asylum cases due to the shortage of volunteer psychiatrists—even in an epicenter of psychiatry like New York.
With the daunting exception of suicide, psychiatry typically is removed from matters of immediate life and death, focused more on how functionally and comfortably people lead their lives. But when psychiatrists and other mental health professionals become involved in immigration evaluations, lives do truly hang in the balance.
Calling all HuffPost superfans!
Sign up for membership to become a founding member and help shape HuffPost's next chapter