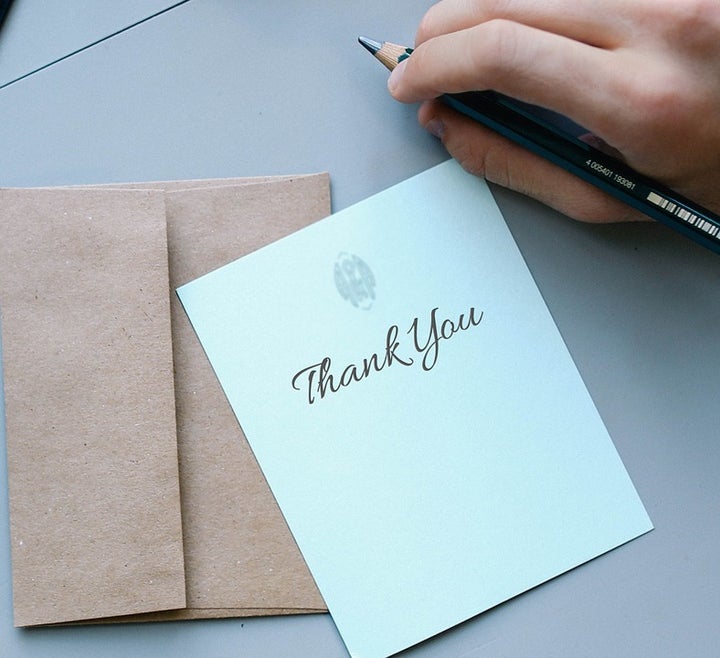 I'm a college student, and I just finished a job interview. But what do I do now? When is the best time to send a thank you note and why?
Sincerely, Confounded Graduate
The best time to send a thank-you note is within 6 - 24 hours after the interview. Period. Here's why: Think of a time when you did a big favor, something really nice for someone, maybe gave them a luxury gift or covered for them in a major way. A few weeks pass by, no joy. You wonder, are they ever going to thank me? How does this make you feel? Well, hiring managers are no different. However, the timeline for them to make a decision on the position is super-short, so this makes the timeline of an interview thank you note that much more important. Say you take the time to craft a beautifully hand-written note. It's all for naught when they respond, "We filled that position 5 days ago." Make sense?
I'm an Undergraduate, and I've finished an interview with a prospective business. However, it was over the phone. A thank-you note is important, but will a thank you note differ for a phone interview vs. an in-person interview?
Sincerely, Looking-for-a-job Undergrad
Dear Soon-to-be-hired Undergrad,
Yes, absolutely! A thank you note will differ dramatically between a phone interview and an in-person interview. Phone interviews occur without body language, unless it is a SKYPE call. Compare this to an in-person interview, where the interviewer, team dynamics and office setting are all observable and may be mentioned in the note. A note for an in-person interview is worded differently, highlighting your personal observations of the office culture and the team. In contrast, a thank-you note for a phone interview, emphasizes the auditory aspects of the conversation.
I'm currently unemployed, though I just completed my Bachelor's Degree. I've finished an interview with one very interesting company. I have a thank-you note draft done, do you think it'd be a good idea to send a thank-you note to an external recruiter since she's the one who scheduled the interview in the first place?
Sincerely, Hesitant Interviewee
Dear, Confident Interviewee,
Again, yes. It's an excellent idea to send a separate thank-you note because the external recruiter is your advocate and does their best to present you favorably. In your case, they are the first level of the interview process, and their opinion will determine how far your resume, CV, and recommendation will proceed – or not – in a job hunt.
Below is a sample template of what a thank-you note looks like. Remember to be timely, respectful, and observant of who to send your notes. Good luck!
Sharon Schweitzer's Thank You for the Interview Template
Personal Stationery
Your First & Last Name
Street Address• City • State • Zip Code
Telephone • Email
Interviewer's name
Company name
Address
City, State, Zip code
Dear [Dr., Mr., or Ms.] Interviewer's Last name:
Thank you for taking time from your schedule to speak with me about the [job title] position for [organization.] I enjoyed visiting with you and [interview panel]. I am excited about the opportunity to work with you in such a great [corporate culture] [start-up] [design studio] [medical office] [name of office].
Insert a specific sentence about the interview that was memorable such observations from your tour of the facility, interaction with the interview panel, discussion of the annual report, industry trends or challenges, latest developments that impressed you, or a clarification.
A sample paragraph might include: Based on our meeting at your offices earlier today, I believe that my qualifications are an excellent fit, particularly my [briefly describe one particular skill or ability linked to the position]. The position is just what I am seeking in terms of career opportunity. I'm confident that I can make a significant contribution to the continuing success of [company or department].
I look forward to the next step.
Related
Popular in the Community