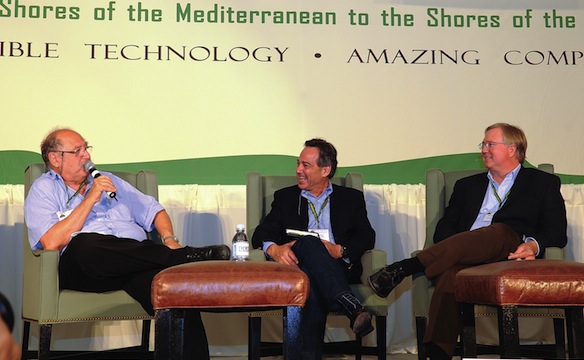 From left: Israel Conference co-chair Yossi Vardi, "The UnStoppables" author Bill Schley and Rackspace Chairman Graham Weston during the conference's "Fireside Chat." Photos by Angela Torres
The Israel Conference, held at the Luxe Hotel on Sunset Boulevard May 30 to 31, was the largest gathering I've ever seen of ... Israelis in suits.
Beyond that, the two-day event was a persuasive showcase of Israeli innovation and how companies from all over the world -- including Procter & Gamble (P&G), IBM and Deutsche Telekom -- are opening research and development offices in Israel to bottle some of the magic of the startup nation.
Organized around a series of panels on broad subjects such as "Big Data," "Mobile Everywhere" and "Smarter Cities," the conference was punctuated by very short presentations by individual company executives of new technologies. Outside the main conference room, booths (tables, really) were set up for companies that wanted to showcase their products or new technologies. Among them was SodaStream, the carbonated water dispenser that has made deals with Crystal Light, Ocean Spray and KitchenAid. (Admit it, you almost bought one at Bed Bath & Beyond!) SodaStream was the first Israeli company to have a Super Bowl commercial and boasts one of the most successful IPOs of an Israel-based company.
Looming over the Israel Conference was the big question: Are Israeli companies best suited to just being startups that develop new technology -- to be bought out by larger global companies who can better market and deploy and distribute their products -- or should these companies be allowed to mature in Israel, creating jobs and industry there rather than merely for export? It's a question that made headlines with Google's recent purchase of Waze, the Israeli traffic app, for what media reports have pegged at more than $1 billion and the promise that its headquarters will remain in Israel for now.
The answer, according to speakers at the conference, was: Both. Israel must continue to be a place where research and development is paramount, bringing new technologies and products to the market (and leading to large payouts for its founders). At the same time, Israel needs to develop a mature base and infrastructure for companies to keep their businesses headquartered in Israel.
The conference, which attracted more than 600 attendees, has become a major shmoozefest. I collected some 25 business cards -- almost all from CEOs -- and that was without really trying. There were American venture capital investors, gaming executives, even some former and current Hollywood agents. This was a room full of people talking about Israel with no mention of "the situation" or "the territories" or even the Charedi. (The most politically charged conversation related to income equality created by tech execs' exit packages.)
So what is it that makes Israel so conducive to successful startups? Lital Asher-Dotan, who established P&G's Israel House of Innovation, the company's first R&D center in Israel, spoke of the country's "culture of entrepreneurship, where everything is possible. They don't take no for an answer." Her P&G colleague, Sophie Blum, added, "Israel is global-oriented from day one, always forward-looking."
Shelley Zalis, CEO of Ipsos Open Thinking Exchange, a research firm, perhaps put it best when she said, "It's the chutzpah factor ... Israel is all about, 'Act now!' "
Dov Moran, an Israeli who invented the USB flash drive, said at the conference that innovation is not hard: "Look all around you. There are problems crying out for solutions!"
Moran explained that he got the idea for the flash drive when he was going to give a presentation and the technology failed and destroyed his presentation. After that, he vowed he would find a way to keep his presentation on him. Solutions to annoyances -- that's invention, he said.
In Israel, Moran said, "There are a plethora of good ideas fueled by a [vigorous] exchange of ideas."
So, what were my takeaways from the conference, which was organized by Sharona Justman, the managing director of L.A.-based STEP Strategy Advisors, and co-chaired by Yossi Vardi of Israel's International Technologies (founder and seeder of more than 60 high-tech companies, including the early instant-messaging company ICQ, now sold to AOL)?
Overall, it struck me that some of the most interesting technologies are not about inventing the wheel -- rather they just make the wheel roll better. So, for example, WalkMe can provide online how-to guides from a company in real time as you do any task -- saving companies on customer service calls, tech support and returns of merchandise. Pango, not only tells you about parking availability at public and private spaces in real time based on your location, but also incentivizes you to alert the service when are about to leave a spot by awarding points and prizes. Paperless Proposal is a collaborative platform for sending presentations. (Think of it as YouSendIt for PowerPoints.)
Here are some other things I learned at the Israel Conference: Most of the 3D motion technology (à la Wii and Kinect) was developed in Israel. Procter & Gamble has an office in Israel for R&D, as does IBM, which has been there for 62 of Israel's 65 years.
Apps are an $80 billion industry (that's with a "b"), and social gaming (i.e., Words With Friends) is 59 percent female and overwhelmingly mobile-driven, so there is a great need for more women executives and developers.
And there are 40 million dog owners in the United States, 80 percent of whom leave their pets at home for four hours or more and feel guilty about it. Wonder what that last statistic has to do with Israel? An Israeli firm is launching DogTV, the first channel of programming for dogs to watch while you're out of the house. Don't laugh (okay, it is funny) but Dish Network is going to beam DogTV into 20 million homes. So who's laughing now?
What was striking was in how many diverse fields Israelis and Israeli-developed technology are making an impact.
Ynon Kreiz, chairman of the board of one the top YouTube multichannel distribution networks and production facilities, Maker Studios, spoke of the emergence of video content as "a whole new revolution" delivered to people all over the world in real time. According to Kreiz, 100 hours of video are being uploaded every minute, and there are large fortunes to be made for small, even stupid jokes that people enjoy. (Don't believe him? Check out Snoop Lion -- formerly the rapper Snoop Dogg -- as Moses battling Santa in "Epic Rap Battles of History.")
In medical science, there were presentations from OraMed, which focuses on the oral delivery of medicines such as insulin; SureTouch, maker of a new, simpler device for breast exams; and Dario, a diabetes management system.
In a panel on "Smarter Cities," we got a look at Israeli company Mer Systems' control room for city-wide security and communication, which is being tested in Buenos Aires; and CanarIT, an inexpensive multisensor air quality monitoring system from AirBase.
Finally, there were some technologies I simply can't wait to use. There was Tako, a Dropbox for apps, which Ross Avner, co-founder and the former head of Yahoo! Games, says will be out of stealth mode in 2014 and which will allow you to access any of your apps on any of your devices or home screens. Appeo is a virtual services market that works 24/7 (there are several demos on YouTube). It will allow you both to have professional services performed, such as drafting a will or translating a document, and set up a virtual company providing those services. Then there's Magisto, an online video editing software that brings Instagram-like simplicity to making your videos look more professional.
I was particularly taken with Wibbitz, software that converts text into videos (i.e., you could be watching this article rather than reading it). Imagine that a search engine was automatically reading the article and grabbing images to go with it, while a voice-to-text software reads it.
And I am curious to see Moran's latest project, Comigo, an operating system that the flash drive inventor feels will not only topple Microsoft and Google but, in his words, "change the world."
No one at the Israel Conference even blinked an eye when Moran made that ambitious, impossible-seeming prediction -- not the American software and gaming executives in the room, not the venture capitalists and investors mingling outside, eating Israeli food or listening to the music of Steve Katz. It was a room in which, like proud Jewish parents, it was okay to boast, as if everyone there was family.
"What other conference," co-chair Vardi asked, "serves pickles on all the tables?"
Popular in the Community