Like many Angelenos, I'm grateful to local editors and journalists who do a stellar job of busting local government's bad guys, particularly the extraordinary reporting during the past year on the City of Bell.
But for balance, and perhaps to slightly tip those strongly anti-government opinion polls, what about including the occasional piece on some of the city's bureaucratic heroes? It's a radical idea, but I'll try to make a case for it.
As a former city hall reporter for the Burbank Leader, I had the chance to immerse myself in the ways that local government works well, and of course to view its shortcomings.
At the time, I was also a resident of the city about which I wrote. So, on a regular basis I might interview the public works director about street repairs or the installation of new traffic signals, only to see these plans completed a few weeks later. My news sources regularly demonstrated the way that policy, planning and implementation worked in serving city residents and visitors.
These are the same sort of folks who quietly keep things running all over the Los Angeles area by maintaining streets and street lights, removing trash -- all of the services that can be easily taken for granted, until they aren't working.
Here's the news story I'd pitch today if it weren't for the glaring conflict of interest it poses (hence, this piece is for the opinion section):
I date a man who works for the LA Department of Transportation. Over the past year, his office's staff was cut by 30%, and furloughs meant they functioned on a reduced work week. Each employee also sustained a 10% pay cut. And still, I revel over the successes he reports.
He tells me about the diligence of his office's staff. They do background checks on taxi drivers, inspect vehicles, and compile and analyze data that directly affects how our city is served by taxis - including having cabs available where they're most needed. By running undercover sting operations (I know, who would have guessed there'd be this much drama in the oversight of taxis?) they make sure that customers are fairly charged. The cab drivers' interests are also addressed through efforts like a bandit taxi program, in which LADOT and LAPD work together to ensure that phony cabs aren't heisting rides from licensed operators.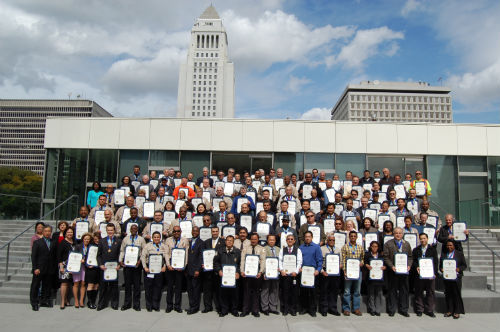 LA City Hall is the backdrop following a March 24 event to celebrate 244 LADOT employees who had perfect or excellent attendance records in 2010.
Credit: LADOT Photo by Christopher Rider
Call me a city government groupie if you like, but stories like these hearten me, and I have the suspicion that there are other people who might also like to know that some of their tax money is actually being put to good use. Since not everyone has the benefit of dating a city hall insider, isn't it only fair that some of the good news about local government gets disseminated?
It might just remind us all to be appreciative of the people who are getting our streets paved and keeping our lights on and to be patient when services take longer because the people who are trying to help us are so grossly understaffed.
When some Department of Water and Power staffers recently pounded away outside of my townhouse to rebuild the generator that lights up my building, I was grateful to them. They are evidence that local government, at its best, really does still exist to serve its people.
Support HuffPost
The Stakes Have Never Been Higher
Related
Popular in the Community