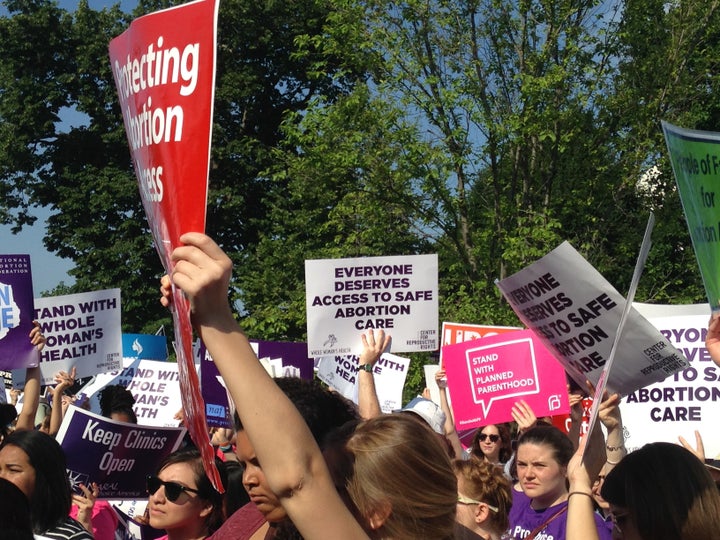 Showing up may not be half the battle, but it is critical to any movement.
Almost exactly three years ago, Texas state legislator Wendy Davis stood in her now iconic hot pink sneakers for 13 hours and filibustered S.B. 5, the Texas law imposing draconian restrictions on abortion clinics that threatened to shut off services to most of the state.
Even as the filibuster approached midnight, 400 people filled the visitors' galleries with an overflow crowd waiting outside. Like many others, around the world, I watched a live feed from a Texas news outlet on my home computer, rooting for Wendy Davis and, later, Leticia Van de Putte who also took up the cause.
Opponents of S.B. 5/H.B. 2 argued that if the legislation were to pass, abortion clinics around the state would be forced to close, depriving women (and families) of critical, legal health services—impacting low-income and immigrant women hardest. There has been no joy in saying, "I told you so," as the number of Texas clinics dwindled from 42 to 19, and several other states passed or considered similar restrictions.
In the interim, abortion care providers and women directly impacted by the Texas law took every opportunity to tell their stories, putting a women's face on a policy controversy that all too often is played out in dueling bumper stickers.
And these stories and experiences were an integral part of the Supreme Court case, Whole Woman's Health v. Hellerstedt. Women from Texas and advocates working with them spoke on a very cold morning on March 2 at a rally in front of the Supreme Court as the case was being argued inside.
I doubt that any of the hundreds of us gathered on that morning believed that our presence could influence the justices. We were there to show the human—woman's—face of the issue.
Again, today, on the very last day that the Supreme Court was issuing decisions for the 2015-2016 term, we showed up. As a matter of fact, many showed up on every day that decisions were being issued, just in case the Whole Woman's Health decision would be announced.
It was hard to believe that our shouts and jubilation when the 5-3 decision came down weren't heard inside the storied building. The crowd erupted in cheers and sang along to "We Are the Champions" blaring from the speakers.
I cried and hugged everyone nearby. The women who had just told their abortion stories from the small stage led the cheers. We were loud and proud!
I think back to Texas State Senator Leticia Van de Putte, challenging the leadership of the Texas Senate who were trying to force a vote despite Davis' filibuster, asking what a woman needed to do to be heard. Today, women were heard and their stories and voices made a difference.
Popular in the Community