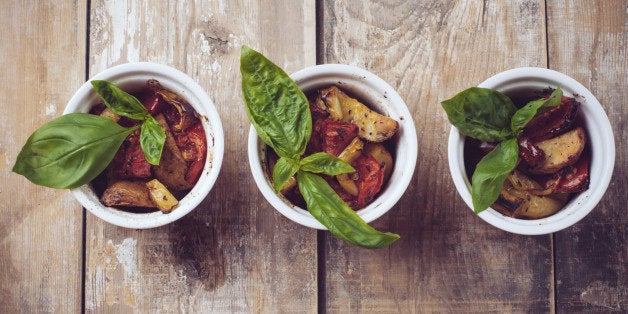 With the cold winter weather seemingly never ending, cravings for comfort food can be hard to ignore--but don't let your diet go into hibernation. We talked to chef, instructor and author Phoebe Lapine, who teaches cooking classes at The Institute of Culinary Education and Haven's Kitchen, for her favorite healthy vegan recipes to get you through the rest of the cold winter stretch.
These meals will not only excite your taste buds, but will satisfy your cravings guilt-free. All meals are one-hundred-percent vegan and are perfect whether you are cooking for one or hosting a dinner party.
1. Moroccan Red Lentil Soup with Chard
This simple, healthy soup epitomizes winter vegan comfort. Discovered when cleaning out her pantry after two weeks of traveling, Phoebe combines red lentils in a Moroccan harira-like concoction with lots of carrots and red chard. A great addition to any winter lunchbox, this "warm goodness" takes only 35 minutes to prepare.
2. Vegan Pumpkin Risotto with Rosemary
Patience is a key ingredient in making risotto, but this recipe is great for beginners as you, quite literally, cannot stir it too much. Heavy enough for a meatless main course, or perfect as a base, the starch from the rice creates a creamy texture so there is no need for milk or cheese. Even better, this recipe uses canned pumpkin, saving precious time.
3. Greek Baked Stuffed Tomatoes with Rice
Phoebe picked up this recipe from a handyman ("the Greek Chuck Norris") working at her rented villa while on vacation in Greece, and it changed her opinion of hallowed out, baked vegetables forever. Simple, rustic, and elegant, there are two secrets to this recipe: let the tomatoes cook longer than expected to get fully baked and caramelized, and (like in most Greek cooking) use lots and lots of olive oil.
4. Shepard's Pie with Lentil's and Mushrooms
Shepard's Pie is classic pub comfort food and this recipe gives it a vegan twist replacing the traditional lamb with hearty lentils and mushrooms. According to Phoebe, not only is it incredibly cheap to make (this was Irish peasant food, of course), but it can be finished a few days in advance and seems to only get better with time.
5. Sweet Potato Latkes with Scallions and Kimchi
Phoebe admits that there are few things in life that she loves more than fried potatoes, so she mastered the art of making latkes. Use sweet potatoes, rice flour (if you want it to be gluten-free), and add some kimchi for an Asian flair.
6. Asparagus Potato Leek Soup
Phoebe describes this tasty soup as if "cream of asparagus and potato leek soup had a love child." The potato provides a creaminess eliminating the need for added dairy. This one-pot meal is perfect for bunkering down during the cold, and will last a whole week.
This post was created by Lauren Browning for CourseHorse.