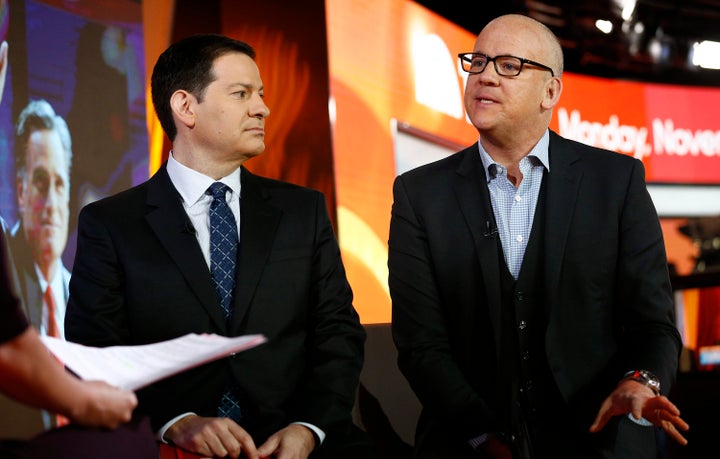 NEW YORK -- As the political world's attention turns to Iowa in early 2016, Showtime will launch a new weekly series that promises to take viewers behind the scenes of the presidential race in real-time.
Showtime announced Tuesday it's teaming up with Bloomberg Politics for "The Circus: Inside The Greatest Political Show On Earth," a half-hour, Sunday night program that will feature Bloomberg Politics managing editors Mark Halperin and John Heilemann and veteran political strategist and media adviser Mark McKinnon.
The weekly series will be a product of an increasingly compressed political news cycle, in which books and documentaries, which once came out long after the final votes were tallied, are dropping in the heat of campaign season. While Halperin and Heilemann's best-selling books on the 2008 and 2012 elections didn't hit shelves until at least a year after those races ended, the first book offering fly-on-the-wall details of several 2016 Republican campaigns was published last month. Similarly, the documentary Caucus, which took viewers inside the 2012 nominating contest in Iowa, wasn't released until late 2013, but some news organizations, including The Huffington Post, are experimenting with documentary-style coverage this cycle as the campaigns unfold.
"Americans are captivated by the 2016 presidential election and a real-time political series of this nature has never been done before," said Showtime president David Nevins said in a statement. "People don't want to wait a year to see how and why things played out and the impact they had. Everything today is immediate, so there's no better time to change the way American politics are covered."
"The Circus," which will air from January to November, will track several storylines and follow characters from within the campaigns. While Halperin and Heilemann have long been traversing the country, interviewing candidates for their Bloomberg TV show, McKinnon has been spotted in recent months gathering material for the documentary series.
In late October, a reporter tweeted a picture of McKinnon meeting with Sen. Lindsey Graham (R-S.C.), a presidential hopeful, in Des Moines. Another reporter spotted McKinnon chatting with Rubio spokesman Alex Conant Monday night in Las Vegas.
The Showtime series marks the second time this month that Bloomberg has partnered with another network to broaden the viewership for its political coverage. Last week, MSNBC announced that it would begin re-airing Halperin and Heilemann's daily 5 p.m. Bloomberg TV show, "With All Due Respect," at 6 p.m. in January.
The deal gives MSNBC a three-hour politics block -- with Chuck Todd's "MTP Daily" at 5 p.m. and Chris Matthews' "Hardball" at 7 p.m. -- and allows Bloomberg TV to reach more viewers. The business-focused network has a small viewership and is not rated by Nielsen.
Bloomberg Media chief Justin Smith highlighted the need to reach audiences in new ways in a Tuesday memo to staff.
"In the media world of late 2015, companies can't sit back and wait for audiences to discover them -- you have to be prepared to deliver your content to audiences wherever they are," Smith said. "Bloomberg Media benefits from unique corporate advantages that allow us to pursue innovative distribution models to reach readers and viewers wherever they are, on whatever platform they prefer."
Smith said "one of the clearest examples of this approach is how we are showcasing Bloomberg Media's coverage of the 2016 presidential campaign." The Showtime series, he said, "aims to pull back the curtain on the race by exposing the intimate, emotional, funny, and revealing details" that might not be covered on the weekday program. Smith said Halperin and Heilemann will be able to use some of the material gathered for the Showtime series on "With All Due Respect."
Read Smith's full memo below:
All,

In the media world of late 2015, companies can't sit back and wait for audiences to discover them -- you have to be prepared to deliver your content to audiences wherever they are. Bloomberg Media benefits from unique corporate advantages that allow us to pursue innovative distribution models to reach readers and viewers wherever they are, on whatever platform they prefer.

One of the clearest examples of this approach is how we are showcasing Bloomberg Media's coverage of the 2016 presidential campaign. The campaign will be by far the biggest story in America in 2016. Since launching Bloomberg Politics a little more than year ago, our world class team has been breaking news and influencing the conversation on television, the web, in print and through live events. To build on this success in 2016, we want America's business and opinion leaders to rely on Bloomberg for the best non-partisan coverage of the race.

I am excited to share with you today a unique deal we have signed with Showtime Networks. Next month, Showtime will launch a new weekly documentary series airing Sunday evenings featuring Bloomberg Politics' Managing Editors Mark Halperin and John Heilemann. They will be joined by a third co-host, Mark McKinnon. The Showtime documentary, entitled "The Circus", aims to pull back the curtain on the race by exposing the intimate, emotional, funny, and revealing details that we won't necessarily cover on our daily Bloomberg TV show "With All Due Respect." "The Circus" will debut in advance of the Iowa Caucus in early 2016.

As you know, we recently announced an agreement with MSNBC to re-air "With All Due Respect" each weekday beginning in early January 2016. We are also distributing the show on a number of digital platforms, including Hulu, Apple TV, Roku, and Samsung TV, along with video clips to our digital video partners such as Yahoo, MSN, USA Today, NDN, and other publishers.

Under our agreement with Showtime, Mark and John will be able to use some of the unique behind-the-scenes material they gather while shooting the documentary series on "With All Due Respect." This will further enrich what is already a terrific show.

We view this deal as latest addition to our modern approach to distribution -- a strategy to increase the influence of Bloomberg's brand, journalism and media -- and we welcome the opportunity for Mark and John to deliver a behind-the-scenes look at the campaign to Showtime's audience.

Justin
Related
Popular in the Community