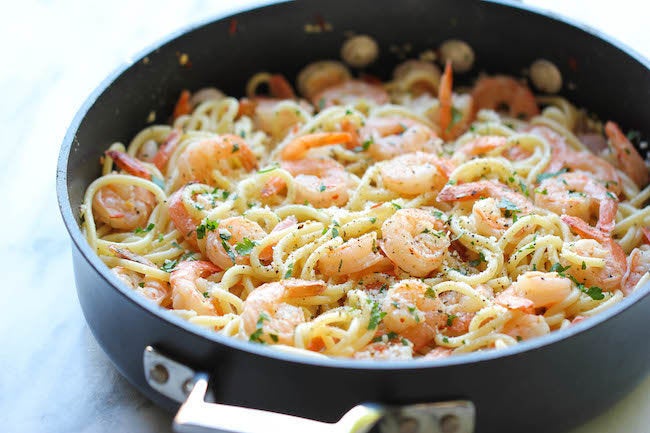 James Comey made us start thinking about shrimp scampi.
In the former FBI director's interview with George Stephanopoulos that aired last weekend, Comey spoke about Donald Trump's character, the weirdness of his hairstyle, and also a popular Italian-American dish from the 1970s, shrimp scampi.
When Comey was asked about the details of his infamous 2017 dinner meeting with Trump, he said it didn't take much time to get down to business. "I think it was probably during the salad, before the shrimp scampi," Comey said.
And suddenly, everyone watching craved a pile of garlicky, buttery pasta.
Shrimp scampi is a classic Italian-American recipe that's incredibly simple to make: It's just pasta tossed in a light, buttery sauce that's flavored with garlic, red pepper flakes and white wine, and topped with sautéed shrimp and a splash of lemon.
The name "shrimp scampi" makes almost no sense whatsoever, though. You may assume "scampi" is a style of cooking, but it's actually just the name of a large prawn that's a little smaller than a lobster.
According to The New York Times, Italian cooks brought the recipe to the United States and swapped shrimp for scampi, but they kept both names in the title of the dish.
Chungah Rhee, the blogger behind Damn Delicious and author of The Damn Delicious Cookbook, is a scampi fanatic, to put it mildly. She's crafted a recipe for the classic shrimp scampi dish on her blog, but she's also made Shrimp Scampi Spaghetti Squash, Shrimp Scampi Foil Packets, Baked Shrimp Scampi, Zucchini Shrimp Scampi, Shrimp Scampi Dip, Lemon Pepper Shrimp Scampi and perhaps the best-looking of them all (weirdly enough), Red Lobster Shrimp Scampi Copycat. You could say she's the queen of scampi.
Rhee told HuffPost that since there are so few ingredients in shrimp scampi, it's important you use the best. "Good-quality butter is key here," Rhee said. "I mean, butter makes everything better, but the good stuff makes it 100,000 times better. Promise!"
Satisfy the craving you've had ever since you heard the phrase "shrimp scampi" last Sunday by making Rhee's classic recipe below.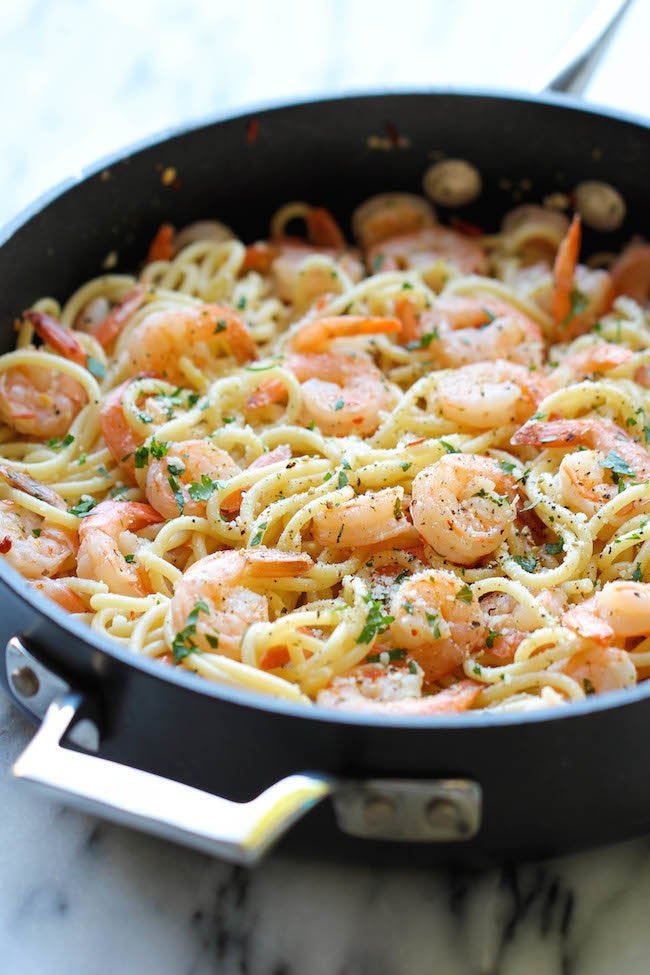 Shrimp Scampi
Ingredients
8 ounces linguine
2 tablespoons unsalted butter
1 pound medium shrimp, peeled and deveined
3 cloves garlic, minced
1/4 teaspoon crushed red pepper flakes, or more, to taste
1/4 cup white wine*
1/4 cup freshly squeezed lemon juice
Kosher salt and freshly ground black pepper, to taste
Zest of 1 lemon
2 tablespoons chopped fresh parsley leaves
1/4 cup freshly grated Parmesan
Directions
In a large pot of boiling salted water, cook pasta according to package instructions; drain well.
Melt butter in a large skillet over medium high heat. Add shrimp, garlic and red pepper flakes. Cook, stirring occasionally, until pink, about 2-3 minutes.
Stir in wine and lemon juice; season with salt and pepper, to taste. Bring to a simmer; remove from heat and stir in pasta, lemon zest and parsley.
Serve immediately, garnished with Parmesan, if desired.
*Chicken stock can be used for white wine as a nonalcoholic substitute.
Before You Go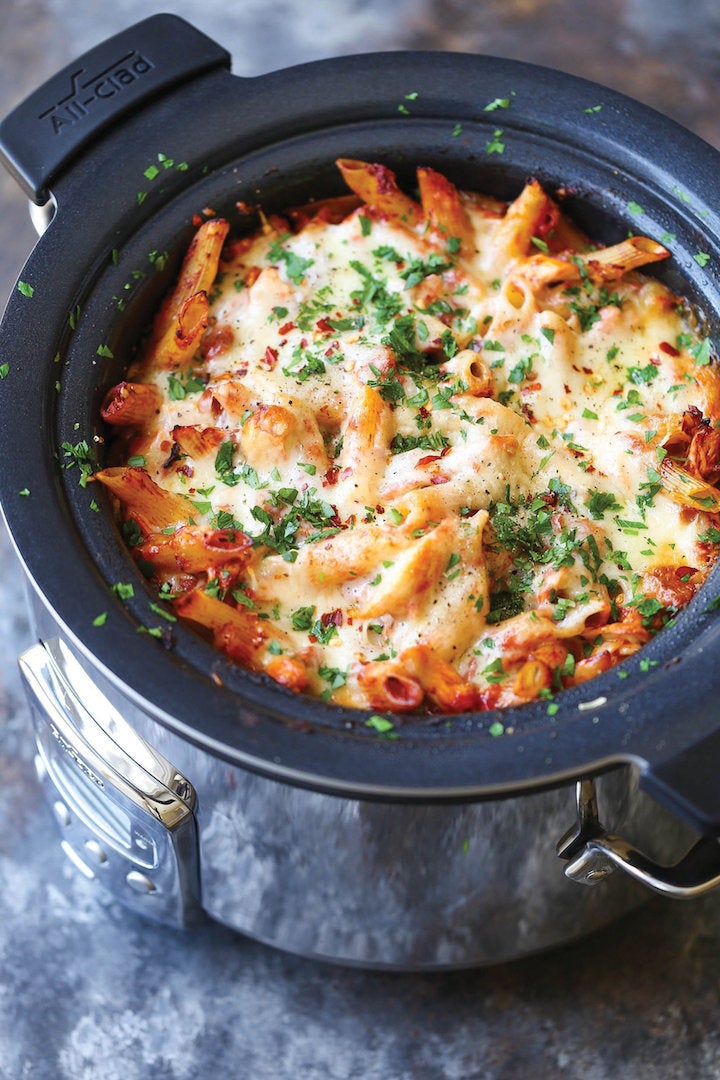 Slow Cooker Pasta Recipes