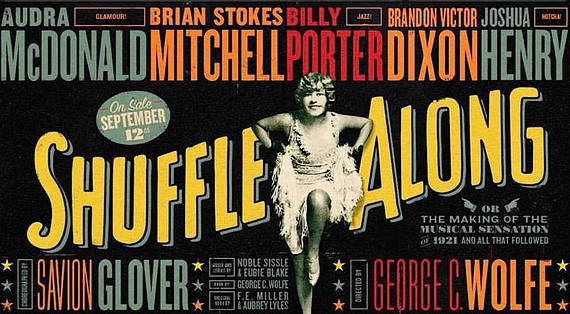 I have had Shuffle Along on my mind now for a week or so since seeing it and loving it and remaining utterly infuriated by it. The Tonys intervened; the tragedy in Orlando continues to interpose profoundly. But I have to get this off my chest.
Few Broadway musicals that I know of have ever confronted racism more unflinchingly than Shuffle Along does. In conjuring the creation-story behind its namesake -- the pioneering black musical that defiantly brought black talent back to Broadway in 1921 after a 13-year exile -- this Shuffle Along knows where the bodies are buried.
I found it enthralling and often thrilling. Librettist and director George C. Wolfe's book, which many have found too preachy and didactic, struck me as a very decent reconciliation of the historical and the dramatic. It tells audiences so much that they need to know, while entertaining them thoroughly. Wolfe has also staged the evening with slam-bang fluidity and a kind of elegance that money can't buy.
While racism is the story behind all black music history in America, misappropriation is the subtext. From field hollers to hip-hop, every purely African-American musical revelation has quickly been followed by white appropriation. In the rare instances when white imitators fully credit their black sources, we talk about "influences." Most of the time, though, "misappropriation" is the word.
Shuffle Along gives us a stageful of black artists finally seizing control of their own work from the maw of racism. That is the story. The subtext, unfortunately, is a bit more complicated. Shuffle Along vividly brings to life each of its legendary original creators -- composer Eubie Blake, lyricist Noble Sissle, bookwriters Flournoy E. Miller and Aubrey Lyles -- while giving us a scintillating sense of the musical that these four wrote, doling out much credit where credit is due.
Yet this new Shuffle Along also engages in its own act of misappropriation, one that, for the life of me, I cannot justify or comprehend.
These are the facts: Eubie Blake -- one of the greatest pianists and songwriters of his, or any other, generation -- and his decade-long lyricist partner, Noble Sissle, wrote all of the songs for the original Shuffle Along. That is a fact. They broke up as a team within five years of Shuffle Along. That is also a fact. Eubie Blake then partnered with the greatest black lyric writer of his generation, a man named Andy Razaf, to write many more timeless songs and at least one more Broadway show. It is this final fact that trips up the current Shuffle Along in a dastardly way.
The crime is committed in Act Two, after a climactic recreation of the original Shuffle Along's opening night brings the curtain down on Act One. Eubie Blake (charmingly portrayed by Brandon Victor Dixon) visits his leading lady and by-now beloved mistress, Lottie Gee (a luminous Audra McDonald), to persuade her to star in Blake and Sissle's next effort. He tempts her with a new song from this "show Noble and I have been working on." (That is the precise wording. I checked.)
The song is "You're Lucky To Me," a classic. Ms. McDonald stops the show cold, singing it. The problem is, "You're Lucky To Me" was not written by Blake and Noble Sissle, it was written by Blake and Andy Razaf. Ms. McDonald then follows up by delivering a majestic "Memories of You," incontestably Eubie Blake's greatest song achievement. The lyric, again, belongs to Andy Razaf.
I admit I am especially touchy about this. I spent over ten years attempting to rescue Andy Razaf from an oblivion he did not deserve, finally publishing a biography of him entitled BLACK AND BLUE: The Life and Lyrics of Andy Razaf that set the record straight before disappearing into its own publishing oblivion. Still, there can be no mistaking today who wrote what.
In a kind of frenzy, I tore through my Shuffle Along Playbill the night I saw the show, searching for the Songs credit listing page, only to discover, to my amazement, that there isn't one. I can't remember another Broadway musical without a Playbill Songs page, not in all my years of theater going, though I suppose there have been others. Still, why would Shuffle Along, subtitled: "The Making of the Musical Sensation of 1921 and All That Followed," withhold the song list from its own program?
I emailed Shuffle Along's production team for an explanation. A press representative responded, pointing me to the tiniest of boxes near the back of the Playbill, headed "Music Credits," where formal publishing rights are itemized in miniscule type for a few songs, including "You're Lucky To Me." Andy Razaf's name does appear here. "Memories of You," however, does not.
I asked Brian Stokes Mitchell, one of the show's wonderful stars, about the program's lack of a song list. He seemed genuinely surprised to hear that there wasn't one. "George always made it very clear in rehearsals which songs came from where," Stokes insisted. "'This song is from Shuffle Along,' he would tell us. 'This song isn't.'"
Draw your own conclusions. All I can say with certainty is this: Shuffle Along is a great achievement marred by an inexplicable injustice. The aggregate quality of African American performing talent on display is monumental; very nearly as monumental, I'll bet, as the talent displayed in the original. George Wolfe has done an exceptional job providing Brian Stokes Mitchell, who is magnificent, Billy Porter, who is marvelous, the mind-blowing Ms. McDonald, and show's many extraordinary co-stars, with a great vehicle and their own respective spotlit grace. Savion Glover has, I believe, outdone his already towering previous choreographic work by devising for Shuffle Along a tap dancing style that rocks the house in a manner drenched in tradition, while radically ramping up the emotional content to a point where you could pretty much absorb the meaning of Shuffle Along entirely through its virtuosic stomping.
One of the show's many uncredited songs is a new one, titled (I think), "No-One Will Remember Your Name," written by god knows who -- George Wolfe himself perhaps. "No-One Will Remember Your Name" gets a lot of stage time in the second act as a set piece for Brooks Ashmanskas, playing the infamous white dilettante connoisseur of Harlem Renaissance-era blackness, Carl Van Vechten. It is sung as a cruel taunt to Shuffle Along's original black creators about the anonymous fate that awaits them all.
Empathizing with that fate, as the new Shuffle Along's creators so clearly do, it just seems unconscionable that they still chose to misappropriate the work of another forgotten black creator; to willfully erase his name.
That kind of treatment belongs in the past.
Calling all HuffPost superfans!
Sign up for membership to become a founding member and help shape HuffPost's next chapter