 WASHINGTON – Vermont Gov. Peter Shumlin held up his right hand, thumb to forefinger, in the shape of a zero.
That's how much experience the former state senator had in national politics before 2013, he said. But over the past year, since he was first elected chairman of the Democratic Governors Association, he's been traveling the country regularly to raise money and headline events for the DGA, all to help Democratic gubernatorial candidates win their races.
As a result, the champion of single-payer health care in Vermont now has no compunction in pointing out that a government-run health care system may not be the best idea in, say, Arkansas, where there is a competitive race for an open governor's seat.
"I firmly believe that what is right for Vermont might not be what's right for Arkansas right now," Shumlin said during an interview in his downtown Washington hotel room while in town for the annual National Governors Association summit.
It's a nod to political reality, and a demonstration of pragmatism by the northeast liberal. In Arkansas, a recent poll showed that support for Medicaid expansion dropped 19 points when the survey mentioned that such a move was part of Obamacare.
Shumlin didn't answer whether the Affordable Care Act should be referred to as Obamacare or not. "You can call it whatever you want. I call it health care for people who desperately need it," he said.
And the 57-year old governor also had a conservative-sounding talking point about how governance should be bottom-up, not top down. "I've always been a big believer in local control, in believing that the best ideas are hatched in small or big states, and the rest of the country gets around," he said.
But he wasn't talking about limiting the size of government, necessarily.
"I don't think there's any better example of that than the marriage-equality struggle. we created civil unions when I was president of the [state] Senate 12 years ago, and people thought we were crazy," Shumlin said. "It was a really tough discussion in Vermont. But people thought we had lost our minds. Now the 17th state just adopted marriage with no fanfare. The states should be the laboratories for change."
When it comes to health care, Shumlin's liberal ideals have run into political realities in Arkansas and in his own state. His push for single-payer in Vermont hit some significant snags. The website rollout was bungled. The state-based exchange is not up to speed. There is no cost figure for the project, which is not scheduled to launch until 2017. And there is no announced funding mechanism.
"Those options will be laid out shortly. We don't need to pass one until 2015 or 2016," Shumlin said of a plan to pay for his health care proposal.
He acknowledged that the website failure has hurt his party's standing in the eyes of voters.
"There isn't a governor in the country or a president of the United States who isn't discouraged and disappointed by the rollout of the websites in every state in America," he said.
But he said that the holdup of the law in the courts was the main reason there was no opportunity to get the website in Vermont ready for its debut.
"Look at the timing. Let's be honest about this. We were all on this federally mandated October 1 [2013] date ... and we laid low through the Supreme Court process," he said. "No one dared spend money" until the Supreme Court decision, Shumlin said. The court's decision didn't come until June 2012.
Despite all that, Shumlin is riding pretty high these days, mostly because his counterpart on the Republican side, New Jersey Gov. Chris Christie, is embroiled in ongoing political struggles due to the Bridgegate scandal.
Shumlin avoided talk of Christie resigning from his post as Republican Governors Association chair. "That's not a decision I can make," he said with practiced sobriety. "That's a decision that the Republican governors have to make."
But Shumlin couldn't help but point out that Christie's presence at the RGA is currently a huge gift. "If they want to travel around the country highlighting their ethical challenges, I don't think that hurts Democrats," he said.
When I asked why there has been talk that governors races are not "sexy," sparked by a comment made by President Barack Obama this week, Shumlin said that the president's remark had been "misconstrued."
"What he was saying is we all know when there's presidential races in presidential years that there's a lot of glitz and confetti. But what he was really saying is that governor's races are important," Shumlin said.
He agreed that if there is a propensity to overlook governor's races in favor of the 2016 presidential parlor game or the midterm Senate races, it's in good part the result of a disproportionate focus on Washington, D.C.
When asked if he watches Netflix's "House of Cards," Shumlin said the show "reminds me of every reason why I never want to have to serve in Washington, D.C."
That may be, but he's still a huge fan of the series. "I love it," he said.
Before You Go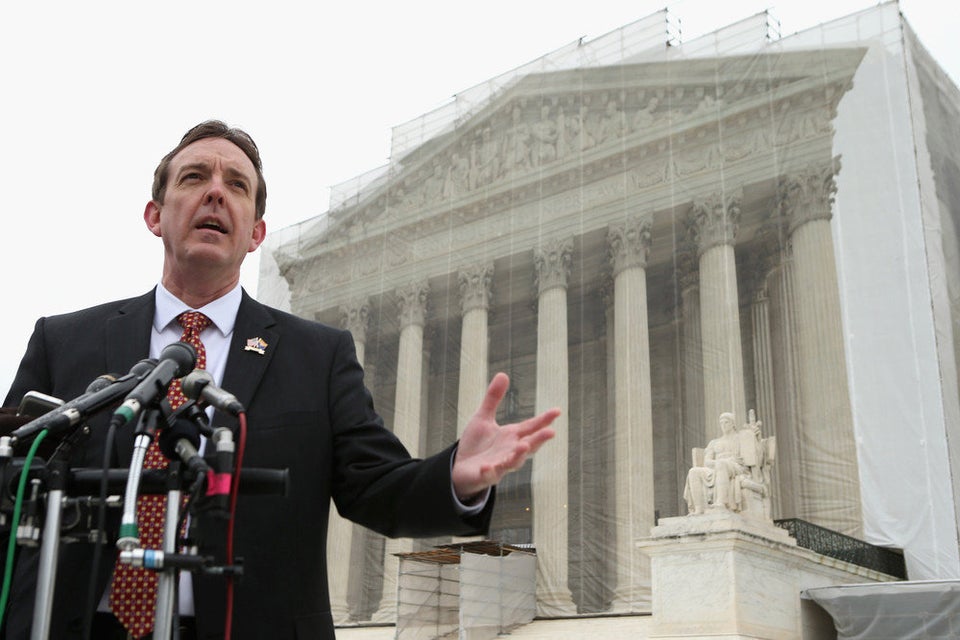 2014 Gubernatorial Challengers
Popular in the Community