One of the most unabashedly erotic images to ever grace the pages of an art history book came from the woodblock of iconic Japanese artist Katsushika Hokusai. Widely known for his G-rated, Edo-era prints like "The Great Wave at Kanagawa," the celebrated ukiyo-e painter and printmaker famously depicted a titillating love scene between a few octupi and a satisfied-looking human being. The masterpiece swiftly and simultaneously brought full frontal nudity, bestiality, and female orgasm to the forefront of fine art.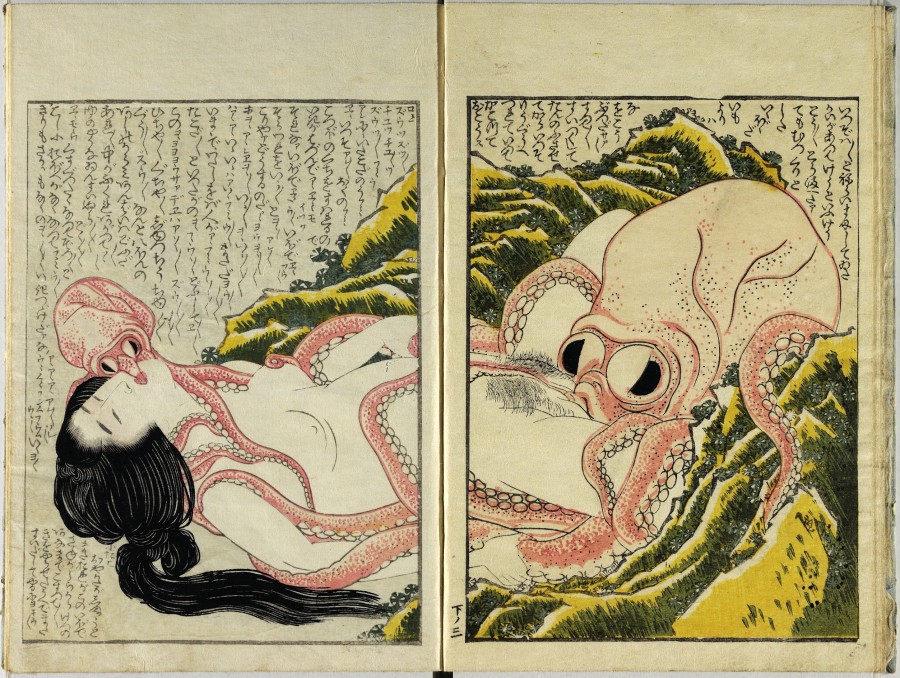 Katsushika Hokusai (1760-1849), Diving woman and octopi, page from Kinoe no komatsu (Pine Seedlings on the First Rat Day, or Old True Sophisticates of the Club of Delightful Skills) ,1814, illustrated book, colour woodblock © Michael Fornitz collection, Denmark.
The untitled illustration is but one of many sexualized paintings and tantalizing prints produced during the 17th century and beyond. Known as shunga, the genre was comprised of elaborate -- and highly erotic -- artworks that were banned from Japanese institutions for a significant portion of the 20th century.
Thankfully, an upcoming exhibit titled "Shunga: Sex and Pleasure in Japanese Art" is giving artists of the ukiyo-e genre their well-deserved spotlight. The collection of works by Japanese greats like Hokusai, Kitagawa Utamaro and Utagawa Kunisada is celebrating the taboo-breaking side of art history with a survey of over 300 years of traditional Japanese erotica.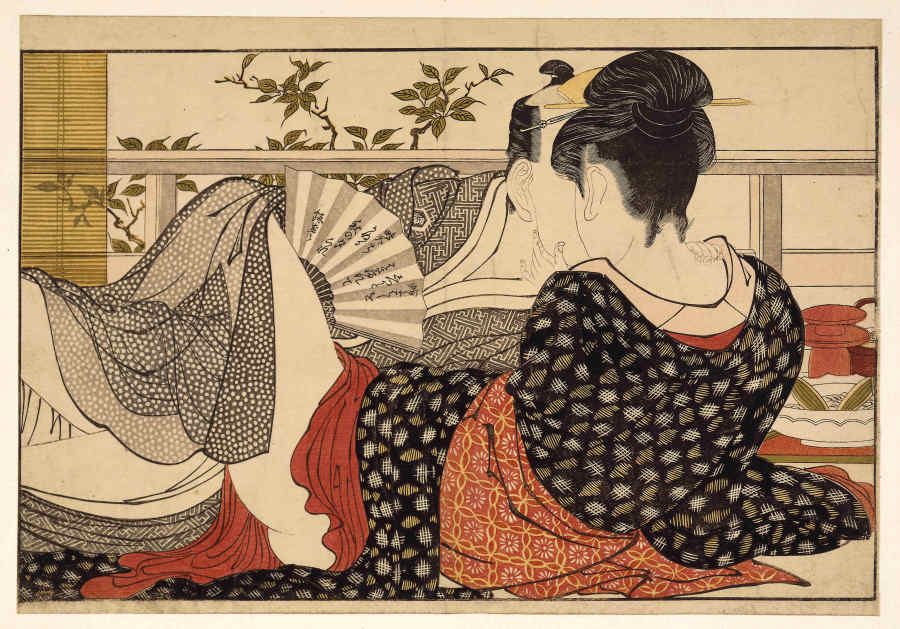 Kitagawa Utamaro; Lovers in the upstairs room of a teahouse, from Utamakura (Poem of the Pillow); c. 1788. Sheet from a colour-woodblock printed album © The Trustees of the British Museum.
The allure of shunga, which translates to "spring pictures," rests in the images' ability to appeal to men and women of various sexual preferences. On the one hand, the expertly executed paintings and prints were liberating, featuring both genders freely and enthusiastically partaking in sexual acts. On the other hand, the artworks were light-hearted and comedic, focusing not only on romantic moments but also on the bizarre and awkward contortions that are more laughter-inducing than arousing. One piece shows a powerful women is seen experiencing a "happy ending" while another spotlights a duo of extravagantly clothed lovers attempting to feverishly circumnavigate their never-ending costumes.
Artworks by Hokusai and others weren't simply gazed upon during this time, either. The pictures acted like sexual talismans, passed from partner to partner, friend to friend, and parent to child to use as both an educational manual and a good luck charm. In this way, shunga acted as the traditional precedent to contemporary anime and manga.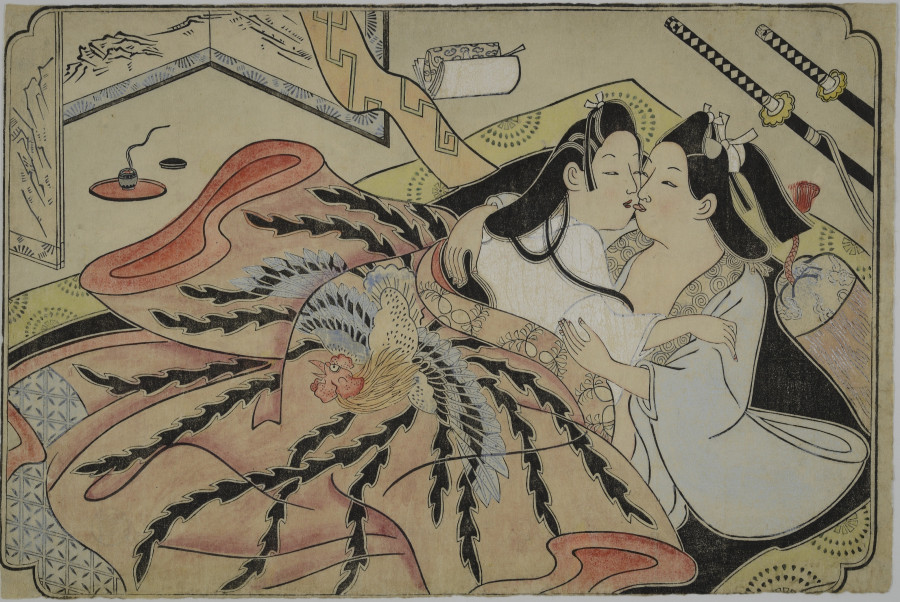 Sugimura Jihei, Untitled erotic picture, mid-1680s, Private collection, USA
While the explicit fantasies of shunga were commonly circulated throughout the 1600s, 1700s and 1800s, the images were heavily censored by Japanese state officials well into the 20th century. After decades of hiding, the first exhibit to give the genre its due was a 1973 show at Victoria & Albert in London. "Shunga: Sex and Pleasure in Japanese Art," on view at the British Museum from October 3, 2013 to January 5, 2014, endeavors to continue the survey of this unique moment in Japanese history, exploring how one country's sexual curiosity revealed itself through art.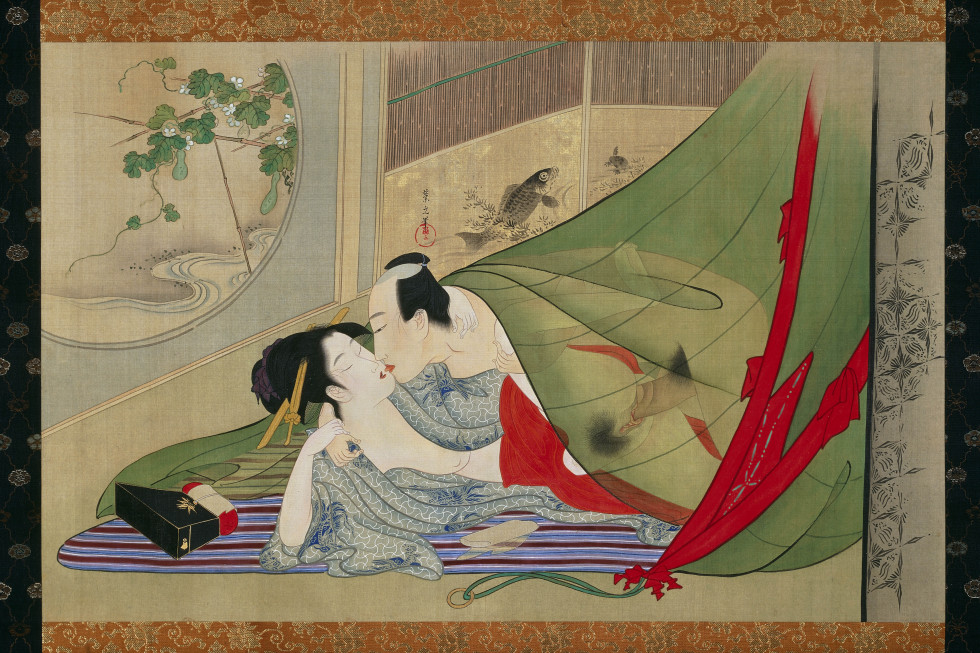 Hosoda Eishi (1756–1829) Contest of Passion in the Four Seasons (Shiki kyo-en zu), late 1790s–early 1800s; one of a set of four hanging scrolls; ink, colour and gold on silk, Michael Fornitz collection.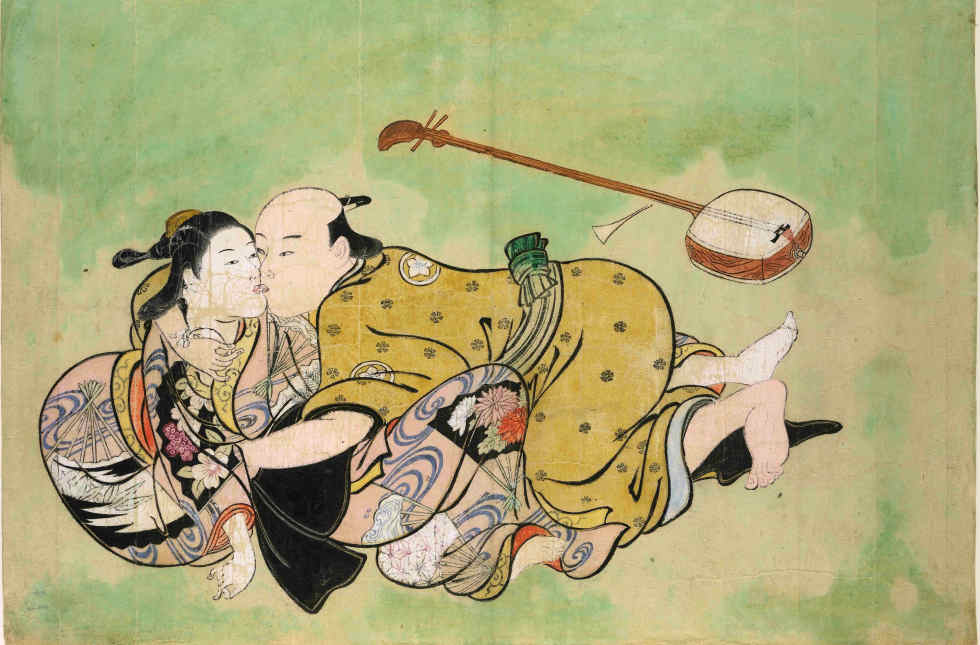 Nishikawa Sukenobu (1671-1750), Sexual dalliance between man and geisha, c. 1711-16, hand-coloured woodblock print,. 1985,1022,0.1 © The Trustees of the British Museum.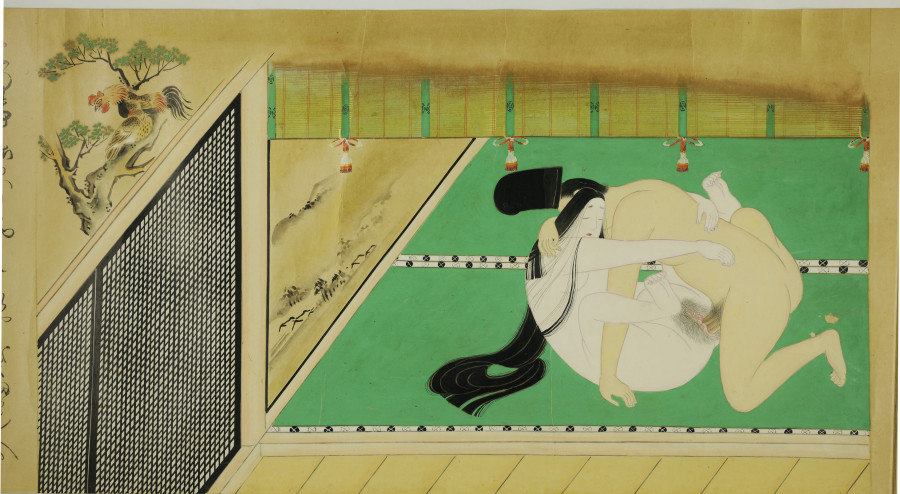 Attributed to Sumiyoshi Gukei (artist, 1631–1705) and Takenouchi Koretsune (calligrapher, 1640–1704) Series title: Tale of the Brushwood Fence, 17th century; handscroll, ink, colours, gold on paper, Michael Fornitz collection.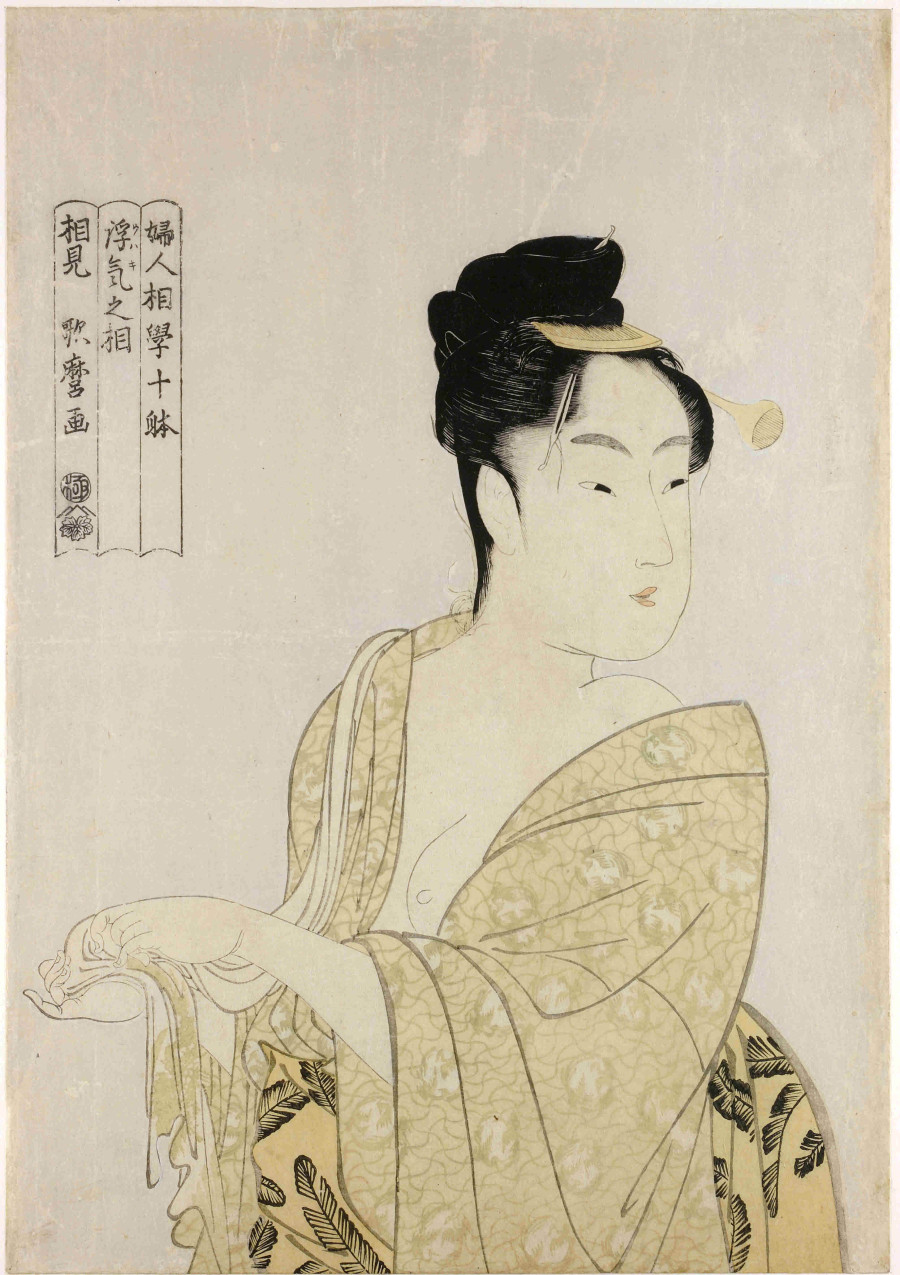 Kitagawa Utamaro, 'Fancy-free type' (Uwaki no so), from the series Ten Types in the Physiognomic Study of Women (Fujin sogaku juttai), c. 1792-3, colour woodblock print with white mica ground © The Trustees of the British Museum.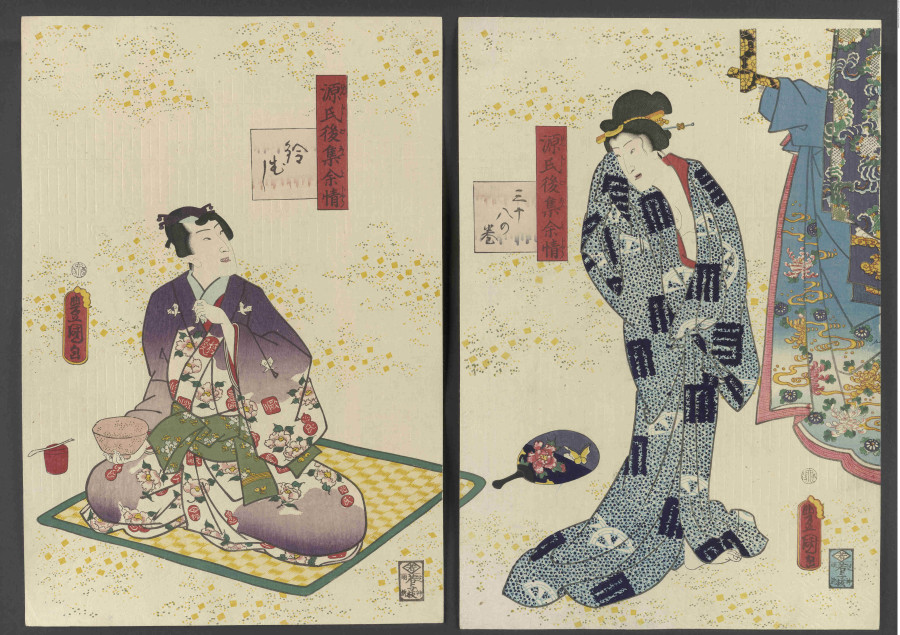 Utagawa Kunisada (Toyokuni III, 1786–1864); Genji goshu- yojo (Lasting Impressions of a Late Genji Collection), c.1857–61. From a series of seventy-seven large-size prints, colour woodblock with special printing effects, the series published jointly by Hayashiya Sho-goro-, Uoya Eikichi, Ebisuya Sho-shichi and Wakasaya Yoichi © The Trustees of the British Museum.


Torii Kiyonaga; Series title: Sode no maki (Handscroll for the Sleeve) Woodblock print; Lovers with roll of tissue; c. 1785 © The Trustees of the British Museum.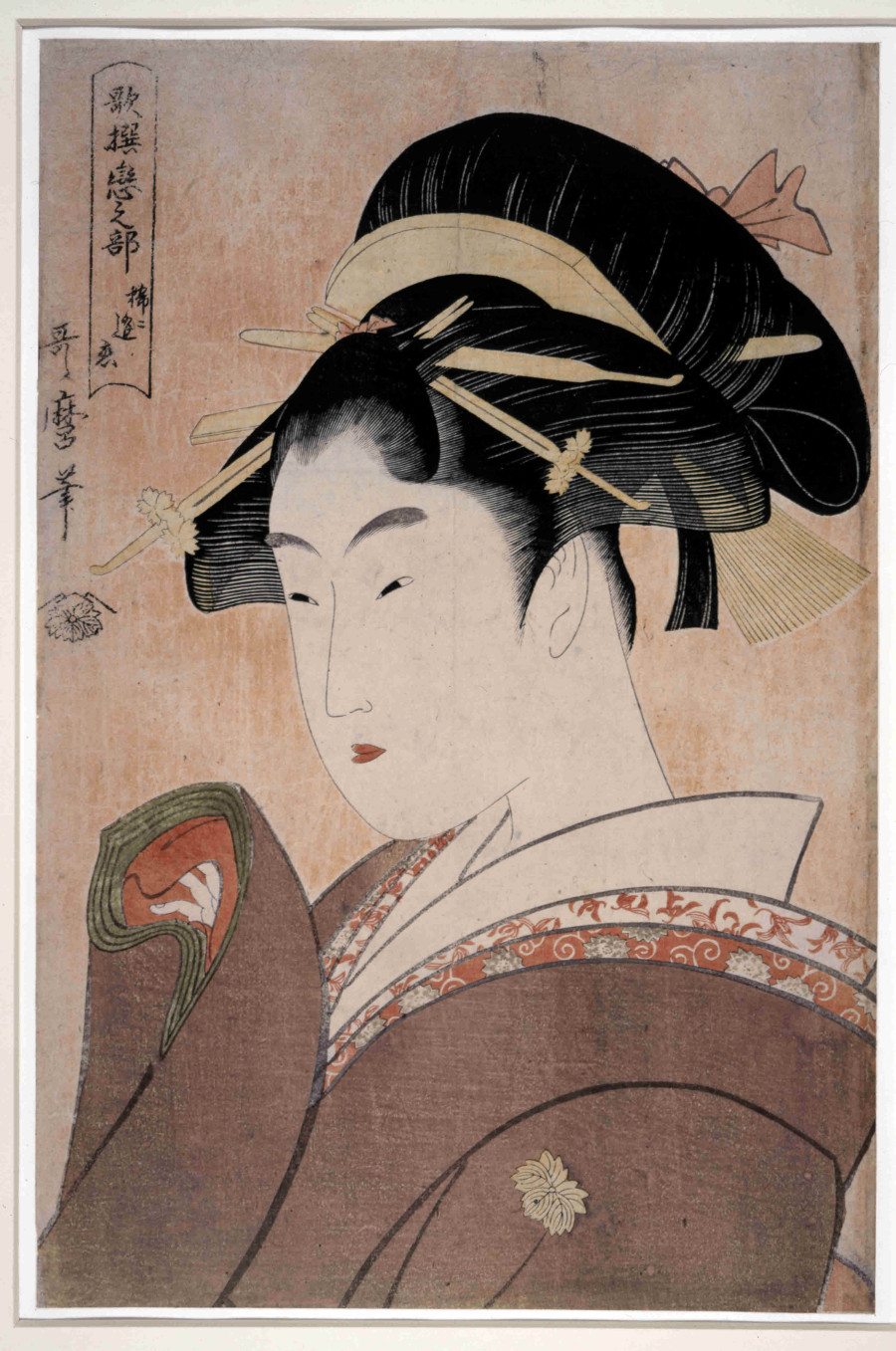 Kitagawa Utamaro; Mare ni au koi 稀ニ逢恋 (Love that Rarely Meets); Colour woodblock print; c. 1793-1794 © The Trustees of the British Museum.


Chobunsai Eishi (1756–1829); Young woman dreaming of Ise Monogatari; c. early nineteenth century. Hanging scroll; ink, colour and gold on silk © The Trustees of the British Museum.


Kawanabe Kyōsai (1831–1889), detail from Three comic shunga paintings. Japan, c. 1871–1889. Hanging scrolls, ink and colour on paper. Israel Goldman collection.
Calling all HuffPost superfans!
Sign up for membership to become a founding member and help shape HuffPost's next chapter