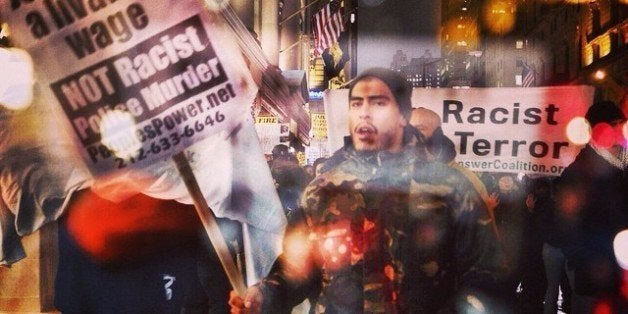 NEW YORK -- Hundreds of protesters gathered in New York City Tuesday evening, showing they don't plan to halt demonstrations, despite Mayor Bill de Blasio's call to suspend their actions until the two NYPD officers killed over the weekend have been laid to rest.
About 300 demonstrators clogged city streets after gathering at 59th Street and Fifth Avenue, proceeding as they'd planned weeks earlier. Followed by a trail of cops, they marched uptown toward Harlem, holding signs that expressed condolences to the families of the slain officers, Wenjian Liu and Rafael Ramos, while openly criticizing de Blasio's request to pause protests.
"Let's make sure they hear us!" an organizer shouted on a megaphone as the crowd gathered outside the 125th Street police precinct. By 10 p.m., several dozen new protesters from the Bronx had joined in, blasting music as police officers ushered people onto the sidewalk and threatened arrests for disorderly conduct.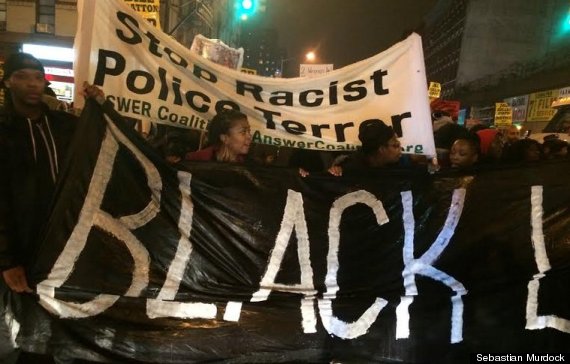 Protesters observe a moment of silence at 116th Street.
Marvin Knight, a 71-year-old black retiree from Brooklyn, said it was absurd for any politician to ask that the protests stop. "This is America," he told HuffPost at the rally. "Why should we stop doing what we know is right?"
Knight added that de Blasio's call to halt demonstrations infringed on protesters' First Amendment rights. "Why should our freedoms of assembly and speech be curtailed because a deranged man killed two officers?" he said.
Event organizers expressed similar sentiments in a statement released Tuesday, calling de Blasio's request an "outrageous" and "misguided response" that encroached on their constitutional right to peacefully assemble.
Siervo Del Pueblo, one of the organizers, told HuffPost before the demonstration that although he respects the families of the officers who lost their lives, the protests must continue. "It's not that we're going against the mayor's wishes," Del Pueblo, a 29-year-old EMT from Brooklyn, said. "This demonstration has been planned for a long time."
Pueblo added that Tuesday's location was deliberate. "Fifth Avenue was named the world's most expensive shopping district this year," he said. "We want to make the connection between police brutality and the ruling class of Americans and New York City. It's a symbolic, peaceful protest."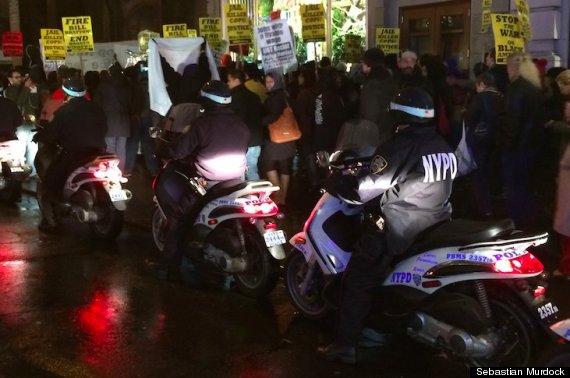 NYPD officers follow protesters as they make their way uptown.
Meanwhile, famous New York City landmarks, including the Empire State Building, dimmed their lights for five minutes Tuesday night to send their own message.

"New York City is fortunate to the protection of the best police force in the world, allowing citizens in all five boroughs to conduct business and go about their daily lives with the expectation of the safe enjoyment of all New York City has to offer," read a statement on the official Twitter account of the Empire State Building.
"The mayor wants to use anything he can to stop the momentum," Frank Sha Francois, a 49-year old public adjuster and community activist, told HuffPost. "The people have the momentum, and the attention of police and politicians, and we won't allow them to stop us from bringing attention to police brutality."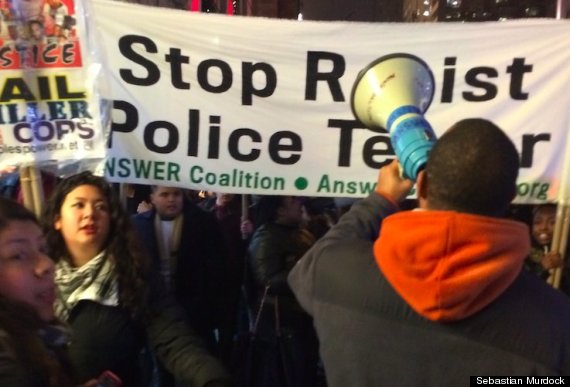 Demonstrators gather on Fifth Avenue.
"I hate to say it, but that [non-indictment] is business as usual," Sha Francois said. "Where [police] are free to do whatever they want to us."
Knight agreed. "The American way," he said. "If he was indicted, that would have been big news. But he wasn't, so it's just another day."
Pueblo said he thinks de Blasio's request to temporarily halt protests shows he's "caving into the worst form of rhetoric from the police union and right-wing politicians."
In a social media post hours before killing the New York officers, Brinsley mentioned the police killings of Eric Garner in Staten Island and Michael Brown in Ferguson, Missouri. Some have said the post shows Brinsley was motivated by revenge. Others dismissed the idea of the shooter having any political agenda and said his actions show he was a troubled individual with mental health issues.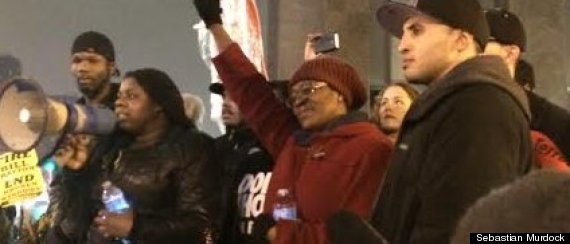 Hertenceia Peterson, whose nephew, Akai Gurley, was shot to death by an NYPD officer in a stairwell in November, shows her support to the crowd.
"It didn't have anything to do with race or anything," Garner's daughter, Emerald Snipes-Garner, told ABC News when she visited the memorial site of the slain officers on Monday. "It was a mental health crisis and he was dealing with [it] personally and didn't have the proper way to express his anger."
Protests have rocked the nation since grand juries declined to indict the police officers responsible for killing Brown and Garner, who both were unarmed. A statement Monday by activist group Ferguson Action responding to de Blasio's request suggested that the demonstrations won't let up.
"This movement was sparked by the grief that millions across the country have felt," the group said. "Joining Eric Garner, Mike Brown and Tamir Rice are the thousands of lives lost in the last decade to police shootings. We are in the streets because we are fighting for the right to live our lives fully and with dignity, without the threat of unconstitutional police violence and repression. Our work continues and we invite those who stand on the side of justice to join us."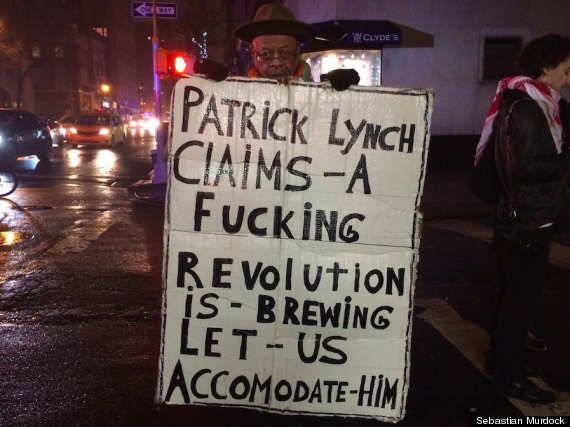 Martin Knight, who told HuffPost that de Blasio's request to protesters infringed on their First Amendment rights.
Hertenceia Peterson, whose nephew, Akai Gurley, was unarmed when he was shot to death in a stairwell by an NYPD officer in November, joined protesters in Harlem Tuesday night. "I love you guys," she said as the crowd responded with a chorus of "I love you, too!"
"Power belongs to the people," Peterson added. "I am sick and tired of being broken, shedding tears."
In a blog post on HuffPost, Black Lives Matter co-founder Opal Tometti dissociated the group's agenda to end racial injustice in policing with Brinsley's actions.
"In light of all we know, and with respect to all who hurt most now, we must not let misconceptions prevail," Tometti wrote. "This is a challenging moment, but we must maintain the integrity of our message and moral movement."
This article has been updated with police threats to make arrests and additional comments from demonstrators.
Take a look at images from Tuesday's protest: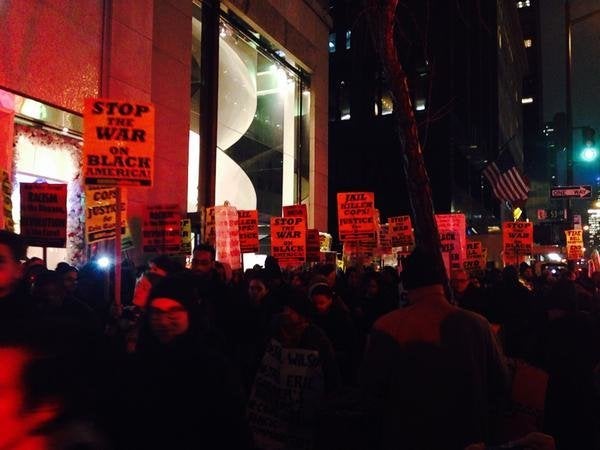 5th Ave NYC Protest
Popular in the Community