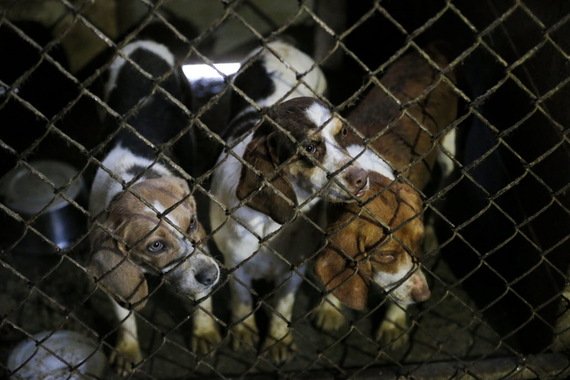 There is nothing more heartbreaking than puppy mills. Around the country, large-scale commercial dog breeding facilities focus on quantity, not quality. This results in extreme overcrowding with dogs and puppies confined in small cages, often with little access to food and water, no veterinary care or opportunities for exercise, fresh air or socialization. They often become ill because they are exposed to animal waste and dirty food and water. The female dogs are bred constantly and when they can no longer breed, they are often abandoned or killed.
The Humane Society of the United States (HSUS) estimates that there are more than 10,000 puppy mills in the United States that sell over two million puppies annually. Fewer than 3,000 of them are licensed by the U.S. Department of Agriculture.
These puppies are often shipped thousands of miles to pet shops, where uneducated consumers, who think they are getting a pure bred dog, purchase them. The puppies are often ill or have trouble assimilating into a household because they have had minimal positive contact with people. There are very few states with "puppy lemon laws," so owners can be saddled with astronomical veterinary bills and an animal who is emotionally and physically scarred. Another scam is purchasing puppies over the Internet sight-unseen. No reputable breeder is going to sell a puppy in this way because good breeders want to meet the families who are taking home their puppies. Again,

Recently in Paramus, NJ, police found 67 puppies stashed in a van behind the "Just Pups" pet store. Officers heard the puppies crying and found them stuffed in crates without food and water and covered in feces. The outside temperature was 35 degrees; inside the van it was 38 degrees.

The owner of Just Pups was not allowed to renew his business license at a store that he owns in Valhalla, NY and another in East Brunswick, NJ. This is happening all over the country and The HSUS has spent hundreds of thousands of dollars rescuing thousands of dogs from puppy mills. A large amount of this money is spent on veterinary bills, as most of the puppies are suffering from diseases ranging from kennel cough to orthopedic ailments. In an extensive report, The HSUS found that 40% of puppies who come from puppy mills suffer from illnesses and 34% have congenital defects.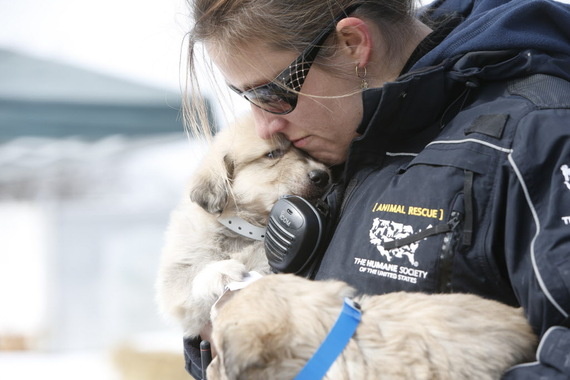 There are an estimated 2.11 million puppies sold through puppy mills each year, while an estimated 2.4 million healthy, adoptable animals are euthanized in shelters annually.
It is up to each of us to close down puppy mills. If you want to get a dog, go to your local shelter, even if you are looking for a pure bred. Consider adopting an older dog. It will be much less work than a puppy and the shelter can tell you which dog would fit into a family with young children, another dog or a cat. I have four rescue dogs and I cannot express what joy they have brought to my life.

If your local pet store sells puppies, they are probably from puppy mills. Responsible breeders want to screen owners to make sure that their puppies are placed in a good home. Don't be fooled by papers or licenses that state the puppies are from humane sources. These papers are easy to obtain and are often fraudulent.
Ask the owner of a pet store in your neighborhood if he would consider offering shelter dogs that already have a clean bill of health and need a home. If a pet store refuses to stop buying from puppy mills and does not consider shelter dogs as an option, write a letter to the editor of your local newspaper about why people should know about puppy mills.

Petco, Pets Plus Natural and PetSmart already offer dogs and cats from shelters for adoption in their stores. Go online to Petco.com or Petsmart.com and find a store near you or search for adoptable pets in your area through Petfinder.
We need to shut down puppy mills before even more animals are abused and traumatized.
Calling all HuffPost superfans!
Sign up for membership to become a founding member and help shape HuffPost's next chapter