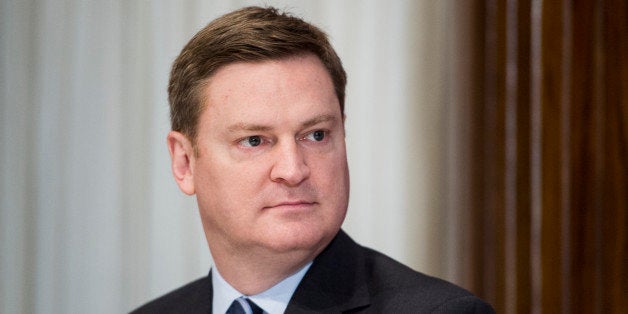 WASHINGTON –- A few hundred feet away from the Republican National Committee headquarters on Tuesday, House Republicans were in total disarray as their attempts to pass a GOP-crafted budget bill amid the government shutdown crumbled.
Inside Mike Shields' fourth floor office at the RNC, the committee's 43-year-old chief of staff appeared mildly irritated about the drama and the dysfunction. But other than that, Shields wasn't sweating the implications of the shutdown for his job: to help the GOP keep control of the House and win back the Senate in 2014.
"The big picture is that the Senate field favors us. We have a completely offensive field save for one seat," Shields said in an interview. In the House, "you'd have to have something dramatic that no one, neither Cook nor Rothenberg, see happening, building somewhere for [Democrats] to take [it]."
Shields referred to the influential Cook Political Report and Rothenberg Political Report. But Thursday evening, the Cook Political Report said the Republican intransigence during the shutdown had moved the needle in the favor of Democrats. "Continued Republican self-harm could indeed threaten their 17-seat majority. But, Democrats still have a long way to go," wrote the Cook Report's David Wasserman.
"So, for all of the noise that's going on in Washington and who's getting blame for the shutdown, the fact of the matter is it's not helping their Senate incumbents, who are Washington, D.C. incumbents in Congress right now. And that favors Republicans," Shields said. He was optimistic about the GOP's chances of winning Democratic held seats in South Dakota, West Virginia, Montana and Arkansas, and holding on to Senate Minority Leader Mitch McConnell's seat in Kentucky.
At the mention of Sen. Ted Cruz (R-Texas) and his leading role in the shutdown, Shields gave a slight grimace. But he maintained that whatever negative short-term impact the Cruz-led shutdown may have had on the GOP's polling numbers, the longer-term impact will be positive.
"I think this entire episode is motivating our base. The country, independents, know that Republicans stand for something. They have a very clear idea of what it is that Republicans stand for coming out of this fight," he said. "And when you get a year from now when the elections actually happen, that is going to play in our favor."
A small placard on Shield's bookshelf spoofed the "Keep Calm and Carry On" World War II poster created in Great Britain and popularized in the U.S. over the last few years. Shield's version read: "Go Crazy and Throw Things."
Shields was raised in Britain from age 8 to 18, the son of a retired U.S. Air Force pilot who married a British woman, went to work as a contractor for the National Security Agency and moved the family to the U.K. Shields' Twitter avatar is a photo of him standing in front of 10 Downing Street. And -- perhaps it's the British influence -- he projects buttoned-down discipline and focus.
Shields is the guy in charge of helping RNC chairman Reince Priebus figure out how to put the 97 pages of recommendations delivered to the party committee last March into practice -- or at least the ones that the RNC thinks are good ideas. (Some proposals, such as conducting voter outreach tests in "big city mayoral races" like Cincinnatti, Minneapolis and Pittsburg, never happened.)
When Shields was hired this past February, he said one of his goals was to help the RNC "leapfrog the Democrats' digital and data capabilities." And in June, when the RNC hired senior Facebook engineer Andy Barkett to be its chief technology officer, the recruitment of Silicon Valley talent sent a signal that the RNC was serious about improving.
A less-noticed development, however, was where Barkett's boss, Chuck DeFeo, landed on the RNC organizational chart: He was hired as chief digital officer in July. DeFeo has a history in Republican politics but was hired away from public relations behemoth Edelman. And when he came on board, Priebus and Shields gave him a dual title. In addition to being named chief digital officer, he was also named deputy chief of staff.
In the past, after the chairman and the chief of staff, the political and finance directors were the centers of power in the RNC. The same pecking order has long been in place at other party committees.
"We mean to remake that model for party committees," Shields said. "What technologists told me when I was coming into this job was, 'Mike, I cannot write an app that builds a management structure for us to be successful.'" So DeFeo's post means he will "get to oversee budgeting and all the decision-making in the building" and be "at the central hub of all the decision-making."
Over the past decade, even as digital has become a bigger part of politics, the tech-savvy side still had to fight for scraps in the RNC budget, after the political department took its cut. Now, Shields said, digital is "the first sheet of paper in the budget." And digital staffers won't have to try to push initiatives from "three layers deep in an organization." They can go straight to DeFeo, who will both advocate for them as well as shield Barkett and his engineers from the time constraints of internal political and bureaucratic conflicts.
"There's been an old school way -- I sort of consider it a 'Mad Men' way -- of how you market candidates to voters. You send out mail pieces. You put up TV ads. Put a jingle in the ad or whatever, based on best practices that have been carried out for a long time. Data has been a peripheral part of that. It hasn't been neglected. It just hasn't been the central starting point," Shields said.
Now, he said, every decision on what ads to run, what calls to make, which doors to knock on, and so on, will start with: "It's been tested, and the data shows that it works."
And it will be bottom up. "A lot of the designs for the products that we need to create and put out in the field are designed to go specifically to the grassroots and to empower them and for them to tell us what the answer is: 'Go find that information for us, tell us what the voters are saying, and bring the information back to us so we can shape the party based on what you told us.' That's a very information-driven political party, as opposed to, 'We're going to put out mailers and put up TV ads of the things we already decided in our office in Alexandria, and then you guys are going to have to say, 'I hope that works in your state,'" he said.
Shields said the RNC has 200 paid staff on the ground across the country, and "close to" 4,000 precinct captains recruited for the 2014 elections.
Admittedly, this is all still catching up to the way President Obama's initial 2008 campaign, and his reelection campaign, did business.
But Shields said he thinks Democrats have gotten lazy, just like he said Republicans did after George W. Bush won a second term in 2004. He implied that Democratic National Committee Chairwoman Debbie Wasserman Schultz is more concerned with raising money for her own career advancement than for helping the party, something that is a concern even in Democratic circles.
"We had this mentality in '04. We wanted to bring more data and make our decisions based on data," Shields said. "The problem is we quit innovating. Apparently what happens is in human nature, when you reelect a president, you drop the microphone and pat yourself on the back and your chairman starts raising PAC dollars for her leadership run."
DNC spokesman Michael Czin swatted away Shield's comment.
"We're not resting on our laurels," Czin said. "They're focused on tactics when their problem is their message."
But Shields emphasized candidate quality. He said that unlike in 2012, when a lot of the party's rising young stars were "ready to run for president," in 2016 "our field is going to be something that Republicans are proud of. They'll be glad to see them on the debate stage."
Awash in visions of Michelle Bachmann, Herman Cain and Ron Paul on the debate stage, this reporter asked, "Unlike in 2012?"
"I didn't say that," Fields retorted.
"Going into 2016 we both have an open seat, so we will both have nominees that come out of a nominating process, so what do they get? What do us and the DNC turn over to them [the respective nominees]? That's what I'm obsessed with," Shields said. "I call it a space race. They put up Sputnik. We can put a man on the moon and build the space shuttle if we build the right NASA."
This is post has been updated to include Shields' reference to two influential political reports, and the latest from the Cook Political Report.
Calling all HuffPost superfans!
Sign up for membership to become a founding member and help shape HuffPost's next chapter
BEFORE YOU GO
PHOTO GALLERY
2013 Government Shutdown