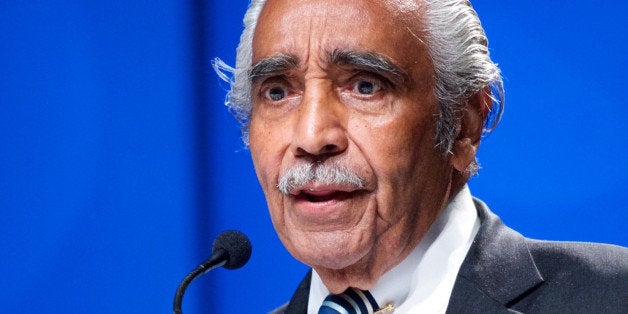 WASHINGTON -- Congressional Democrats seemed sure of their political footing Wednesday, already looking beyond the shutdown that has paralyzed the government and left nearly a million furloughed Americans without pay.
Several Democratic lawmakers attended a fundraiser for Rep. Charles Rangel (D-N.Y.) Wednesday night on Capitol Hill -- one of several political fundraisers held during a week when a number of other congressmen had decided it better not to raise money while 40 percent of the federal workforce was on furlough. Since Monday, more than a dozen Washington fundraisers have been canceled or postponed, including events for leading figures like Sen. Marco Rubio (R-Fla.).
But Democratic lawmakers at the Rangel reception didn't seem concerned about the possible adverse perception of fundraising during the shutdown. "There's no point in shutting down everything we've got to do just because we've shut down the government," Rep. Jim McDermott (D-Wash.) told The Huffington Post. "My view is that we work hard at this, we work 40 hours a week, we drive ourselves hard, and you keep doing what you've got to keep doing."
The event was well attended by about 40 people. In addition to Rangel and McDermott, Reps. Sandy Levin (D-Mich.), Joe Crowley (D-N.Y.) and Richard Neal (D-Mass.) all stopped by.
John Risch, a railroad union lobbyist, said this was the only fundraiser he would be attending this week. He said it usually feels like there are 20 such events a week. "It's the regular order of business around here," Risch said of the packed fundraising schedule. "I'm surprised, actually, that some of them have been canceled. It's what they do in this town: have fundraisers."
None of the lawmakers who spoke to HuffPost seemed surprised the event for Rangel had remained on the calendar in spite of the shutdown.
"The individual makes the judgment," Neal said. "I think it's pretty clear that Charlie was opposed to the government shutdown."
"This was planned long before the Republican leadership decided to close the country," Rangel said, adding that fundraising is necessary if Democrats hope to wrest control of the House from Republicans. "I feel so passionately and so strong that what they're doing is legislatively and morally wrong that I could not just walk away from this fight," Rangel added.
As Congress looks to resolve the shutdown and avoid colliding with the debt ceiling, Democrats are looking ahead. And that means fundraising as usual.
"This is gonna be over," McDermott said of the shutdown. "This ain't gonna be everything."
Lawmakers who attended the fundraiser Wednesday said that they've been working hard to keep the government open during the shutdown, pointing out that Rangel and the rest of the Democratic caucus has nothing to do with the present situation.
The attitude among Democrats at Rangel's event seems emblematic of the party's confidence in its position in the face of an economically damaging shutdown. It's an attitude shared by President Barack Obama, who has sought compromise with the House in the past, but who has refused to negotiate with Republicans seeking to attach policy riders to the continuing resolution to fund the government.
That strategy appears to be working: On Monday, the last day before the shutdown, the Democratic National Committee reported its best fundraising day since 2012, raking in nearly $850,000.
REAL LIFE. REAL NEWS. REAL VOICES.
Help us tell more of the stories that matter from voices that too often remain unheard.