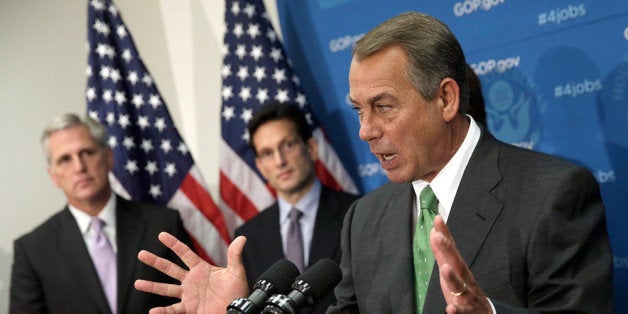 A majority of Democrats, Republicans and independents support a temporary extension of the federal budget at current spending levels, according to a new HuffPost/YouGov poll -- at least until they hear that changes to President Barack Obama's health care law might be part of the deal.
The new poll found that 58 percent of Americans would support, and only 26 percent would oppose, "a temporary budget bill that would reopen the government for 6 weeks at the same spending levels as before the shutdown while Democrats and Republicans negotiate a longer-term budget bill."
The six-week extension of a sequester-level spending bill, otherwise known as the "clean" continuing resolution, has been the default position pushed by Democrats in Congress since before the government shutdown began.
According to the poll, the option of a temporary bill to end the shutdown had broad support across party lines. Sixty percent of Democrats, 54 percent of independents and 64 percent of Republicans said they would support such a temporary measure.
But throwing the possibility of cuts to Obamacare into the mix produced a different result.
When asked whether cuts to the health care law should be included in a temporary budget bill, 28 percent of Americans said Congress should pass a temporary funding bill only if it does not include cuts or delays to Obamacare, while another 28 percent said it should be passed only if it does include such cuts or delays. Twenty-six percent said they would support a temporary funding bill whether or not it included Obamacare cuts.
The possibility of health care law changes also produced a stark partisan divide. Forty-five percent of Democrats said they would accept a temporary funding bill only without cuts or delays to the health care law, while 25 percent said they would open the government either way and 10 percent wanted to include cuts to the health care law.
Meanwhile, 49 percent of Republicans said they would accept a temporary funding bill only with cuts or delays to the law, 32 percent said they would take a temporary funding bill either way, and 6 percent said the government should reopen only without cuts to the health care law.
In fact, even as many House Republicans have continued to insist they want a deal that includes Obamacare cuts or delays, congressional talks about a compromise deal to reopen the government and extend the nation's debt ceiling have largely hinged on how long to extend sequester-level spending.
The poll found the usual divide among Americans over what should be done with the health care law more generally. A combined 43 percent said they wanted it either kept the same (20 percent) or expanded (23 percent), while 45 percent said they wanted it repealed.
The HuffPost/YouGov poll was conducted Oct. 10-11 among 1,000 U.S. adults using a sample selected from YouGov's opt-in online panel to match the demographics and other characteristics of the adult U.S. population. Factors considered include age, race, gender, education, employment, income, marital status, number of children, voter registration, time and location of Internet access, interest in politics, religion and church attendance.
The Huffington Post has teamed up with YouGov to conduct daily opinion polls. You can learn more about this project and take part in YouGov's nationally representative opinion polling.
Before You Go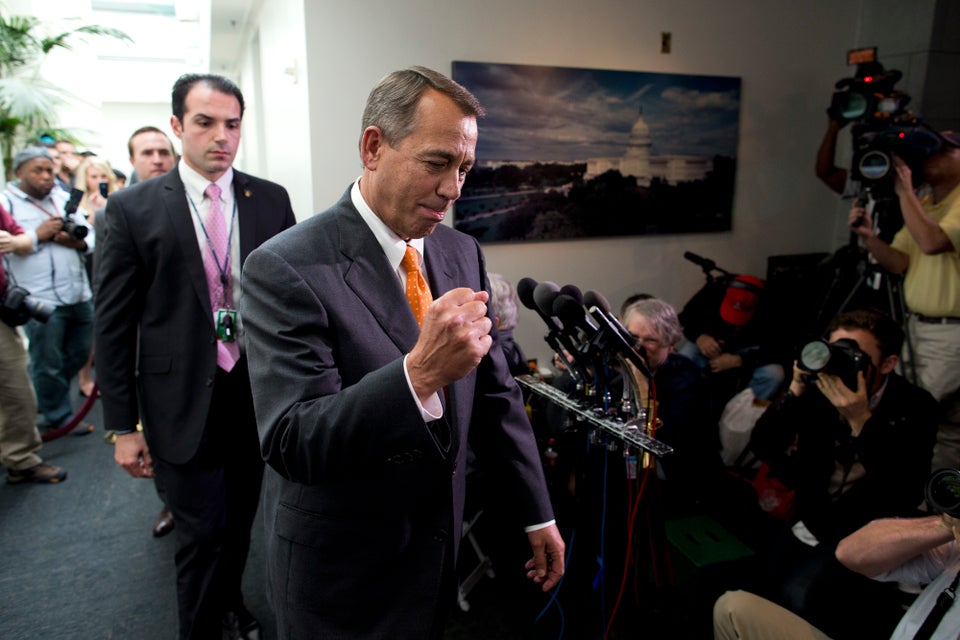 2013 Government Shutdown
Popular in the Community