WASHINGTON ― Government agencies will feel the worst effects of the ongoing shutdown Monday morning, as senators were unable to find an agreement over the weekend that would fund government operations and potentially provide a path forward for a larger immigration deal.
Late Sunday night, Senate Majority Leader Mitch McConnell (R-Ky.) delayed a vote that was scheduled to take place at 1 a.m. Monday ― one that was likely to fail ― and set a vote to end debate on a continuing resolution for noon on Monday instead.
McConnell added a new promise that is likely to flip some senators who voted against the last short-term spending bill, although Republicans still don't appear to have the 60 votes they need.
McConnell said it was his intention for the Senate to finish, "as quickly as possible," a large appropriations deal that would address spending and disaster relief, as well as continue negotiations on border security and protections for young undocumented immigrants at risk of losing deportation protections after President Donald Trump rescinded the Deferred Action on Childhood Arrivals program, or DACA.
"However," McConnell said, "should these issues not be resolved by the time the funding bill before us expires on February 8, 2018 ― assuming that the government remains open ― it would be my intention to proceed to legislation that would address DACA, border security, and related issues."
That statement, almost certainly negotiated between McConnell and other senators, could be key to shifting the positions of lawmakers who voted against the four-week spending bill on Friday. In fact, Sens. Lindsey Graham (R-S.C.) and Jeff Flake (R-Ariz.), two of the four Republicans who opposed the deal, said they would support the three-week bill after McConnell's announcement.
Flake said McConnell made a "significant" concession that Democrats shouldn't ignore. And the Arizona Republican argued that Democrats have another opportunity to force an immigration vote during negotiations over yearly spending limits Congress set for defense and non-defense programs in 2011.
"That's a lot of leverage," Flake said.
"There's been a lot of promises made to different senators that have not been followed through on by the majority leader, so I would be very leery of anything that wasn't extremely, extremely clear and detailed."
But McConnell will need seven Democrats to flip as well. That's a tall order, considering many of them have stated publicly that they won't support a deal without a vote to immediately help so-called Dreamers, or young undocumented immigrants who came to the U.S. as children and are now at risk of losing deportation relief. Many Democrats are concerned that McConnell won't follow through on holding an immigration vote or that, even if he does, House Speaker Paul Ryan (R-Wis.) won't do the same.
"There's been a lot of promises made to different senators that have not been followed through on by the majority leader, so I would be very leery of anything that wasn't extremely, extremely clear and detailed," Sen. Jeff Merkley (D-Ore.) told reporters before McConnell's speech.
House conservatives were also watching McConnell's speech closely. House Freedom Caucus Chairman Mark Meadows (R-N.C.) was hanging around the Senate on Sunday night, intercepting McConnell and talking with reporters.
After McConnell's speech on the Senate floor announcing his intention to bring up DACA legislation, Meadows noted that McConnell had not specified exactly what kind of DACA bill he'd bring up.
"He didn't make a commitment to one bill or another, which is a good sign," Meadows told HuffPost.
House Republicans are working on a DACA bill that appears to be a non-starter with Democrats. It would supply funding for Trump's border wall. It would limit family reunification immigration, which Republicans call "chain migration," and end the diversity visa lottery program ― both things Trump has demanded ― along with a host of other immigration enforcement measures. In exchange, it would legislatively codify DACA, allowing recipients to stay but not have a path to permanent legal status or citizenship. That's the bill conservatives want.
McConnell said he would have an amendment process on a DACA bill that would be "fair to all sides." But Democrats still seem to have doubts about the majority leader not putting his thumb on the scale during the immigration debate, particularly if it's going to be all for naught in the House.
McConnell appears to be hoping his statement might sway some more Democrats to vote for the three-week funding bill. But it's clear the Senate is still short of the votes if its vote has been delated by several hours. Barring some breakthrough on Monday morning, the three-week continuing resolution will still fail and senators will be back to the drawing board.
The government technically shut down at 12 a.m. Jan. 20 after senators ― most of the Democratic caucus and four Republicans ― blocked a four-week continuing resolution. Many of the senators said they would not support a bill unless it included protections for Dreamers. Others voted "no" because they said a string of CRs wasn't a responsible way to run the government, and emphasized the need for a full-year funding bill.
Lawmakers stayed in Washington for the weekend to find a deal, but it has proven difficult given the massive gulf between what Democrats and Republicans want ― and differences in what Republicans in the House, Senate and White House want.
Democrats want action on a Dreamer bill, or at least a firm commitment that both chambers will hold a vote on one, before they will support reopening the government. Republican leaders in Congress haven't been willing to go that far, and the White House has said it won't negotiate on immigration in any way until the government shutdown ends.
Trump has been seemingly absent from the weekend negotiations. The president stayed in Washington over the weekend, despite having a celebration scheduled at his Mar-a-Lago resort to mark the one-year anniversary of his inauguration, but he hasn't been talking with Democrats. Trump and Senate Minority Leader Chuck Schumer (D-N.Y.) were close to a deal Friday before staff vetoed the agreement and Democrats decided they wouldn't take anything more than a funding extension for a few days. The government shut down.
House Republicans seemed to dig in on their positions Saturday, insisting that no immigration negotiations take place until Democrats voted to reopen government. But there was some hope in the Senate, with Republicans and Democrats meeting Sunday and showing some signs of progress.
Lawmakers do seem closer to ending the shutdown, but it's clear there is still distance between the two sides. And until one side gives in or lawmakers actually reach some middle-ground proposal, hundreds of thousands of government workers will be furloughed and many national parks will close.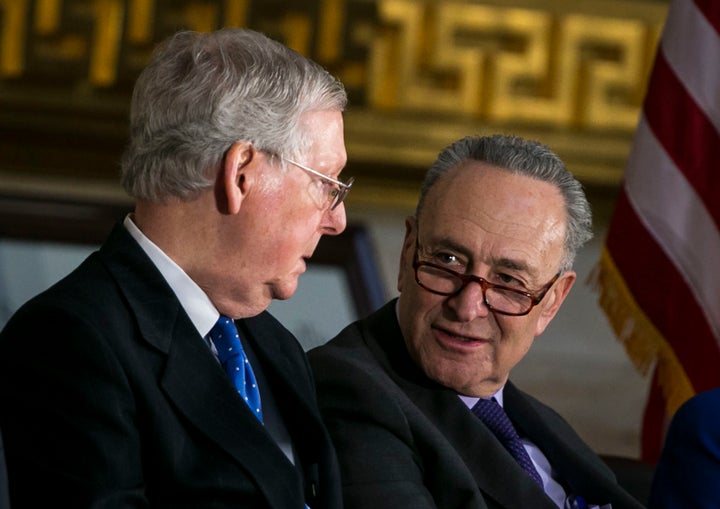 Before You Go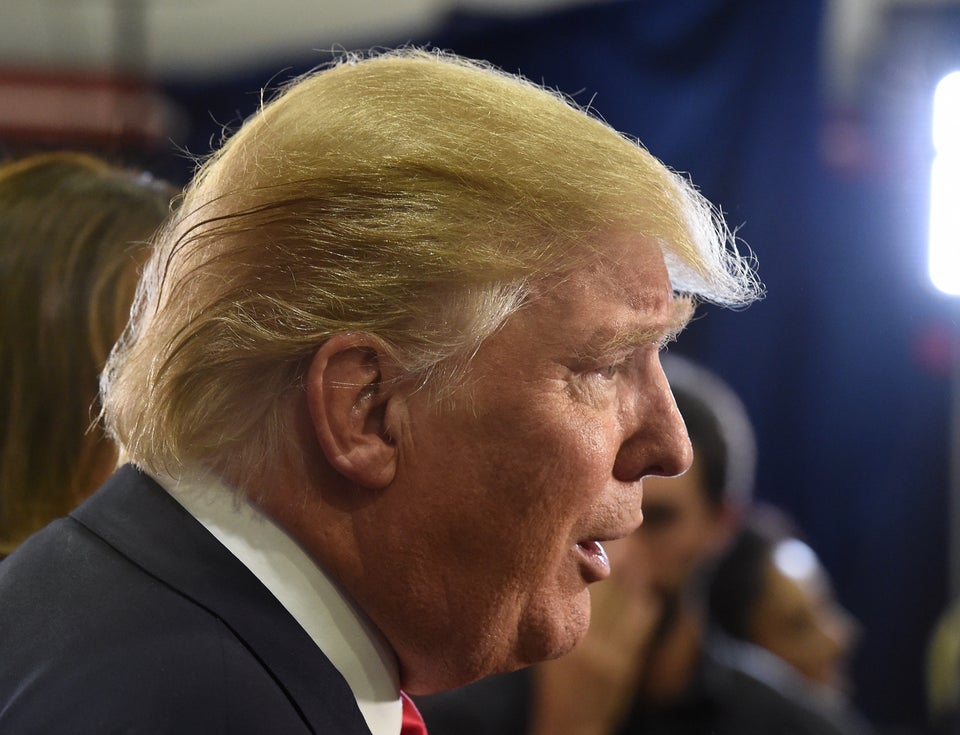 How Donald Trump Talks About Undocumented Immigrants
Popular in the Community