Sia does not have time for anyone's nonsense.
The singer released a nude photo of herself on Twitter on Monday after seeing that someone was attempting to sell the picture to her fans. Sia clearly was not aware of the photo being taken, as it was taken from afar and with her back to the camera.
Sia released a screenshot of the "client preview" watermarked photo along with the seller's (poorly written) offer.
"If you make the purchase it will be unblurred and you receive and additional 14 images," the message reads.
Not one to let her fans get swindled, Sia just posted the photo herself for her fans.
"Someone is apparently trying to sell naked photos of me to my fans," Sia wrote. "Save your money, here it is for free. Everyday is Christmas!"
HuffPost is displaying only a portion of Sia's NSFW tweet.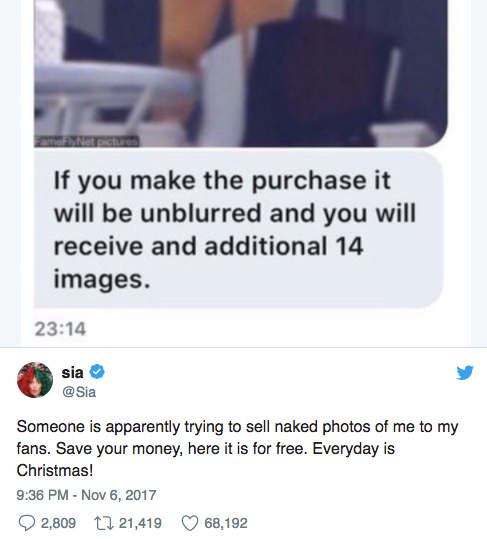 This wouldn't be the first time naked photos of a celebrity were leaked or up for sale. In 2014, a large number of nude images were released of celebrities including Jennifer Lawrence and Kate Upton in a massive hack of Apple's iCloud service. Many commenters were unsympathetic to the victims, claiming that women shouldn't take nude photos if they don't expect for them to be seen.
Lawrence called the situation a violation and a sex crime.
"Just the fact that somebody can be sexually exploited and violated, and the first thought that crosses somebody's mind is to make a profit from it," Lawrence told Vanity Fair. "It's so beyond me. I just can't imagine being that detached from humanity."
Sia quickly earned the overwhelming praise of her fans for being so bold in posting her photos.
Popular in the Community