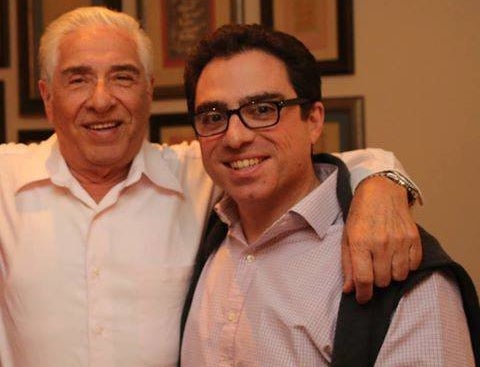 WASHINGTON ― A lawyer representing two American citizens imprisoned in Iran appealed to the United Nations on Tuesday to intervene on behalf of his clients.
In a 27-page petition submitted to the U.N. Working Group On Arbitrary Detention, Jared Genser argued that the Iranian government is arbitrarily depriving Siamak Namazi, 45, and his father Baquer, 80, of their liberty. Their treatment in Evin Prison amounts to torture, and risks causing "irreversible damage to their physical and mental health, or even death," wrote Genser, the founder of Freedom Now, a nonprofit that works to free prisoners of conscience.
The U.N. working group, established in 1991, can issue opinions on individual cases and urge countries to free prisoners who are being detained unlawfully. It has little ability to compel countries to abide by its recommendations, but a statement on the Namazis from the group could help apply pressure on Tehran.
The decision by the Namazi family to make a public appeal to the U.N. group is part of a broader strategy meant to increase public awareness of Siamak and Baquer's plight and to urge the Trump administration to strike a deal with Tehran to secure their release.
Genser released his submission to the U.N. just before a delegation from the U.S. was scheduled to meet in Vienna with counterparts from Iran and the five other countries that helped negotiate a 2015 agreement over Iran's nuclear program. He and Babak Namazi, Siamak's brother and Baquer's son, plan to hold a press conference in Vienna just before the world powers meet to discuss the Iran nuclear deal.
"This will be the first face-to-face discussions between the U.S. and Iran since the inauguration of President Trump," Genser wrote in an email. "We have been informed that the U.S. delegation will raise the Namazi cases directly to the Iranian delegation."
The State Department declined to comment on the Namazis specifically but a spokesman said the agency "continue[s] to use all the means at our disposal to advocate for U.S. citizens who need our assistance overseas."
Until recently, the Namazi family took a very different approach to getting Siamak and Baquer out of prison. When Siamak was arrested in October 2015, his family stayed quiet, hoping to give the previous administration room to negotiate. But when the Obama administration finalized a prisoner swap with Iran last year, Siamak was left behind. The month after the prisoner swap, the Iranian Revolutionary Guards Forces arrested Baquer too. In their final days in office, Obama administration officials made a last-ditch effort to negotiate the Namazis' release, but they were unsuccessful.
After quiet patience proved ineffective, the Namazis decided to speak out. Last month, Babak Namazi briefed a group of reporters and human rights activists in Washington on Siamak and Baquer's condition. He gave a detailed narrative of the family's saga since Siamak was arrested in 2015 and said he hoped President Donald Trump would be able to accomplish what his predecessor could not.
According to the petition filed by Genser, Siamak's physical and mental state has deteriorated dramatically since he was first imprisoned. He is often kept in solitary confinement in a cell without a bed, forcing him to sleep on the concrete floor. He has been tortured by guards, beaten, hit with stun guns, and forced to watch government propaganda with images of him and his father in prison, Genser wrote. He has lost 26 pounds in prison as a result of a hunger strike.
Baquer's physical health conditions are even more serious. He has a heart condition that caused him to undergo triple bypass surgery before he was imprisoned. He has been hospitalized at least twice since his arrest but has not been allowed to see his heart specialist while in prison.
Tehran's denial of "medically appropriate detention conditions for the Namazis constitutes cruel, inhuman, and degrading treatment," Genser wrote in the petition.
Despite being held in the same prison, Siamak and Baquer first saw each other in February, more than a year since Baquer entered Evin, Genser alleged in the petition.
Siamak and Baquer have both been convicted of cooperating with a "foreign state" against Iran ― a reference to the U.S. ― and have been sentenced to 10 years in prison.
They were only allowed to meet with the attorneys in Iran for a half-hour several days before the hearing, which was closed to the public and the media. According to Genser, they were not allowed to present evidence, call witnesses, or meaningfully challenge charges or evidence against them.
The case against the Namazis appears to rely heavily on their past affiliation with Western organizations. Siamak held fellowships with the Woodrow Wilson International Center for Scholars and the National Endowment for Democracy ― both of which receive funding from Congress. Baquer worked with the humanitarian relief organization UNICEF for over 10 years. At the time of their arrests, Siamak was working at an oil and gas company in Dubai and Baquer was retired and living Iran.  
Genser's petition to the U.N. group is just as much an appeal to the U.S. government to focus on getting Siamak and Baquer released. He is conveying a message to the Trump administration that because of their deteriorating health and Baquer's age, they don't have much time to negotiate a deal.
During the presidential campaign last year, Trump tweeted that he wouldn't let Iran imprison Americans and demand money for their release if he became president.
Earlier this month, the Treasury Department sanctioned the Tehran Prisons Organization and senior prison official Sohrab Soleimani for human rights abuses. White House Press Secretary Sean Spicer mentioned Siamak and Baquer by name when he discussed the sanctions.
Last week, an American imprisoned for three years in Egypt returned home after the Trump administration negotiated her release. Her release was possible, in part, because of the Trump administration's willingness to drop pressure on Egyptian President Abdel Fatah al-Sisi to improve the country's human rights record. 
But it's not clear what leverage the Trump administration will have with Tehran. Unlike in Egypt, where he was eager to patch up relations, Trump has vowed to take a tougher stance in Iran. And he repeatedly criticized the Obama administration for giving up too much in last year's prisoner swap, which means it would be hard for him to accept significant American concessions to bring Siamak and Baquer home.
Calling all HuffPost superfans!
Sign up for membership to become a founding member and help shape HuffPost's next chapter