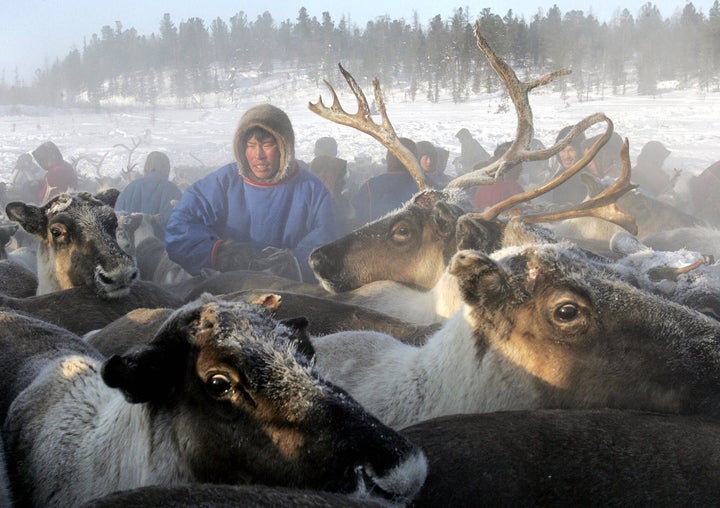 Russian officials have said the death of a 12-year-old boy, a member of a reindeer-herding family from the Yamal tundra 1,300 miles north of Moscow, was the first fatality in Siberia linked to the pathogen since 1941. Twenty others have been diagnosed with anthrax, according to CBS.
The region's governor, Dmitry Kobylkin, linked the outbreak to a massive temperature spike in the region that has melted the permafrost ― a thick layer of soil and organic matter frozen year-round in the coldest areas of the planet. Unusually hot weather has seen temperatures hover close to 95 degrees Fahrenheit for more than a month in parts of the tundra.
"I have no words to express my feelings," Kobylkin told Agency France-Presse. "The infection showed its cunning. Returning after 75 years, it took away a child's life."
Officials began investigating the outbreak in late June after reindeer began dying en masse. The anthrax outbreak was later linked to a 75-year-old carcass that had thawed with the permafrost, releasing dormant bacteria spores that infected other animals.
More than 2,300 reindeer have succumbed to the pathogen since the outbreak began, according to the Siberian Times. Healthy animals in the herd, which numbers more than 200,000, are being vaccinated, and the government said it would spend $1.3 million to help nomads in the region affected by the outbreak.
Anthrax isn't contagious and is spread in humans through spores in the air, food and drink and through open wounds. It can be easily treated with antibiotics, according to the U.S. Centers for Disease Control and Prevention.
Disease aside, another study released by a researcher at the National Snow and Ice Data Center last year warned climate-change-induced melting of the world's permafrosts could lead to trillions of dollars in damages.
Related
Popular in the Community