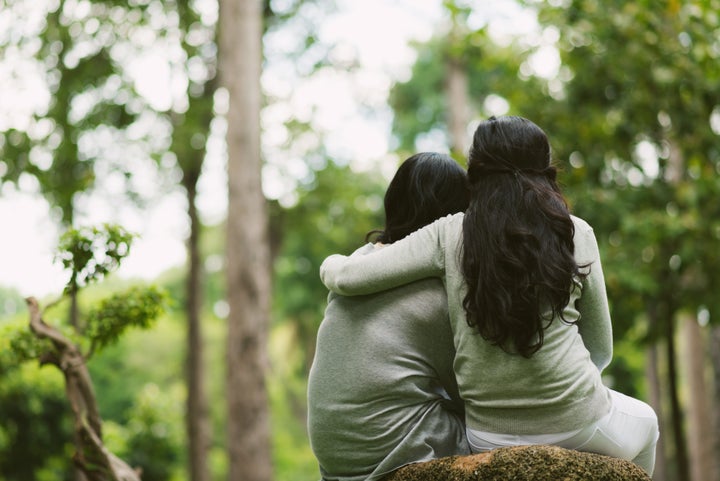 Christina's sister was 28 when she was formally diagnosed with borderline personality disorder, though Christina, who asked that we not use her last name to protect her family's privacy, says there had been signs of the disorder for years.
Beginning in her teens, Christina's sister, now 30, struggled with eating disorders, self-harm, addiction and suicide attempts, and her family often felt they had to "walk on eggshells" around her to avoid triggering a change in mood.
According to the National Institute of Mental Health, BPD is a mental illness that causes mood and behavioral instability, which can lead to impulsive decision-making and unstable relationships. Episodes of anger, depression and anxiety are common, too, as well as the behaviors exhibited by Christina's sister.
But Christina plays a vital role in her sister's well-being, acting as her confidante and emergency contact, and offering her compassion where others might not.
"She doesn't have a very large support network, since she tends to lose relationships or cut people off. She knows I am always there for her, whether we are on speaking terms or not," Christina says.
"One of the toughest moments was when she sent me a goodbye email at 1 a.m., saying that she had taken a bottle of pills and was calling it quits. I had to call the ambulance and race over to her place just in time to help her. It's an experience I wish upon no one and I never like when the thought 'What if I hadn't been awake when she sent that email?' comes into my mind."
Acting as that safety net often falls to siblings. A 2008 study of individuals with schizophrenia found that the vast majority were unmarried and therefore didn't have partners to care for them. Since parental support can't last forever, most schizophrenics in the study turned to their siblings for help; the same is true for people with other types of mental illnesses. Considering about 1 in 5 Americans will experience mental illness in any given year, plenty of siblings will be called on to provide support.
Rebecca Chamaa, a 51-year-old San Diego-based writer who suffers from paranoid schizophrenia, says she receives support from her three brothers, and that is vital to her well-being. Doctors help to manage medications, their side effects, therapy and treatment for major episodes, but many conditions require a different kind of help: compassionate daily support.
Chamaa's illness often manifests as paranoid thoughts about food, she explained. She may think it's poisoned, spoiled or otherwise inedible. Because her brothers understand where she's coming from, they are often able to convince her that her food is safe to eat, she explained.
Chamaa says being mentally ill can be scary and exhausting, and that you can suffer from a lack of motivation. So to siblings of those with mental illnesses who want to provide support but might be having a tough time, Chamaa recommends trying to understand or educate yourself about the symptoms of your sibling's mental illness "so that you're not frustrated."
Christina says that she's delved deep into BPD research, doing exactly what Chamaa describes, and it's helped her support her sister. Experts agree that fully understanding a family member's diagnosis can help those in a caretaking role to be more compassionate.
With that in mind, we spoke to a few experts to find out what it takes to support a sibling with a mental illness — and how to take care of yourself along the way:
1. Keep an open dialogue about mental health, and understand your sibling's symptoms.
Chamaa says after she revealed her paranoid schizophrenia diagnosis to her extended family, they were kinder about certain behaviors of hers that seemed "odd," like having to leave an event abruptly to lay down and sleep (a side effect of her medication). "I had more leeway to be myself," she says. An open dialogue about her mental illness helped her family to provide her better support.
Florence Leighton, a psychiatric nurse practitioner based in New York, adds that understanding your sibling's diagnosis and why certain behaviors occur is an important part of being compassionate.
"If an incident takes place, this does not mean a sibling is a bad person; they are merely struggling in the management of their condition," she says. "By normalizing behaviors and separating the person from their actions, siblings can be incredibly understanding and decrease the guilt and shame a person feels after an incident."
2. Check in on a sibling who is isolating.
As Chamaa describes above, people with mental illnesses can sometimes lack motivation, so things like getting out of bed, showering, changing clothes and leaving the house can feel impossible. That's why Chicago-based psychotherapist Carolyn Cole recommends checking in on your sibling if they've begun to isolate themselves.
3. Try not to get frustrated or angry about mental health symptoms.
Behaviors associated with mental illness can become frustrating for caregivers, but it's important to separate your sibling from their illness and remember that they're not always in control of their behaviors. Cole says it's critical to remember that mental illness is not someone's fault, and that it's much more than just "feeling sad."
"I hear frustration often from clients who say family members will tell them to 'Get over it,' 'Snap out of it' or 'Think happy thoughts,'" she says. "Sometimes asking 'How can I help?' or 'What do you need from me right now?' [instead] can be really supportive."
If your sibling has a crisis while you're out together, though, Cole says it's important to try to de-escalate the situation.
"Be aware of your tone with your sibling, too, as harsh tones can escalate things," she notes. "If things ever get extremely out of control, especially where safety is a concern, 911 is always an option. You can ask for a CIT [crisis intervention team] officer who is trained to work with someone experiencing a psychiatric crisis."
4. Let go of your expectations.
Part of the reason learning about your sibling's illness is so helpful is that it allows you to let go of expectations around how your sibling "should" behave according to social standards. Kristen Bomas, a therapist, author and speaker based in South Florida, notes that holding onto expectations — and wanting your mentally ill sibling to comply — creates stress in your relationship and can exacerbate your sibling's symptoms.
"Expectations are laden in external influences. External influences are laden with judgment," she explains. "Therefore, the siblings cannot grow a compassionate relationship" when expectations are present.
5. Young children can be supportive, too.
Conditions such as ADHD, anxiety, depression and autism are often a part of childhood, too. If you're a parent of both a mentally ill child and a child without mental illness, talk to the latter about their sibling's condition using words that are simple and age-appropriate.
"Some ideas of things to say could include, 'Your sister has an illness that means that her brain sometimes has trouble with certain things. It's not something that you can catch, and it's something that we are working on with her doctors to help her feel better,'" suggests Eleanor Mackey, a psychologist at Children's National Health System.
She adds that parents should make special time for their children without mental illness and provide them with resources, since they may be growing up in an intense or stressful environment.
Still, parents can foster a family culture of understanding by directing such children to express love or support for their mentally ill siblings in developmentally appropriate ways. Mackey recommends having a child write a letter or draw a picture for their sibling to let them know they care, or suggesting the child bring their mentally ill sibling a favorite toy, or playing music the sibling likes, to provide comfort.
She adds, "Empathy from a sibling and the whole family is a powerful force for a child with a mental illness."
6. Take care of yourself.
Because of incidents related to her sister's BPD, Christina suffers from her own symptoms of anxiety and post-traumatic stress disorder, and is in counseling to cope with the effects of having to keep her sister from taking her own life, among other things. She recommends others with mentally ill siblings seek out the same treatment.
"I've ... recently identified, with the help of a counselor, that I experience feelings similar to that of mourning. I mourn the life I wish my sister could have if her mental illness weren't so debilitating for her. I have a hard time feeling 100 percent good about the happiness in my personal life, knowing that she isn't experiencing the same," she says. "I definitely suggest finding support groups and doing personal counseling [or] therapy."
7. Set boundaries.
Cole notes that while siblings may feel guilty at first about setting boundaries, it's a necessary part of your caregiving role. Without boundaries, limits and self-care, you may become angry at or resentful of your siblings — and that's helpful to no one.
"Define 'crisis' with your sibling (i.e. fire, locked out of apartment, feeling suicidal, etc.) so you both are clear on what a crisis means, how they will let you know it's a crisis vs. just calling to talk, and who the sibling could call if they cannot get in touch with you at that time," she recommends.
Leighton adds that seeking out community resources, such as case management, transportation and day programs for your sibling "can help alleviate some burden associated with managing a sibling with mental illness."
Support HuffPost
A No-B.S. Guide To Life
Related
Before You Go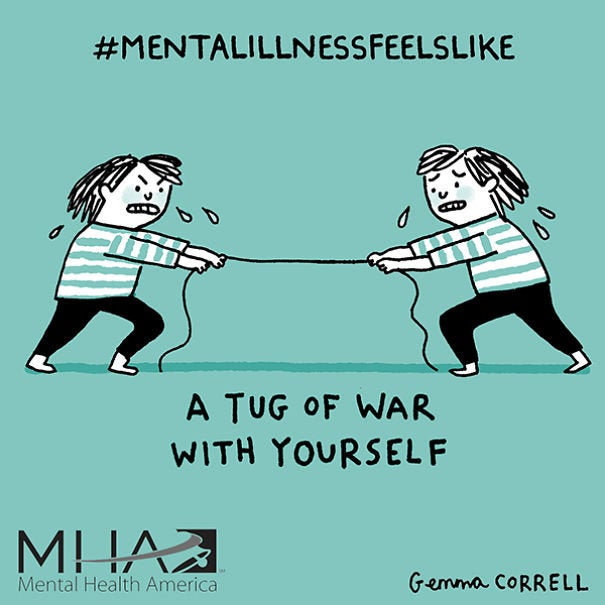 11 Comics That Explain Mental Illness
Popular in the Community