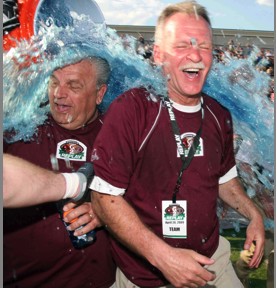 To many, the biggest sports story of the weekend was the NFL Draft in New York City. I had the chance to go to the Draft, just a quick subway ride away. Instead, I chose to drive two hours to Easton, PA -- a small, former steel town.
The game in Easton didn't mean anything in terms of stats -- but it meant everything to this community. The NFL Draft, on the other hand, is all stats, all the time. Apologies to those of you who have been holding mock drafts for weeks, but I chose to spend my weekend experiencing all of the things that I love about sports: tradition, redemption, underdogs, hope, cheerleaders, marching bands, bonfires and ice-cold beverages
This chill-inducing, get-all-choked-up-weekend was provided by Gatorade, through their ingenious "Replay" program. Here's how it worked:
>> Gatorade found one of the country's most intense high school football rivalries -- Easton, PA, vs. Phillipsburg, NJ. Separated by the Delaware River, P'Burg is more blue-collar, Easton is swankier. Every Thanksgiving Day for more than 100 years, the teams battle it out. In 1993, the big game ended in a 7-7 tie -- a classic "Sister Kisser."
>> So Gatorade gathered together the 1993 teams, trained them for three months, and launched the "Replay" program, in conjunction with their low-calorie G2 drink. "Replay" shows that we're all athletes -- or that we can be. (Even if some of us haven't picked up a football or put on the pads in more than 15 years.)
>> Finally, on Sunday, the two teams replayed the game -- complete with cheerleaders and band members from 16 years ago.
>> Gatorade also provided some celebrity muscle by inviting football's good guys -- Peyton and Eli Manning -- to serve as honorary coaches for the game. The result? Maybe the best sports weekend ever.
To add to the Sister Kisser vibe, I invited my sister Christa, a GoGameFace.com contributor, to join me for the festivities. The Saturday night bonfire was "Friday Night Lights" meets "All the Right Moves." The community block party on Sunday morning was congenial, lively and had the feel-good spirit of people who knew that it didn't really matter who won. It was about being able to suit up again ... about getting a second chance ... about what could have been. Finally, at 3pm, it was time to replay the game.
There were some amazing plays. There were some Bad News Bears plays, as well. It doesn't really matter. I will tell you that the underdogs won -- blue-collar P'Burg beat swanky Easton 27 - 12, in front of 14,000 fans. But there were no hard feelings on either side at the end of the game. Just sunburnt faces, grins of satisfaction, and that rare moment that allows you to look back at what could have been, and simultaneously be inspired by what could be.
For us, another highlight of the weekend was the opportunity for the Boeke Sisters to tackle the Manning Brothers, via an on-field interview at halftime.
EB: Eli, what game would you replay if you could?
EM: In my junior year, we lost in the third-round playoffs to ... I think it was West St. Johns. That is a game that sticks with me, and one that I would love to play again.
CB: Peyton, what game would you replay if you could?
PM: Everyone asks that. I think you have to play every game like it's your last -- that's the intensity. But the great thing about this is that these guys do get another shot.
EB: Eli, this weekend brings up a lot of high school memories -- for us sisters, too. Did you and Peyton ever date the same girl, or did you ever date sisters?
EM: Well, no. We didn't go to school at the same time, so we didn't have a chance.
EB: Good, because it just makes things awkward.
EM: But we did wear the same number and we both wore the same ugly, lime-green t-shirt under our uniforms. I think it was my dad's.
CB: Peyton, in high school did you and Eli ever date the same girl, or sisters?
PM: Is this about the game at all?
CB: Um, not really. So would you replay anything about high school over again?
PM: There are lots of great things about high school I'd do over -- playing ball sophomore year with my older brother Cooper ... that was amazing. School dances, Prom -- all that stuff I'd do again.
EB: Eli, I interviewed Serena Williams a couple weeks ago and she said that she and Venus would beat you guys in doubles. Should we set it up with the Gatorade folks?
EM: We were actually with them a few weeks ago and we played mixed doubles ... Peyton was definitely the weak link.
EB: Eli, would you and Peyton ever co-host SNL together?
EM: Well, [Peyton] has already done it ... but maybe somewhere down the road.
EB: Eli ... why Hoboken?
EM: (Slightly annoyed.) I have lived there for five years. I love it. I wanted to be in New Jersey so I could be close to the stadium.
EB: I hear that N.J. Senator John Corzine lives or used to live in your building. Is he a good neighbor?
EM: (Slightly confused.) Yeah, I think so. I don't remember him ever causing problems or being a bad neighbor.
EB: How did it feel when you won the Super Bowl, saving the world from cheaters and bringing down the Death Star?
EM: (Still confused.) Winning the Championship made me really proud and it was a great moment.
EB: (Thinking she better knock it off.) What was your favorite part of this "Replay" experience?
EM: The fact that Gatorade made all of this possible, and just talking to the fans and seeing how hard these players have worked. It's really inspiring.
And he's right. The whole damn weekend was inspiring: From Easton kicker Kendall Hochman, a leukemia survivor who played Sunday, to Tyrone Randolph who was abandoned by his mother in high school and moved in with his teammate's family -- not to mention the couple of guys who lost 60+ pounds during their "Replay" experience. Check out missiong.com for their stories.
Through our Facebook and Twitter updates, my sister and I inspired a few people, as well. Our high school friends in Southern California have been chattering all weekend about a classic football game back in 1986, between Sunny Hills (us) and Valencia (them). In the fourth quarter, the lights suddenly went out -- and the game went into double OT. To this day, there is still much speculation about who turned out the lights, and how things might have ended if they hadn't. We nominated our school on Facebook for the next installment of "Replay" -- in hopes that our town can experience that "what could've been" moment ourselves. Wish us luck.
REAL LIFE. REAL NEWS. REAL VOICES.
Help us tell more of the stories that matter from voices that too often remain unheard.