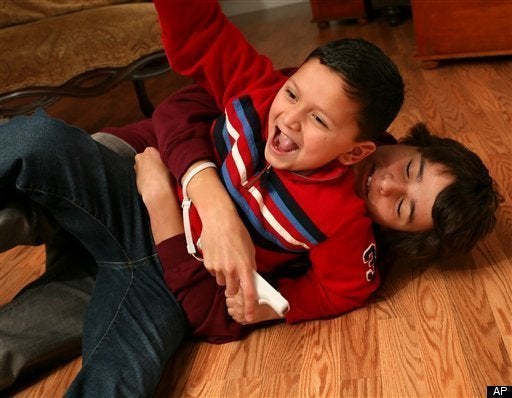 My brother Clarence has autism. He is 41, I am 43. Many years before the influential National Alliance on Mental Illness formed in 1979, and before Mental Health America launched its powerful online community this summer, it was left to sisters and brothers of those with disabilities to put up our dukes and protect our defenseless loved ones from bullies and discrimination.
Years before I even reached puberty, I had to learn to fight for the rights of my brother who was openly derided as "Cheryl's retarded brother." Society's expectations for my dear brother, who wanted to be a cartoonist, were so abysmally low that my other siblings and I had to form a protective web of love and support around Clarence, and encourage him to live out his artistic dreams in spite of those who sought to relegate him to a subhuman status. Along with our mother, we created a defensive strategy to ensure his inalienable right to life, liberty and the pursuit of happiness. As he grew older in the 1970s, a network of dedicated mental health activists joined in our advocacy.
Fast forward to just days ago. A small army of siblings of children and adults with disabilities gathered at a swank hotel in Connecticut for the International Sibling Conference. My brother Clarence and I were invited to be the keynote speakers. About 150 sisters and brothers -- mostly adults -- traveled from as far away as Australia, Canada and Japan to network and share empowering and heroic stories that are not widely reported in the mass media. The event was a powerful reminder that siblings have emerged as a mobilized advocacy force -- a force to be reckoned with.
As I introduced my brother to present his prepared remarks, I saw a sincere "aw shucks" expression flash across his sweet face. He bounced on stage with great enthusiasm and read the speech I had typed out for him. The little boy, who once banged his head against walls so violently that I had to physically restrain him from hurting himself, delivered his lines with ease, precision and passion. The youngster who ran away from home in a fit of rage and confusion so many times that all the cops in our neighborhood precinct knew and empathized with our widowed mother, paused between every line to allow the audience to absorb what he was saying. It was a needle-on-the-record moment for the audience, and especially for me. Clarence received a well-deserved standing ovation.
The audience was further delighted when my brother embraced Chris Burke, an actor with Down Syndrome who is perhaps best known for his groundbreaking role as Charles "Corky" Thatcher on the hit TV show "Life Goes On." Turns out they first met more than 25 years ago during special education programs at camp in New York where they acted, sang and danced on stage. Startled by their unexpected reunion, the men embraced with an affection that touched everyone in the room.
Only weeks before this heartwarming event, I was invited to host a concert event at the Apollo Theater in Harlem that headlined two bands, Flame and Potential Unlimited, music groups with members who have disabilities. The Apollo was packed to the rafters with people with disabilities as well. Before I had agreed to emcee the event, I told event planners that I wanted my brother Clarence to co-host with me; I subtly indicated, "No him -- no me."
So, on that beautiful summer night, on one of the most famous stages in entertainment history, my brother stole the show. Clarence charmed and mesmerized an audience that was struck by his charisma and stage presence. But I was not surprised; I always had faith in my brother's abilities. I stood back on that hallowed stage and watched Clarence dance his heart out. And that's just how I (and all siblings of those with disabilities) want it to be. Autism is just a situation we deal with, not a curse. We demand that our loved ones live with freedom from fear, and maintain the right to express their creativity. But any fool who dares to touch one hair on our siblings' head, or uses the "R" word, risks getting a severe ass-kicking from their most ardent defenders.
Related