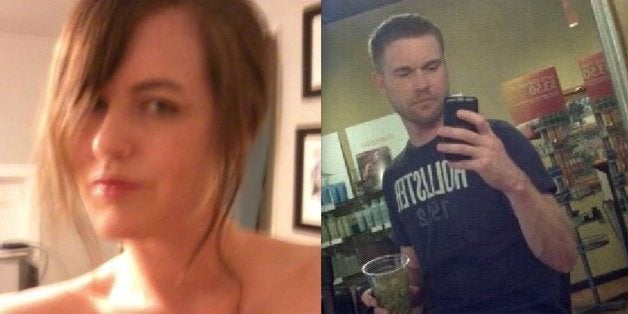 In Missouri, if you kill someone while driving drunk, you could go to prison for -- at most -- 15 years. That's what Natalie and David DePriest are serving -- for growing marijuana.
Police found 12 mature plants and eight sprouts in their condo, and when the pair went to court, the judge issued the maximum sentence.
Prosecutors say the DePriests were running a large drug-selling operation. "The evidence indicated that they had been selling for quite a while," St. Francois County Prosecuting Attorney Jerrod Mahurin, who handled the case, told The Huffington Post. "And the amount of money documented was substantial."
But 36-year-old Natalie, a former sales rep for Camel cigarettes, and her 34-year-old brother, David, a restaurant worker and aspiring gunsmith, maintain that's not true. Both siblings said they had never sold their weed to anyone. Both said they only grew cannabis so they would not have to buy it on the black market. "If we had thousands of dollars in pot sales, it must be buried somewhere," Natalie said in a recent phone call from prison. "Because I've never seen it."
Natalie and David's saga began in the summer of 2011 when Mike Blankenship, a maintenance man, entered their condo to install a fire extinguisher while they were out getting lunch, according to a police report. Blankenship said he saw the marijuana plants in David's bedroom closet and a piece of plastic pipe that appeared to be a bomb on a kitchen counter. Blankenship filmed the pipe with his BlackBerry and showed the video to Farmington Police officers, who had the landlord let them inside "to secure the premises," the police report notes.
Officers later obtained a warrant to perform a search of the three-bedroom condo.
During the search, police said they found the 20 plants, a rifle one-quarter inch shorter than the legal limit, two (legal) pistols, two bulletproof vests, ledgers that contained sales records totaling up to $8,000 a month and about 3 pounds of dried weed. Police did not find cash in the condo.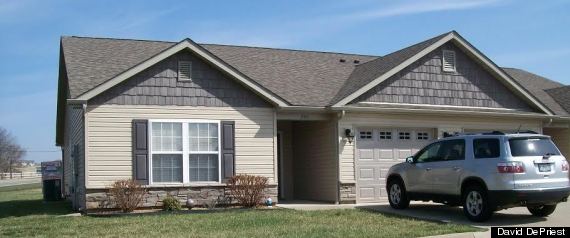 The DePriests' three-bedroom condo in Farmington, Mo., where police found marijuana plants.
David said he is a certified gunsmith and owned the guns as a hobby. The sales ledgers found by police were just his poker book, he said.
The Farmington Police Department did not return requests for further comment.
The siblings lawyer, Dan Viets, said he was never allowed to see the sales ledgers or the video of the alleged pipe bomb. Court documents note Blankenship said he'd dropped the BlackBerry that contained the video in a bucket of paint. The piece of pipe turned out not to be an explosive device.
Viets said he attempted to have the evidence thrown out of court by arguing that officers had violated the DePriests' lease by entering the condo without giving notice. Furthermore, police should not have gone inside before getting a warrant, Viets argued. But that motion was denied.
The DePriests spent two years and tens of thousands of dollars fighting their case before deciding to plead guilty. Proceeding to trial would have cost another $4,000, Natalie said, and "we were broke."
Plus, the pair thought pleading guilty might have meant more lenient sentences. Mahurin, the prosecutor, had told them that if they took their case to court, he would ask Circuit Court Judge Kenneth Pratte to hand down the maximum sentences allowed. On the other hand, If they pleaded guilty, there was good reason to think they'd be let off with a short, 120-day prison stint followed by probation. Nearly 80 percent of similar offenders in Missouri are punished that way or are simply let off with probation, according to the Missouri Department of Corrections' Board of Probation and Parole.
In addition, in its Sentence Assessment Report, the board had rated David and Natalie as being in the highest percentile for likeliness to succeed on probation. The report noted that they were educated, had jobs and had no felony convictions on their records. (David had one prior misdemeanor drug charge from 1999. Natalie had been charged with writing bad checks while she was out on bail for the marijuana case, but those charges were dropped as part of her plea.)
In November 2013, David and Natalie pleaded guilty to growing more than 5 grams of marijuana and intending to distribute it. David also pleaded guilty to owning an illegal rifle. By entering these pleas, they waived their right to trial.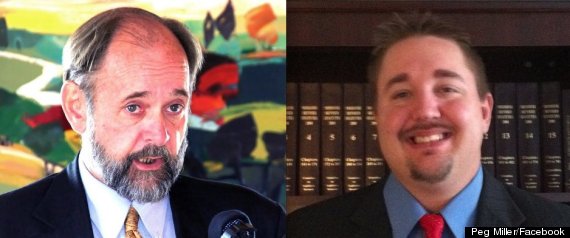 This image shows Dan Viets (left), the DePriests' lawyer, and St. Francois County Prosecutor Jerrod Mahurin (right).
The judge came down hard on the DePriests. He imposed the maximum sentences: 15 years for the charge of cultivating marijuana and 15 for intending to distribute it. But rather than order the pair to serve 30 years behind bars, the judge ordered their sentences be served concurrently. David is serving an additional seven years for the illegal rifle.
"The law is the law," the judge said at the hearing, according to court records. He declared he didn't "care one bit" that most Americans believe pot should be legalized.
The siblings' father, David DePriest, 62, told HuffPost he was "shocked" by the sentence and said it was "beyond belief." Viets seemed to agree.
"In 27 years of representing people with marijuana charges, that is the longest sentence I have ever seen for people with no prior felony convictions for cultivating a few marijuana plants," Viets was quoted as saying at the time.
Judge Pratte did not respond to numerous requests for comment from HuffPost.
Mahurin says David and Natalie should have accepted his early offers of clemency.
"I made Viets an offer where they would have served 120 days in jail, and then gotten out on three years of probation, probably, and he refused," he said. "He just wanted a platform to speak about marijuana legalization and to use these people as martyrs."
David said they would have accepted the prosecution's initial plea offer, but Mahurin had refused to allow the felony to be erased from the siblings' records after their probation.
Because it's their first time in prison, Mahurin said, it's likely the pair will not serve their full sentences. "David will probably serve four years, and Natalie will probably serve two and a half," he said. That would mean Natalie will be free in spring 2016 and David in late 2017.
In a recent letter from prison, where she earns $8.70 a month at the facility's food service warehouse, Natalie said she is sorry for what she did.
"I've learned I should help change the law, instead of breaking it," she wrote. "But like they say, the most dangerous thing about pot is getting caught with it."
Calling all HuffPost superfans!
Sign up for membership to become a founding member and help shape HuffPost's next chapter
BEFORE YOU GO
PHOTO GALLERY
Politicians On Pot