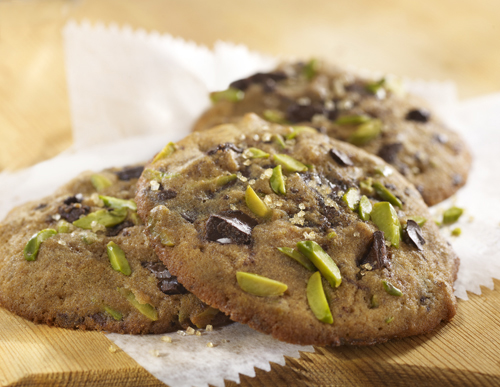 Sicilian Pistachio Chocolate Chunk Cookies
Photo by David Bishop
By employing the fullest flavors possible and using visually appealing ingredients in the food we make and eat, we elevate appetite satiation, which drives and produces our sense of abundance and satisfaction, creating a more fulfilling experience of the food in our lives. In this recipe for chocolate chunk nut cookies, I have chosen some of the most flavorful and visually delightful ingredients I could find.
Sicilian pistachios, also called Pistacchio di Bronte, grown in the fertile volcanic soil surrounding Mount Etna, are highly prized for their bright green color and rich nutty flavor. They are often used in desserts and recipes by gourmet restaurants in the U.S. They are a staple of every pasticceria in Sicily, but uncommon in U.S. markets. I found them in New York City at Kalustyan's, 123 Lexington Avenue between 28th and 29th streets, phone number 800-352-3451. You can also find them at Buon Italia in New York City at 75 9th Avenue, phone number 212-633-9090 or on their website.
With the growing awareness, popularity and availability of premium chocolate products, I chose to use an 70% dark chocolate candy bar for maximum chocolate flavor. I chopped it into small chunks with a knife and even incorporated the resulting by product of small chocolate shards into the batter. I found that a higher percentage chocolate in a baked cookie will not retain its shape.
I love baking using coconut crystals (coconut palm sugar) instead of granulated cane sugar because it has a glycemic index of 35 (30 cal and 7g carbs/Tbs.) compared to cane sugar's 80 (50 cal and 12 g of carbs/Tbs.), yet can be substituted one to one without changing the texture or flavor of a recipe. Coconut sugar is also an abundant source of minerals, 17 amino acids, vitamin C, broad spectrum B vitamins and has a nearly neutral pH.
I often use coconut oil to replace or partially replace butter, even though it is slightly higher in calories than butter and is a saturated fat, it actually reduces cholesterol in the body. I also love the flavor and browning it adds to baked goods.
Coconut flour, another gem of the coconut plant, can also be used in baking to replace some or all of the white flour. Like other coconut products, it helps reduce cholesterol, is gluten free and adds great flavor. It does absorb more liquid than white wheat flour, which must be taken into account when formulating a recipe.
All of these coconut products can be found in your local health food store, Whole Foods, Fairway Markets and are becoming more available in many mainstream grocery store chains.
With all of that said, here are two of my recipes for Sicilian Pistachio Chocolate Chunk Cookies
Preheat oven to 375'F Makes about 4 dozen cookies
3/4 cup coconut crystal sugar, room temperature
3/4 cup coconut oil
3/4 cup butter, softened at room temperature
1/2 cup brown sugar
1 teaspoon real vanilla extract
1/2 teaspoon fine sea salt
With and electric or hand mixer, cream the fats and sugars together with the flavor ingredients.
Beat the eggs into the creamed butter and sugar, one by one.
1 1/2 cups all purpose flour
1/2 cup coconut flour
1/2 teaspoon aluminum free baking soda (Rumsford's brand is an aluminum free soda)
In a medium bowl with a wire whisk blend the dry ingredients together. Slowly beat the dry ingredients into the wet ingredients with a spoon or an electric mixer.
2, 3 oz. bars of 70% chocolate, chopped into small chunks, small shards and all
1 cup roasted, chopped, shelled Sicilian Pistachios
Styling tip: Reserve some of the chocolate chunks and pistachios to artfully top the cookies before baking.
Fold the nuts and chocolate into the cookie dough
With a teaspoon or a teaspoon size ice cream scoop, place the dollops of dough evenly on ungreased cookie sheets. Be sure to leave enough space between cookie dough dollops to allow for spread during baking, usually a couple of inches.
Bake for 9-12 minutes
Styling tip: Sprinkle the cookies with a small amount of Demerara sugar for extra crunch and sparkly eye appeal.
All Coconut Product Version
Makes about 16-18 cookies
1 cup coconut sugar
1 cup coconut oil
1 cup coconut flour
1 large egg
1/2 teaspoon real vanilla extract
1/4 teaspoon sea salt

1/4 teaspoon aluminum free baking powder
3 oz. bar of 70% chocolate, chopped
1/2 cup of roasted, shelled, chopped Sicilian Pistachios
Follow the instructions in the first recipe above, but reduce the bake time to 6-9 minutes. Let them cool completely before removing them from the cookie sheet, as they are quite delicate.
Sometimes I add dried cherries to the dough for a pleasant chewy change. Using course sea salt instead of fine makes an interesting textural and flavor variation. Create your own version by adding your favorites.
Please enjoy these highly flavorful and beautiful cookies for the holidays, entertaining, or at any time you want a sweet treat. Also visit my first blog at foodfloozie.com and my professional sit at marilinda.com

Popular in the Community