Allison Leonard found love in a hope-filled place: Last April, the 26-year-old from Chicago submitted a listing to @_personals_, an Instagram account for lesbian, queer, transgender, and non-binary people looking for love (or any other person-to-person connection).
Leonard led with a clutch Rihanna reference, then crafted a succinct, punchy ad that detailed her interests and what she was looking for. At most, she figured she'd get some fun dates out of the listing, or make some cool new friends.
"I'm a very extroverted person and acquire a lot of my energy from being around and meeting new people," Leonard told HuffPost. "I was just looking for responses from folx who were social, charismatic, and goofy, while also being social-justice-oriented, driven, responsible, and passionate."
Instead, love fell into her lap. Or more specifically, slid into her DMs.
"I was not anticipating the beginning of a serious relationship with anyone by any means, but then Ryan, a pharmacist, messaged me," Leonard said. "Ryan pleasantly surprised me and surpassed any and all of my expectations."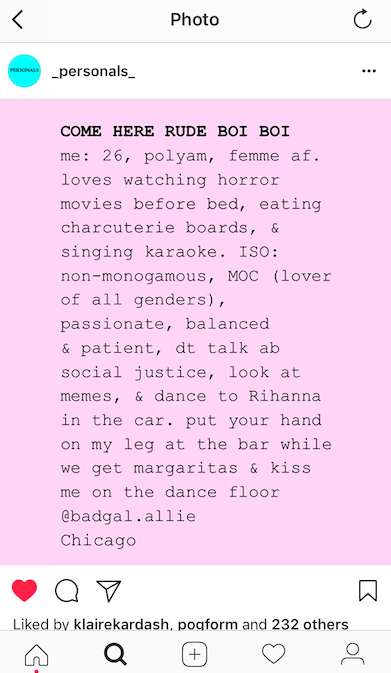 The pair talked pretty consistently for about a month and met in June. For their first meeting, Leonard made the seven-hour drive from her home in Chicago to Ryan, 29, in Minneapolis. The pair celebrated Pride that weekend together. Two weeks later, Ryan made the reverse trek to Chicago to see if the budding relationship had legs. It did. Now, the couple is exclusive.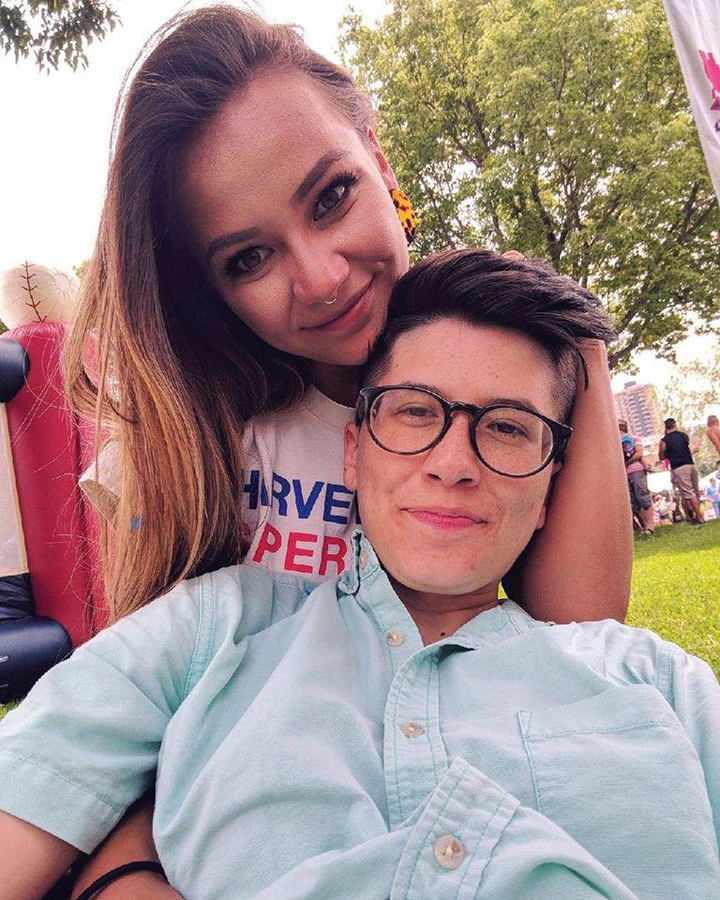 Leonard and Ryan's love story is exactly what Personals creator Kelly Rakowski likes to hear. The Brooklyn-based photo director is currently raising money to turn the popular Instagram page into a full-fledged dating and queer community app.
Rakowski believes there's something magical about winning someone over via the written word. Personal ads can be a lot more genuine than the selfies, tossed off "about me" sections and job titles peddled on other apps ― especially when they're crafted with care.
"Throwing up a quick selfie or some photos to a dating app, it's very reflexive and noncommittal," she told HuffPost. "Reading how people describe themselves and learning about what they are looking for from the beginning helps to make the dating experience more honest and true."
Currently, the Personals Instagram page has almost 40,000 followers. Rakowski gets so many submissions a month, she's had to limit the open call for ads to a 48-hour window. In that time frame, she's received close to 500 submissions from places as far as South Korea, Indonesia and Brazil.
The funding is going well so far. Earlier this week, Rakowski met her Kickstarter goal of $40,000 with the help of boosters like Roxane Gay and articles in Wired and Vice, and she's now hoping to raise an additional $10,000. The goal is to launch a beta version of the app this fall.
Rakowski originally created Personals after looking through the digital archives of the lesbian erotica magazine On Our Backs. Poring through the pages, the photo director was drawn to the "sexy, very direct" looking-for-love ads in the back of each issue.
"They were bold. The women were writing exactly what they wanted in limited amount of words," she said. "Because this was a lesbian erotic mag, many were sex-focused and explicit, which is so empowering. They were also hilarious, citing hobbies like, 'stained glass, cars, cats.'"
The lovingly raunchy tone of those ads lives on in Personals. Case in point? The punny, wide-ranging self-descriptions you'll come across on the page — Gaysian Taurus Daddy, Faggy Bottom, Latinex Switch Bitch, QTIBPOC.
There's already been at least one Personals marriage, between a pair from Los Angeles and Sweden. And at a Personals crowdfunding launch party in June, a woman visiting from Scotland introduced herself to Rakowski and said that she'd met her partner on Personals and that they're now "low-key engaged."
Rakowski loves hearing of the romances, but she's just as proud of the platonic bonds that begin on Personals.
"My friend Alex builds her dyke soccer team with help from Personals and a lot of people have met friends or people to collaborate with artistically," she said.
The want of creative partners ― or maybe just a good story ― is what compelled 24-year-old playwright A.A. Brenner to submit an ad a few months ago. Among the 25 direct messages and 31 comments she received, Brenner found her girlfriend, Ali.
"I submitted my Personal on a whim. I wrote what I felt was the truest, and also most intriguing, encapsulation of myself," she said.
"I figured it would probably just lead to a few interesting dates which I'd then be able to use as material for my writing," Brenner said. "As soon as I met Ali, though, I knew that posting was quite possibly the best decision I'd ever made in my entire life."
"The personals are bite-sized, so they're so easy and fun to read. It's just enough to get a taste of someone's personality — and see if you want more."
Rakowski and her team have already conceptualized and designed the app. The next step is to work with developers to actually build it.
As Rakowski envisions it, users will log into the app through Instagram. They will then be able to sort through Personal listings by location, or scroll through a "missed connection" section.
"If you saw someone at the farmers market, locked eyes but were too shy to talk, you can write a missed connection for that person," Rakowski said. "I think this will be a big hit, especially for all the timid lesbians out there."
Rakowski is still ironing out a payment model, but the app will likely use a "freemium" model, where users can access the platform for free, but pay for a richer experience.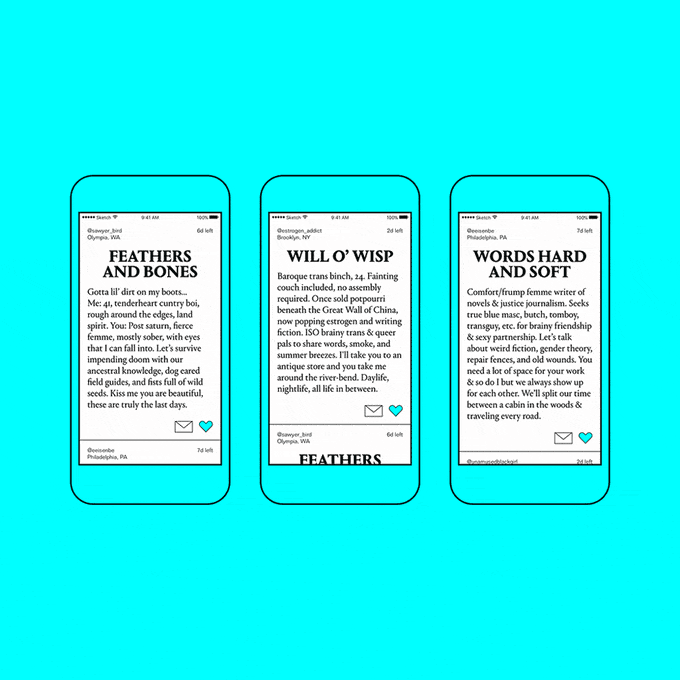 Eventually, she thinks she'll expand to include cis gay men, but right now, the community is staying exactly the same.
"LBTQIA (not the G) don't have many options in the dating app world," she said. "Many of the apps just add queers onto their platform, but they are not thinking about us in the beginning."
If the app makes the process of finding love online a lot less superficial while creating a space for queer people, Rakowski will consider it a win.
"With a personal ad, there's this deliberate act of writing down your desires and putting out who you are, what you're looking for," she said. "The personals are bite-sized, so they're so easy and fun to read. It's just enough to get a taste of someone's personality — and see if you want more."