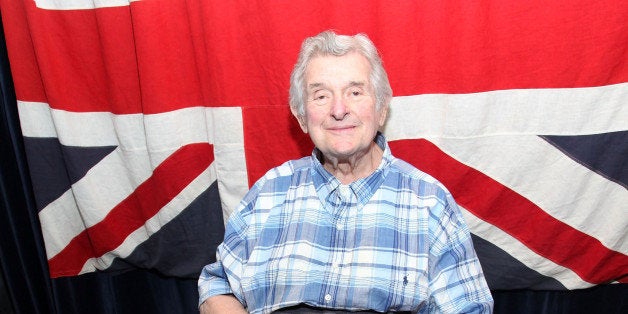 There are pivotal moments and pivotal people in everyone's lives, people who leave indelible impressions, sometimes knowingly, sometimes not, and our lives are forever altered because of them. So when someone like that passes, we are momentarily stopped in our tracks, forced to take a moment out of our otherwise too-busy day to pause and reflect.
Music business legend Sid Bernstein died Wednesday at the age of 95. Most accounts of his life and death will make mention of the things for which he was most well known -- bringing the Beatles to this country, and breaking new ground both by booking the first rock band in Carnegie Hall and the first stadium concert of its kind with the Liverpool lads in Shea Stadium.
There might also be mention of his working with Jimi Hendrix, Judy Garland, the Rolling Stones, and a host of other huge names. And that's impressive -- the stuff legend is made of, in fact. But the truth is I'm not writing this because Sid Bernstein worked with them. I'm writing it because he worked with me... and scores of other young writers and artists over the years.
The first time I met Sid was in the late 1980's. I played and sang a few of my songs for him in a small studio on the Upper West Side. He was kind with his words and generous with his time. And he must have liked something about what I played for him, because he immediately offered to set up a co-write for me with none other than Marvin Hamlisch.
I will tell you that though my co-write with Marvin Hamlisch never took place, the stamp of approval and vote of confidence given me by Sid Bernstein lasted, well, maybe to this day.
In the years that followed my first meeting with Sid, I would take a class he taught with music business manager, Bert Padell at The New School. It was simply called The Pop Music Business. I can tell you that the most useful nuggets of advice I've ever gotten about the music business came from both Sid and Bert's personal experiences shared in that classroom.
Sid and I would meet for coffee sometimes before class, where we would talk shop, well, that is after he extolled the virtues of whatever pastry he happened to be eating at the bakery around the corner from the school. It wasn't long before he invited me to be on his local New York City cable TV show, Sid Bernstein Presents, which I appeared on again and again.
When I look back now at the grainy images of those shows, I realize that Sid gave scores of young artists the opportunity to be heard. And we, in turn, gave Sid the thing that lit him up most -- the chance to discover new talent and hear new music. His enthusiasm was palpable on the show, and he created a warm, welcoming environment for his guests.
As life progresses, people are bound to go their separate ways, perhaps never to reconnect again. Such was the case with Sid Bernstein and me. And as I received the news of his death yesterday, I was saddened that I never got to tell him that, though it took me twenty years, I did ultimately have a #1 song that I penned, and now, so many years after having first met him, I'm finally making the record that I wanted to as a singer/songwriter.
I wish I had gotten the chance to tell Sid that I stayed on the roller coaster ride known as the music business, in no small part, because of the encouragement he gave me when I was young and it mattered most. I wish I had gotten the chance to say "thank you" to him one more time.
I'm sure there is a helluva concert going on in heaven tonight, and I'm certain that Sid is promoting it. Rest in peace, Sid Bernstein.