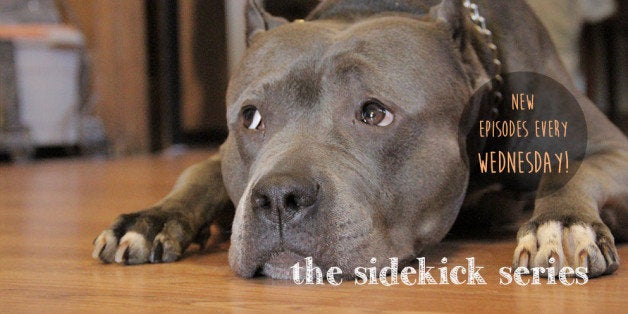 Do you and your rescue pets share the greatest love story never told?
A pair of New York-based animal lovers -- filmmaker and cat enthusiast Emily Sheskin, and self-described "total dog person" and digital brand strategist Suzanna Schumacher, who also sells cross-stitched pet portraits on Etsy -- are making short, sweet YouTube documentaries about adopted pets and their lucky owners.
"Our mission is, simply, to raise awareness for the merits of adoption and encourage everyone who watches to rescue their next pet," Schumacher tells The Huffington Post. "We want to showcase how absolutely amazing adopted pets are, how much joy they bring to their humans' lives and how rewarding it is to welcome a rescue into your home."

There's been about a half-dozen installments of "The Sidekick Series" so far, largely focused on dogs and cats from a group called Badass Brooklyn Animal Rescue and almost entirely drawn from the creators' pool of New York-based friends (non-New Yorkers and those who aren't already friends: share your rescue stories on the website).
One episode featured Schumacher's dog, Hans Gruber, who'd been shot "and left by the road to die before being rescued," says Schumacher. This lucky pup is now known as the "chief creative canine" at the branding firm where Schumacher is also an employee:
OK, if you are the sort of person who is interested in watching heartfelt videos about pets' rescue stories, it definitely will make you cry.
In the film, Stephen talks about how Ella's terminal cancer prompted him to create a "bucket list" for his cat, which included teaching her to walk on a leash so she "could have the chance to feel the grass beneath her paws, even though we live in New York City."
Ella had been given a few months to live, by a specialty oncologist, in May 2013.
"I'm just grateful for each day I get with her," Stephen says in the film, giving his cat a kiss. "If you had told me at the ASPCA that Ella would be diagnosed with a terminal illness, I honestly wouldn't change a thing. Ella is probably the smartest decision I've made in my adult life. And she's been my best friend since I adopted her."
Schumacher and Sheskin hope if they've done their job, that one you're done drying your tears, you'll be inspired go out and adopt a rescue pet of your own (or at least donate money to an animal rescue group).
And some good news, to end with: Ella's documentary was recorded last October. And more than half a year after that, "Ella is awesome!," Schumacher tells us. "She is still thriving, cuddling and being amazing."
Do you love your pit bull? Please email us with your dog's photo and name at pitbullpics@huffingtonpost.com and complete the sentence "My pit bull ..." and we may feature your pooch on the site.
We are always looking for stories about animals! Get in touch at arin.greenwood@huffingtonpost.com