Word to the wise: If you have to say "I'm not trying to be racist," you're probably being racist.
Fox Sports Florida sideline reporter Emily Austen appeared on Barstool Sports's "The Rundown" Thursday evening with Barstool's personalities "Big Cat," "El Presidente," and "KFC," making a plethora of racist and anti-semitic remarks. "The Rundown" is usually recorded and uploaded on Barstool, but this week's iteration was broadcast on Facebook Live. 
It didn't take long before Austen decided to give her unfiltered opinion during the 35-minute broadcast on a variety of topics from Mexican immigrants to Chinese students. 
At one point, she calls basketball player Kevin Love of the Cleveland Cavaliers "a little bitch" and "a diva."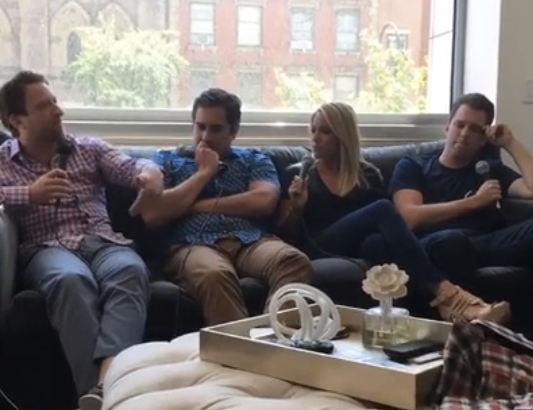 Then, a fellow broadcaster, Big Cat, goads Austen into talking about the Jewish culture which is when she makes an anti-Semitic joke about Jewish people being stingy and tells an inappropriate anecdote.
She goes on to say, "I'm not trying to be racist, but it's true."
But after the video was broadcast on Facebook, it was mysteriously deleted. In a post on Barstool's site by El Presidente (another broadcaster in the video) he says: "We (Hank probably) somehow deleted the video which was supposed to be edited for the actual show today." 
Silly Barstool. Deleted or not, this is the internet and what is dead may never die. The video was uploaded to Vimeo and there's an entire Reddit thread dedicated to the whole ordeal.
Social media has been up in arms since Austen's commentary. Some have even remarked that her couch cohorts' support of her statements shouldn't be excused, either.
As for the state of Austen's career, Steve Tello, senior vice-president of Fox Sports Florida, told Deadspin:
We were made aware that Emily Austen appeared in a social media video unaffiliated with Fox Sports in which she made insensitive and derogatory comments. She was not speaking on behalf of Fox Sports, nor do we condone any of the statements she made in the video. Emily has been advised that her comments were unacceptable, and she is not scheduled to appear on any upcoming Fox Sports Florida or Fox Sports Sun broadcasts.
The Huffington Post reached out to Austen for comment and will update this post when we receive a response.  
REAL LIFE. REAL NEWS. REAL VOICES.
Help us tell more of the stories that matter from voices that too often remain unheard.
BEFORE YOU GO
PHOTO GALLERY
Fighting Racism And Discrimination Everyday