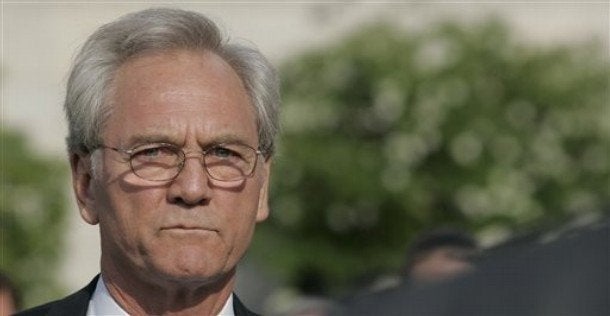 A lobbying effort to persuade the Justice Department to intervene in the politically tainted case against Don Siegelman has intensified in recent days, as a deadline for appealing the charges against the former Alabama Governor nears.
After being released on appeal bond last spring, Siegelman was convicted in March by a Court of Appeals on charges of bribery, conspiracy and obstruction for appointing a prominent donor to a state post. Now he is pushing for a rehearing of his case -- which critics say was orchestrated by state and national Republican officials -- with the hope of replacing the three-judge panel with a larger eight-judge panel that comprises the entire 11th Circuit. He should hear a decision on his appeal any day.
"If we get a rehearing then we have a few months to pursue options with the Department of Justice," Siegelman told the Huffington Post in an interview. "If we don't, then I'm going to be re-sentenced to prison by the same judge and prosecutors which I say, parenthetically with an exclamation point, is probably the most bizarre twist yet. I'd be still fighting the same right-wing [Karl] Rove-anointed and Bush-appointed prosecutors even with [Barack] Obama and [Eric] Holder in charge."
And yet, despite his pleas, federal intervention seems unlikely. The DOJ says there is virtually nothing it can do when it comes to Siegelman's appeal. "Because Mr. Siegelman has requested the full 11th Circuit Appeals Court to review the recent ruling by the three-judge panel, the Department will continue to litigate this matter in the courts, not in the media," said DOJ spokesperson Laura Sweeney. "The decision whether to hold an en banc hearing is the court's, not DOJ's."
None of which has dissuaded Siegelman and his allies from making their case under the belief that additional proof of prosecutorial misconduct could change the shape of his appeal process. The latest lobbying effort on the former governor's behalf came in the form of a letter sent to the Attorney General's office from Professor Bennett L. Gershman, author of the book, "Prosecutorial Misconduct."
"I have never encountered another prosecution in which it appears so clearly that the prosecutors were zealously bent on pursuing an individual, rather than on a crime," reads the note, obtained by the Huffington Post. "As an example of bad faith prosecution, the Siegelman case may be without parallel.... There is no better example of the corrosive effect on the reputation of the Department of Justice... than the prosecution of Don Siegelman."
The note follows a similar one penned by 75 former state Attorneys Generals asking Attorney General Eric Holder to investigate the matter.
The effectiveness of such efforts seem likely to be dulled by certain legal and political realities. For starters, a forthcoming Department of Justice's Office of Professional Responsibility report on the Siegelman case does not appear to be near completion. In a letter to select members of Congress this past week, Assistant Attorney General Ronald Weich wrote that the department was "not in a position to respond to your request for information on these investigations at this time, but will supplement this response when additional information on OPR's investigation of these matters becomes available."
And while the recent dropping of charges against former Senator Ted Stevens for bungled prosecution breathed new life into Siegleman's efforts, there remains a fundamental difference. The Stevens' charges were dropped under proof of selective prosecution. Siegelman, according to a DOJ official, has "never filed a selective prosecution motion."
The Alabama Democrats insist that "there is really not a lot we can do" when it comes to raising that charge. They don't have the means to investigate selective prosecution. They hope that efforts on behalf of members of Congress to turn up new information might do the trick. Sigeleman is also holding to see what the forthcoming OPR report reveals, though he remains worried that the right questions aren't being asked.
"We are not waiting for an OPR report," he said. "We are waiting for an OPR investigation that asks the right questions. If we get that, then we might be able to ask for a selective prosecution motion. ... We are hoping to get Attorney General Holder's attention, to see if he can do for me what he did for Ted Stevens."
Calling all HuffPost superfans!
Sign up for membership to become a founding member and help shape HuffPost's next chapter