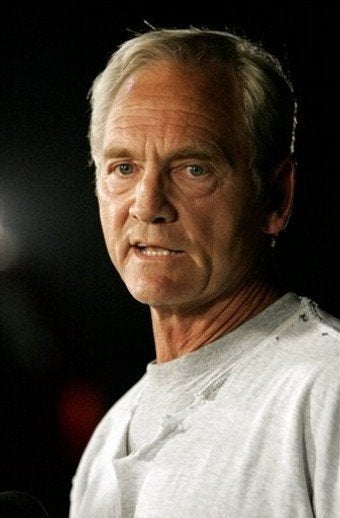 One of the likely victims of potential Bush White House lawbreaking is urging President Barack Obama not to compromise with Karl Rove as a means of compelling him to testify before Congress.
Former Alabama Gov. Don Siegelman, who was arrested on corruption charges alleged to be politically-motivated, offered a critical reaction to news that Obama's chief counsel, Greg Craig, was considering cutting a deal with Rove in exchange for his testimony.
"This is not a matter involving civil damages. It is a matter of high crimes, abuse of power, the subversion of our country's constitution and of our individual rights and liberties," Siegelman wrote the Huffington Post. "There should be no deal cut with Karl Rove that would provide him with any immunity whatsoever. There is too much at stake. U.S. Attorneys were fired because they wouldn't take on political cases and the DOJ was used as a political weapon to destroy people Karl Rove wanted out of the way. For Rove not to be held accountable means others in the future will feel more free to abuse power.
"The U.S. Supreme Court has made it clear that Congress has the right to get the testimony it needs when investigating a criminal matter. It is equally clear that executive privilege protects advice given to the President if it involves matters of military or diplomatic secrets.

"Rove, therefore, has no place to hide when it comes to questions of his abuse of the Department of Justice."
Late last week, Craig put out a statement encouraging Rove and Congress to reach a deal that would be "sympathetic to those who want to find out what happened" without damaging the "institution of the presidency."
Such an arrangement could mean granting Rove immunity in exchange for candidness -- something Siegelman opposes. But it could also simply be an acknowledgment that executive privilege continues to apply to certain topics and not others, saving Rove from discussing more sensitive matters while forcing him to be forthcoming on other topics.
If the latter is the case, Siegelman should feel a bit of relief. In an interview with The Raw Story, Rove's lawyer, Robert Luskin, said that his client did not appear to be protected by executive privilege from testifying on his alleged ties to the "Siegelman matter."
"The only basis that Rove has ever declined to appear has been the White House claim of immunity for senior advisers to the president and executive privilege," said Robert Luskin. "I do think that it's clearer now that the Siegelman matter falls outside the scope of the former claim and, on that basis, I offered to have Rove appear on this matter."
UPDATE: Siegelman responds to Luskin's statement that executive privilege is not in play when it comes Rove's testimony on his case.
Legal positions of Kar Rove... Reminds me of the song the sheriff sang in " best Little Wore House in Texas" ..."Now you see me , Now you don't"

Rove will never show up under oath and tell the truth.

We all need to give Congressman Conyers encouragement to stay strong, No deals, No immunity, No executive privilege for Rove.
Calling all HuffPost superfans!
Sign up for membership to become a founding member and help shape HuffPost's next chapter