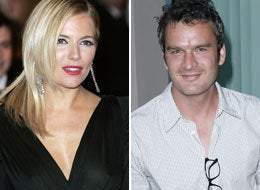 Last night actress Sienna and dad-of-four Getty were holed up at LA's exclusive Chateau Marmont Hotel after their secret Hollywood hideaway was exposed.

A source said: "Sienna's known Balthazar a while and they've spent more time together over the last four months.

"They became closer after spending time dining with friends at the Chateau Marmont in March and April.

"But when Sienna realised she had feelings for Balthazar, she ended her relationship with Rhys over the phone.

"She wanted to do the right thing before things really happened between her and Balthazar. Since then things have quickly got very intense between them." Sienna tried hard to keep her relationship with Getty, 33, under wraps.

It is believed they were introduced last summer by MATTHEW RHYS, who stars with Getty in US sitcom Brothers and Sisters. They saw more of each other after she went to the US to film GI Joe in March.
Sunday's breaking news about Sienna Miller and Balthazar Getty:
SEXY Brit actress Sienna Miller is secretly on the Edge Of Love with a MARRIED multi-millionaire oil heir, we can reveal..
The rampant movie beauty has been enjoying ROMANTIC NIGHTS with tycoon actor and dad-of-four [and ABC's "Brothers & Sisters" star] Balthazar Getty after dumping heartbroken Notting Hill star Rhys Ifans earlier this month.
The besotted pair have been holed up together day and night in Hollywood after his heartbroken wife fled the country with their kids.
Despite playing a cat and mouse game to stay out of the headlines they have been spotted secretly meeting at restaurants near their hillside hideaway.
A source revealed: "They went to great pains to find a place where they thought nobody would find them. They daren't go out together, so they spend most of their time inside. When they do leave, they go separately."
In one rendezvous on Thursday, 26-year-old Sienna drove to a restaurant while former heroin addict Getty, 33, even CYCLED there to try to avoid being spotted with her. Now Getty's clothes designer wife Rosetta has RUN AWAY to Italy with their four children --the youngest born only eight months ago--after RUMBLING her wandering husband.
He is heir to the oil fortune of his great-grandfather Jean Paul's, once one of the richest men in the world.
And pals say lovestruck Sienna has even used her ex-boyfriend and Edge Of Love co-star Matthew Rhys as a SMOKESCREEN for their romance... trying to give the impression she might be back with HIM after her split from 39-year-old Ifans.
Matthew, 33--who stars with Getty in the hit US sitcom Brothers And Sister--introduced the milionaire hunk to Sienna last summer--ironically at the Chateau Marmont hotel where they are snapped together in our exclusive pictures today. Our source told us: "Sienna got to know Balthazar through Matthew and they hit it off. In the past three months they have grown incredibly close.
Calling all HuffPost superfans!
Sign up for membership to become a founding member and help shape HuffPost's next chapter