There's a persistent, pernicious movie trope that can be summed up thusly: While the man goes off to war, the wife is left ashore. An actual battlefield isn't required, though Nicole Kidman sure had her work cut out for her while Jude Law trudged through Confederate combat in "Cold Mountain." Think of Laura Linney fretting while Tom Hanks lands the plane in "Sully," Kate Hudson watching on Skype as the "Deepwater Horizon" oil rig starts to explode, Amy Ryan waiting at home during Tom Hanks' Berlin mission in "Bridge of Spies," and Keira Knightley birthing a child while Jason Clarke climbs a mountain in "Everest."
Sienna Miller somehow seems to have been saddled with more of these roles than any other actress. In "Foxcatcher," she mostly folded clothes while drama ensnared Mark Ruffalo and the other men on hand. She was quite good in "American Sniper," particularly in the scene where she sits at a kitchen table and tells a PTSD-stricken Bradley Cooper, "Babe, come home, OK? We miss you." The brash mistress she played in "Live by Night" began as part of the gangster scheming, but ultimately got sidelined so the guys could take over. By the time her character appeared again, she'd become a prostitute. 
Whereas most of the aforementioned films offer these women limited characterization outside of their romantic partners' plights, "The Lost City of Z" at least makes something worthwhile of the wife-left-at-home ploy. The latest from "The Immigrant" and "We Own the Night" director James Gray, this remarkable new movie, opening in limited release this weekend, casts Miller opposite Charlie Hunnam, who plays early-20th-century British explorer Percy Fawcett. Even though Hunnam rightfully takes center stage as Percy surveys an uncharted civilization in the Amazon, Miller never feels like an afterthought, an emotional device or a tally mark that lets studio execs sleep at night knowing there's a woman somewhere doing something.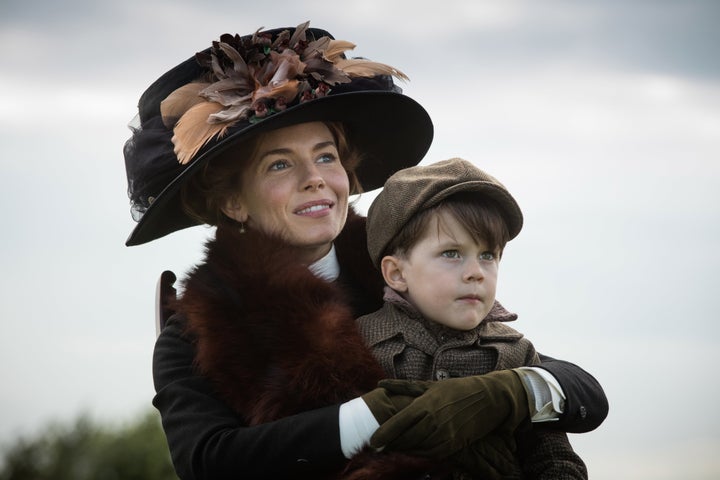 Partly owed to Gray's script and partly to Miller's soulful performance, this particular character, Nina Fawcett, has a mind and backstory of her own. Moreover, as time passes across the 19-year tale, Nina's presence looms larger. A hardworking suffragette, she is just as smart as Percy, contributing to his research between explorations and eventually offering to accompany him on an expedition, proclaiming what a perfect team they'd make. She's right, and the movie doesn't have to work to make us believe it ― we can sense her wherewithal. Of course, she cannot join Percy, because this is the 1920s and women's cultural stature still revolves around the household. Percy and Nina exchange impassioned words about female rights, and Percy says she must resign herself to financiers' unwillingness to support an explorer lacking the purported physical strength of a man. But as someone with an actual perspective, Nina is comparatively well-drawn, espousing first-wave feminism and landing the film's killer final shot. 
That said, Miller hasn't had a starring role on the big screen since "Just Like a Woman," the 2012 road-trip dramedy that made all of $11,000 at the box office. She's found better luck onstage ― Sally Bowles in Broadway's "Cabaret," Maggie in the West End's "Cat on a Hot Tin Roof" ― and in the HBO movie "The Girl," playing Tippi Hedren in a Golden Globe-nominated performance. Miller's party-girl reputation and tabloid-ready relationship drama seem to have landed her in lead-actress jail, and her presence as yet another wife reduced to concerned telephone calls and letter-writing is glaring. Having proven herself capable in "Factory Girl" and numerous other parts, Hollywood owes her a screen husband who calls to ask when she'll be home. Dinner's getting cold, after all.
"The Lost City of Z" is now in limited release. 
Calling all HuffPost superfans!
Sign up for membership to become a founding member and help shape HuffPost's next chapter
BEFORE YOU GO
PHOTO GALLERY
2016 Movies Available On Netflix