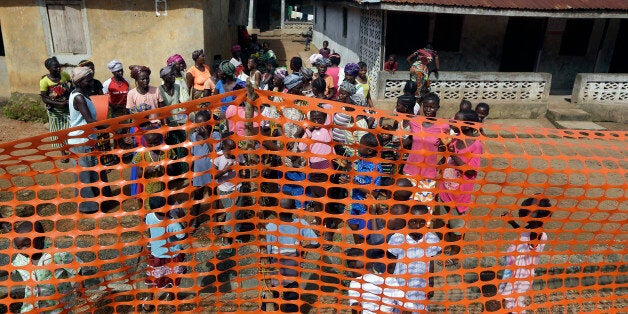 On Saturday, all being well, the World Health Organization will declare Sierra Leone Ebola-free. It comes after a long, tense, 42-day countdown, and an even longer fight to curb the spread of Ebola.
As a Sierra Leonean journalist who has covered the outbreak on the ground from the very beginning, I'm excited by this good news. We've waited far too long for this moment. I'm currently in Canada, where I am a journalism fellow at Massey College, University of Toronto. Although I'm physically here, I feel like I've left my soul in Sierra Leone. I'm hearing about celebrations and parties planned by friends at home to mark Saturday's declaration; there will be beach outings, street carnivals and house parties.
I'm trying to be happy on the outside, but in quiet moments, I worry a lot. I saw the devastating impact of Ebola on the most vulnerable people in my country. In fact, it's now a cliche in Sierra Leone to say, "you're either infected or affected by Ebola." Everyone in the country has had their share of bad experiences with the outbreak.
I think about the widows and widowers, and all of those who have lost jobs, businesses, and the source of their livelihoods to Ebola. I worry about the thousands of children that have been orphaned by Ebola; the U.K. organization Street Child says that more than 3,000 Sierra Leonean children have lost both parents to the disease. Many of these kids have been taken in by members of their extended families, but they are often an additional financial burden when resources are scarce. Many of them are vulnerable to hunger, sexual abuse, and the stigma that continues to haunt them.
Recently, I took part in a panel discussion with a Canadian international journalist, sharing notes from our experiences covering the Ebola outbreak on the ground. Listening to her talk about her experience working in Liberia for a week, one thing occurred to me: while we both share the same passion for telling the story, we have very different experiences and perspectives.
Like many other international journalists, her role or involvement was more or less to report what's happening, especially about people dying from the virus. But for me, I was not only telling stories of Ebola, I was living it. In addition to telling the story of the Ebola outbreak, I was also finding solutions to put an end to it.
For me, the fight against Ebola was a personal one. I lost about 70 members of my extended family in Port Loko town, in northern Sierra Leone. It sounds disturbing, but it's the reality. Ours was a very close family in which people got infected one after the other, dying within weeks. They were uncles, aunties and cousins that I cherished.
We did not know how many of us had died until recently, when things started moving back towards normalcy.
This deep, personal loss motivated my work. I was determined to help put an end to Ebola in order to prevent other families from going through the same experience. My mantra covering the Ebola outbreak was that no one was safe from Ebola.
Amid all this sadness, a friend in Canada asked me if there was anything worth celebrating about Saturday's declaration. My response to her was a resounding yes. And this is why: I will celebrate because I hope I will no longer be isolated or stigmatized in international airports, simply because I hold a Sierra Leonean passport. I hope that Sierra Leoneans will no longer be seen as viruses, but as humans like everyone else."This, my friend, is worth celebrating," I said.
On Saturday, we should take a moment to reflect upon the lessons learned from the virus; a virus that came not only to kill, but to destroy some of our most cherished cultural values and traditions. Among the many lessons learned is the fact that our health system was not in any way prepared to ever tackle such an outbreak. Unfortunately, crucial issues of national concern are politicized in Sierra Leone, and therefore easily trivialized. Our politicians should move away from political rhetoric to actually fixing our systems.
Prior to the outbreak, government officials would waste no time in countering reports by journalists or civil society groups that were critical about the health sector, especially the Free Healthcare Initiative for pregnant women, lactating mothers and children under the age of five. Drugs were inadequate in most hospitals and health centres. Medicines meant for beneficiaries of the scheme were being siphoned from health centres and sold to private pharmacies, there by making them inaccessible to poor women and their babies. Pregnant women in remote areas were dying because of lack of ambulances in some regional hospitals. All of this was happening before Ebola.
But this was hard to prove until Ebola struck. The virus stripped our health system, exposing it in all its nakedness. Our poor health system, low literacy rate and distrust between people who hold public office--especially politicians--and their electorate were key factors that fueled the spread of Ebola in Sierra Leone.
So going forward, as we celebrate the end of Ebola, let us reflect on the lessons learned from it and put better measures in place in order not to relapse into a similar situation. We must be mindful of the wave of new cases that hit Liberia, months after being declared Ebola-free, and of the ongoing cases across the border in Guinea, our neighbor.
It has been said that Sierra Leoneans are resilient people, and that we take on too much. I consider this a good thing, but it also has a negative effect: it promotes complacency. The government of Sierra Leone should be prepared to take responsibility to look after survivors of Ebola. We should not always wait for the international community. By now, we should have learnt the lesson that a man's best servant is him or herself. The international community only truly responded to the outbreak in West Africa once it threatened them directly. So let us stop waiting for them, and start solving our own problems.
Some of the same factors that were responsible for the 11-year civil war in Sierra Leone have not gone away. We failed to learn our lessonsfrom the causes of the war by repeating some of the same mistakes outlined by Sierra Leone'sTruth and Reconciliation Commission. I hope this will not be the case for the Ebola outbreak. We should not let our guard down at this time. Vigilence and hygienic practices should be maintained.
So as we hold our breath before Saturday's big moment, I believe, as devastating as Ebola was, that we have learned our lessons - the hard way.
Mustapha Dumbuya is a human rights journalist and community media trainer/mentor from Freetown, Sierra Leone. A radio producer with BBC Media Action, he was the lead producer for their weekly radio magazine program on women's rights. He covered the Ebola outbreak as it ravaged communities across Sierra Leone.
Mustapha is currently a Gordon N. Fisher/Journalists for Human Rights (JHR) Journalism Fellow at Massey College, University of Toronto.
Calling all HuffPost superfans!
Sign up for membership to become a founding member and help shape HuffPost's next chapter