Classrooms are empty in Sierra Leone, but education hasn't ground to a halt.
School has yet to resume after last year's summer break in the West African country due to the rapid spread of Ebola throughout 2014. According to AFP, more than 1 million school-aged kids in Sierra Leone -- one of the hardest-hit nations of the epidemic -- have been out of class for several months.
Students, however, have utilized radio to stay focused on learning. In October, the Sierra Leone government partnered with UNICEF and a variety of developmental organizations to launch a radio education program for school-aged kids, NPR reported.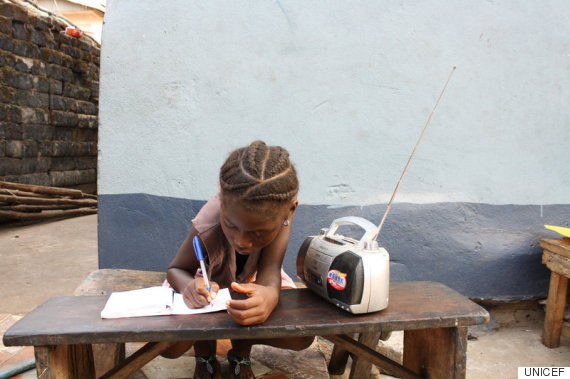 Angela Kamara, 6 years old, takes a lesson from the radio © UNICEF Sierra Leone/2014/Tolu Bade
The program runs on 41 government radio stations, in addition to the country's sole television channel, according to NPR. Instructors create hour-long teaching sessions for younger children -- who listen in the morning -- and older students -- who tune in later in the day.
The lessons have become increasingly popular, according to UNICEF. Less than 20 percent of Sierra Leone's children participated when the program began, but now about 50 percent are engaged, according to the group's partner organizations in the region. So far, participation for the program peaked at about 70 percent, NPR reported.
"This is to ensure that children's rights to education is not disrupted even when schools have been closed," Wongani Grace Taulo, UNICEF's education chief in Sierra Leone, told the outlet. "It's been more than half a year of school closure. The implications can be devastating when children just stay home [and] lose out on their academic gains."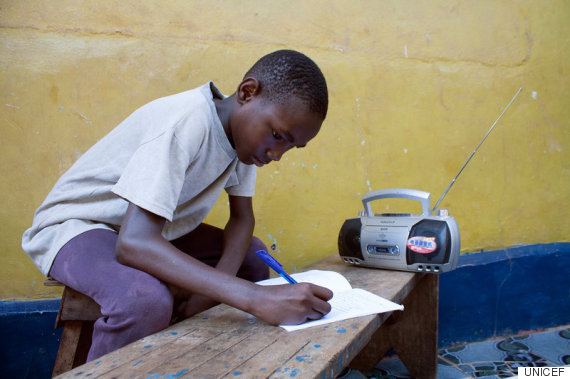 Jimmy Kamara, 9, is one of the students in Sierra Leone who use radios to continue their education while schools remain closed owing to Ebola. © UNICEF Sierra Leone/2014/Tolu Bade
According to UNICEF, officials plan on reopening schools in Sierra Leone on March 30. BBC News reported in January, citing data from the World Health Organization (WHO), that transmission of the disease continues to drop dramatically throughout the county, although it's still highest in western areas.
Precautions will be set in place to guarantee students' safety once they return. Teachers will be trained to use thermometers to take temperatures, for example, and chlorinated water buckets will be accessible in schools.
Students heading back to class next month won't deem the radio education program irrelevant though. As Taulo told NPR, the program will continue as a complement to classroom instruction.
Calling all HuffPost superfans!
Sign up for membership to become a founding member and help shape HuffPost's next chapter
BEFORE YOU GO
PHOTO GALLERY
Stopping Ebola on Foot, on Wheels, on Water and through the Air