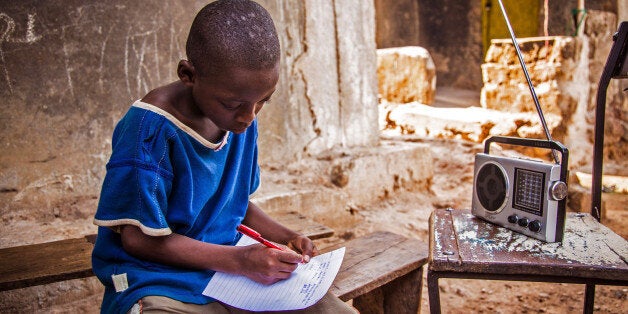 FREETOWN (Reuters) - Schools in Sierra Leone reopened on Tuesday after closing for nine months due to an Ebola epidemic that killed 3,800 people, but teachers and aid workers said attendance was low due to lingering fears of the disease.
The authorities have waived fees at state schools and hope 1.8 million children will return to catch up on a lost academic year in the impoverished country of 6 million.
"This marks a major step in the normalization of life in Sierra Leone," said Roeland Monasch, representative for the U.N. Children's Fund in Sierra Leone.
Unicef has supplied schools with soap and water and thermometers to check for fever, an Ebola symptom.
Few children returned to school in the capital Freetown but the trickle would likely grow in the days ahead, according to Leslie Scott, national director for aid agency World Vision.
"The scepticism is based on fear of Ebola because people are not very confident of sending their children if schools are not well prepared," he said.
Ebola has killed more than 10,500 people in Sierra Leone, Guinea and Liberia since the epidemic began in December 2013. The number of new cases has dropped dramatically but health workers say it is vital to avoid complacency if the epidemic is to be eradicated.
In Sierra Leone, new weekly cases fell to just 9 in the week to 5 April, down from more than 500 at the peak in December, data from the World Health Organization showed.
At the Prince of Wales secondary school in the west of the city, hundreds of pupils showed up in a compound that medical charity Medicins Sans Frontieres used as an Ebola care center just a few weeks previously. The compound has been decontaminated but classrooms are still being prepared.
"Some of the kids are standing here (in the sun) because their classrooms are still being painted," said school principal Rodney Coker, who said the turnout was impressive.
By contrast, Emmanuel Caulker, principal of the Jaiama Secondary School in Kono district in Sierra Leone's east said only 13 children showed up, compared to an expected 500, a turnout echoed by other schools.
"We have also not received our teaching and learning materials promised by the government," he told Reuters.
Unicef and World Vision said they had trained teachers to support children bereaved by the virus. In all, more than 9,000 children were orphaned by Ebola in Sierra Leone, some of whom survived the disease themselves.
(Additional reporting by Josephus Olu-Mammah and Matthew Mpoke Bigg; Editing by Emma Farge and Raissa Kasolowsky)
Related