Greece is well known for her islands - especially the more 'Disneyfied' commercial Cycladic ones such as Santorini and Mykonos. There are other, smaller and less well known Cycladic islands though, Sifnos being one of them, and one of my favourites.
Location Location Location

It's in the same chain of islands as Santorini and Mykonos, but have you heard of Sifnos? Probably not. With a regional population of less than 1000 and only 9 miles long (15km), it's the perfect destination if you're looking for a low-key holiday in quality accommodation, surrounded by Greek traditional churches, white-washed houses in the traditional villages, excellent food and safe beaches. You have the option of two ferry links to Sifnos; slow (5 hours) or high-speed (3 hours). Personally I am all about the journey being a part of the vacation and love sitting on deck on the slow ferry as it glides across the Aegean waters.
One church for each day of the year!
There are reputed to be 365 churches (and monasteries) on Sifnos island. I haven't had the time, or energy, to count to be honest, but 'church' can range from the big whitewashed domed buildings to the small buildings in someone's garden. One thing's for sure, as you scoot around the countryside, you're bound to come across a small religious building just around the corner.
As is traditional in Greece, many of the churches celebrate their Saint's Name Day with a Panagiri - a religious service in the evening followed by a huge feast (usually the whole village contributes a dish) and music and dancing until the early hours. With one church for every day of the year, you're bound to find a Panagiri to join in with when you visit this lovely island.
Apollonia is the capital of Sifnos, but it's actually made up of a collection of 3 or 4 smaller villages. Away from the beaches, these villages can be found nestled in the mountains and have small, winding back streets that would confuse even the most determined of pirates. Bougainvillaea clad walls give this island the quintessentially Greek feel, without the crowds and rowdy nightlife.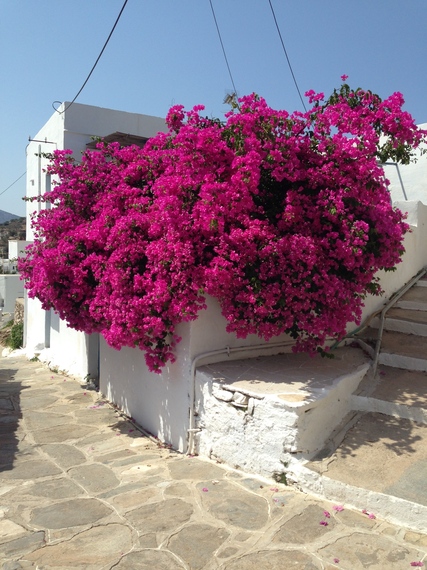 All in all - you can't go wrong if you're looking for a more traditional, quieter holiday on a Greek island. Sifnos has it all; beaches, shops, fantastic gourmet and quiet villages and churches to explore. Enjoy!