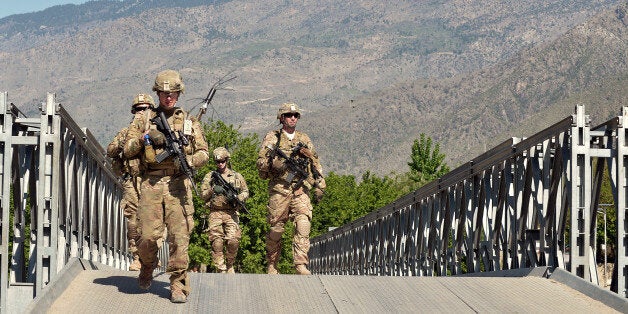 ISTANBUL -- The special investigator tasked with assessing America's deployment of resources in Afghanistan over the past decade launched a trio of damning new reports this week, slamming the State Department for its shortcomings and waste in a slew of projects.
Nevertheless DynCorp has continued to land massive government projects in Afghanistan over the years, including, according to SIGAR, some $2.8 billion in U.S. funding between 2002 and 2013, or nearly three-quarters of the $4 billion spent by the State Department on reconstruction over that period.
Ashley Burke, a spokeswoman for DynCorp, defended the company's contracting work, noting that much of the inspector general's reports were focused on the U.S. government's failures of oversight, not on DynCorp's performance. "These programs involve complex and challenging work in a difficult environment, and our personnel have done an outstanding job," she said. "The company has proudly supported a variety of training and mentoring efforts in Afghanistan."
Another report released this week took a closer look at an 8-year, $580 million effort by the State Department's Agency for International Development to renovate Afghanistan's water and sewage infrastructure, and found that the agency did not meet its stated goals, or even bother to track how well it was doing.
In a response to The Huffington Post, a spokesman for USAID disputed the inspector general's claims, saying that water projects "are subject to comprehensive performance reviews" and that the agency has shifted priorities for various projects "based on realities on the ground."
The third document, a letter to USAID concerning the long-delayed and troubled Kajaki Dam project, added to previous independent evaluations that judged the effort to have been far too expensive and unproductive. The letter describes State Department claims about the dam's economic viability as "questionable."
The USAID spokesman said the calculations used by SIGAR regarding the dam project were "based on a misunderstanding of USAID's cost estimates."
The State Department had no immediate comment.
The Huffington Post has reported on several instances of waste and squandered resources by American development agencies and their private contractors during their more than 10 years of involvement in Afghanistan.
Many projects intended to benefit the Afghan economy or population have been busts, or else have cost vastly more than they were expected to. And a much-touted "hearts and minds" campaign -- that would ostensibly have Afghan popular support for the U.S. occupation rise with every new schoolhouse or hospital -- never materialized.
As the U.S. prepares to wind down its military presence in the country, John Sopko, the head of SIGAR, has pledged to take an unflinching look at the amount of money spent -- and wasted -- over the years.
His reports have documented numerous cases of outrageous cost overruns and outright corruption, and offer a counterpoint to official narratives that depict Afghanistan as trending toward greater stability.
"Every time I visit, I am told by people that we are succeeding," Sopko told HuffPost in an interview earlier this year. "I'm not an expert on war-fighting, but I know I can see less of the country every time I go because of security problems."
This article has been updated with comment from USAID.
Calling all HuffPost superfans!
Sign up for membership to become a founding member and help shape HuffPost's next chapter