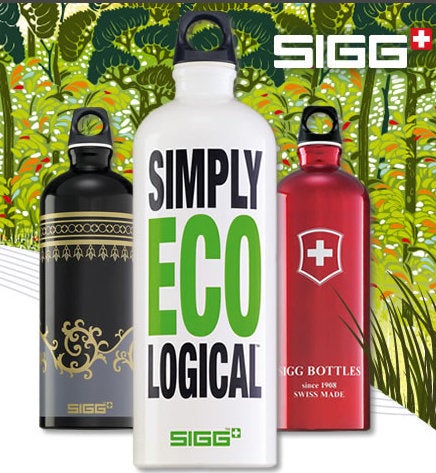 I am writing to apologize.
As Chief Executive Officer of SIGG, a leading maker of reusable water bottles, I made a mistake when I decided not to announce that our old bottle liner contained trace amounts of bisphenol A. I learned about the liner's content in 2006, when there was debate in the scientific community about the effects of BPA. Scientists lined up on both sides of the issue: Some said BPA posed potential health risks, others said BPA was perfectly safe.
With the issue still very much undecided, SIGG decided to develop a BPA-free liner to eliminate consumer concern about our products. To be sure that BPA did not leach from our bottle liners, we commissioned independent scientific studies and asked the labs to rigorously test our bottles and bottles made by other companies. We urged them to put all bottles through tortuous conditions. Those tests reassured us because they showed SIGG liners leached no BPA. We posted those studies on our web site to provide consumers the information about product performance that seemed to me relevant at the time.
Today, the debate continues. Scientists are still split on the issue. But the consumer environment has changed. Because of the all the conflicting data, a growing number of people have decided to eliminate the concern from their lives by avoiding BPA. Given the situation, I recently decided that we had to tell everyone that bottles manufactured with our former liner (prior to August 2008) contained trace amounts of BPA.
We were right to make the announcement. But I was wrong to have waited this long. One of our primary goals at SIGG has been to help reduce unnecessary waste and to educate people on the environmental benefits of using a reusable bottle. With that objective in mind, SIGG has been labeled a "green" company.
Unfortunately, I am still learning to be a green CEO. When I took this position, I naively assumed that "green" meant being a steward of the environment. In 2007, SIGG became a member of 1% For The Planet and we have donated 1% of all of our sales to environmental organizations like The Sierra Club and Stop Global Warming. However, being a green company also means being held to the highest degree of corporate transparency.
Some executives learn this because they have grown up within the green movement. I have learned this by reading hundreds of emails from SIGG consumers. Some feel angry. Some feel betrayed. All feel disappointed because they were passionate advocates of our bottles.
People have written to explain why they are concerned about BPA. They have written about their personal stories, their intimate worries and their very honest anger. I have personally responded to hundreds of these notes, apologizing for my mistake, offering new bottles to make amends, realizing that my decision caused people real discomfort.
SIGG has been around for 100 years. Yet, we are still a small company with 127 employees worldwide -- about 90 of those working in our Frauenfeld Switzerland operation. SIGG is not a typical modern corporation and it doesn't have a typical relationship with its customers. People have trusted SIGG and my decision breached that trust. I wish I could turn back the clock and fully disclose the BPA content in our liners. What I can do is make sure that I personally never again compromise SIGG's good name and proud Swiss heritage.
In the next few days, we will announce the first steps in our path to full transparency. These will include some very specific things we will do to make sure we are the honest, green company that our customers expect us to be. We will:
Post details about the contents of our bottles: the new liner, the cap, the bottle itself. And we will make the information as transparent and understandable as possible.
Make it easy for consumers to exchange their old bottles for new, BPA-free SIGGs. You can still ship your old SIGGs to us via our voluntary exchange program. Or if you prefer to avoid shipping costs and lead time, you can make the exchange at your local SIGG retailer, most of whom are participating in the program. To make it easy, we will post on our website a list of these retailers.
Unveil an independently managed grant program to help fund BPA and chemical research that will help eliminate confusion and concern about this issue. While we have moved away from BPA in SIGG products, it continues to be used in countless products that we all use each day. If it poses a real threat, we want to help curb its use.
When people buy "Swiss made" products, they are buying quality and peace of mind. I realize that my actions compromised SIGG's relationship with our loyal customers. I pledge to try to rebuild the hard-earned trust you have had in SIGG. I sincerely hope you will allow me to prove myself.
Related
Popular in the Community