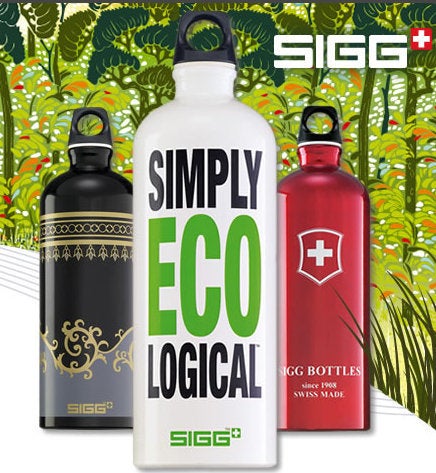 Patagonia is PO'd, and in corporate America there's no worse brand to get dissed by if you're trying to sell in the green space.
Patagonia is the gold standard for environmentally responsible business. And at the company's insistence, it's recycled gold.
The Ventura, Calif. firm and icon of all that is natural, outdoorsy and sustainable, has dumped its co-branding program with SIGG over the bottle maker's blatant conning of eco-conscious consumers regarding BPA.
A company press release quotes Rick Ridgeway, Patagonia's VP of environmental initiatives, as saying:
We did our homework on the topic of BPA, going all the way back to 2005 when this subject first emerged in discussions in scientific journals. We even arranged for one of the leading scientists on BPA research to come to our company to educate us on the issue. Once we concluded there was basis for concern, we immediately pulled all drinking bottles that contained BPA from our shelves and then searched for a BPA-free bottle. We very clearly asked SIGG if there was BPA in their bottles and their liners, and they clearly said there was not....
First CEO Steve Wasik admitted to having done a bad job spinning SIGG's deceptive pitch about BPA--suggesting that it wasn't in the lining of the pricey bottles.
That double-spin cycle set off weasel-ometers all over the Internet and began blipping through into mainstream media.
Mr. Wasik telephoned me on Sep. 3 to discuss EWG's criticism of his tactics. Nothing he said changed our view. We called on Mr. Wasik and the company's owners, a private equity firm known as The Riverside Company, to make a public apology and offer customers a full refund, not just an exchange.
We also urged the company to disclose fully the components of its new bottle liner, which it calls "EcoCare."
But he's new to greenie-ness, he explains. Truthiness? He's a master.
Along with Wasik's latest apology comes the company's latest bottle return policy. Now BPA-swigging SIGG owners are offered a demi-hassle: instead of having to mail their bottles back to SIGG (are you mad because you did that, too?), the misled masses can return them to retailers.
But they still end up with a SIGG bottle. The new ones that are "safe."
You know, the new ones Patagonia refuses to sell.

Popular in the Community