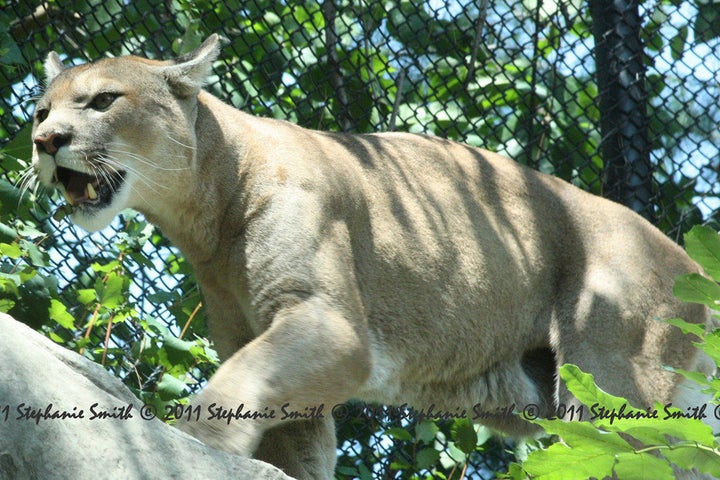 WASHINGTON -- A mountain lion was allegedly sighted last week in the northern end of Glover-Archbold Park, according to a posting on Cleveland Park's online message board.
The post was apparently written by a resident of McLean Gardens, a 43-acre residential neighborhood located between the park and Wisconsin Avenue, adjacent to the headquarters of mortgage giant Fannie Mae:
I just wanted to report that last week there was a mountain lion sighting in McLean Gardens on the edge of Glover Park. I know it sounds crazy but two people were witness to the cat. I seems to be a young one, not fully grown. He was sighted at around 1:00 pm on October 17th. This seems to coincide with the two sightings reported in the news in August this year, one in [Loudoun] County and the other in DC in the District Heights area.
The Glover-Archbold sighting comes on the heels of other purported run-ins with D.C. wildlife. Earlier this week, a man was charged with driving under the influence after he crashed his car into the C&O Canal. The driver blamed his predicament on a bear sighting, which caused him to swerve off Canal Road around 9 p.m. on Monday. The bear was nowhere to be found and the man was arrested.
Last year, footage of a bear was captured by security camera of an apartment building on the 4800 block of Connecticut Avenue NW. The bear and his companions -- two deer -- grazed in the vicinity for just a few minutes before leaving.
All these incidents pale in comparison to 2005's epic rampage by a deer that wandered into trendy Georgetown stores Diesel and Ralph Lauren. The deer was eventually tranquilized and removed from a dressing room it had holed itself up in.
RELATED VIDEO: Bear Sighting At Connecticut Avenue Apartment Building
Calling all HuffPost superfans!
Sign up for membership to become a founding member and help shape HuffPost's next chapter