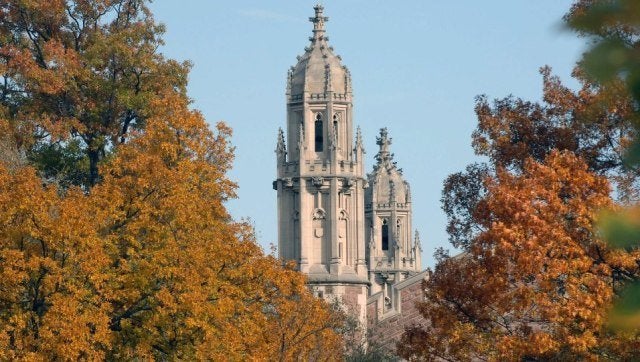 Another day, another fraternity controversy. This afternoon BroBible learned that Washington University in St. Louis' Sigma Alpha Epsilon chapter was suspended for an incident involving pledges who allegedly sang racial slurs to African-American students.
According to Washington University's Student Life newspaper, WU suspended all SAE activities following a racially offensive activity involving a number of pledges on Tuesday night. The paper and an account e-mailed to BroBible allege that SAE pledges hurled racial slurs and "inflammatory language" toward a group of African-American students who were eating in a campus dining hall. The incident was allegedly part of an SAE rush event.
A tipster wrote to BroBible an e-mail account of what allegedly happened:
Last night (February 26th), I was sitting at a table in Bear's Den with about 10 other black people. We noticed a group of three or four white males stop in the main pathway and look toward our table. One of them walked toward us and stood behind our table while his friends took out their phones and took pictures. One of them yelled out "Got it!" and he returned to the group. Mind you, we can clearly see what they are doing because the table is round, so at least half of the people were making direct eye contact with the picture takers. One of the girls sitting at the table yelled out to them, "Did you need us to pose?" All of the boys ignored her and walked away. Stunned, a few guys from the table followed them to the grill and asked if they had taken a picture of us. They claimed to be taking a picture of something behind us (which only happened to be a black worker and a large window) for a scavenger hunt, to which a freshman sarcastically replied "Oh, we're pretty photogenic, just ask us next time."

About 30-45 minutes later, the group of white males came back (there were more of them this time) and stood next to two booths that black people were sitting in. Some of the same black people who were present for the picture earlier in the night. One guy began to recite the lyrics to a rap song (Bitches Ain't Shit by Dr. Dre) as if it were a slam poem. He was reading the lyrics from his phone. The majority of the group of guys he was with found it funny and some were laughing. One member of the group was videoing the event on his phone. The guys in the group asked the black people in the booth to "show some respect" for the performance. As [redacted] continued to recite the lyrics, he came across the word "nigga" and said it with no hesitation. One of the black students tossed an empty bottle at him in anger only to be told by the group that it was part of the song, so it was okay. The black student replied that it was still offensive and the group apologized half-heartedly. One member of the group suggested that they shut down the show early.

[redacted] came back later introduced himself to formally apologize. He said that he was doing it for a student group. He did not want to say the name of the student group when asked to clarify. He finally admitted that it was part of an initiation for Sigma Alpha Epsilon. He said that because the group knew that he did slam poetry in high school, they thought it would be funny to have him say the lyrics to that rap song with the inflection of a slam poet. He also remarked that he had been on a slam poetry team in Atlanta this past summer, and was the only Caucasian member, as the rest had been African American. He remarked that his group had a conversation about the roots and connotations of the word, and he "understood the significance". A current member of SAE has stated that one item on the list was to "create a rap or poetry video." He is unsure about the accusation of needing to take a picture of a group of black people, but this rumor has been heard before.
The following thread was posted on Washington University's Class of 2015 public Facebook group:
Sharon Stahl, Washington University's Vice Chancellor for Students, addressed the incident in an e-mail to the student body announcing SAE's suspension:
Dear members of the Washington University community,

Core to our values as an institution is a firm commitment to creating a welcoming and inclusive environment that not only recognizes but also celebrates the diversity of our students, faculty and staff. When we fail to meet those values in any way, we are all affected.

The university received reports that late last evening in the Bears Den on the South 40, new members of one of the university's fraternities, Sigma Alpha Epsilon (SAE), engaged in racially offensive behavior directed toward a group of students of color.

This morning, I called together a group of university leaders after hearing about the reports, and we have already set in motion a thorough investigation of the incident and all those involved. In addition, all chapter activities of SAE have been suspended until the investigation is complete.

Just as important, we need to listen to each other about what happened and recognize the pain and disappointment that occur when any of us fail to live up to the expectations of living, studying and working here at Washington University. Therefore, as an important first step, members of my team and I will be reaching out to a number of student group leaders, including those from the Association of Black Students and Student Union's Diversity Affairs Council, to begin this dialogue.

It saddens me and it is unacceptable when any member of our community is a victim of discrimination, ignorance or hatred. The reported behavior is totally incongruous with the university's firm belief in the power of diversity. We are a community that values everyone, and this kind of behavior is an insult and an affront to us all. We are stronger as an institution and a community when we draw on our differences to learn and grow.

If you have any concerns or have more information about the incident, please contact my office directly at 935-3359.

Sharon Stahl Vice Chancellor for Students
Popular in the Community