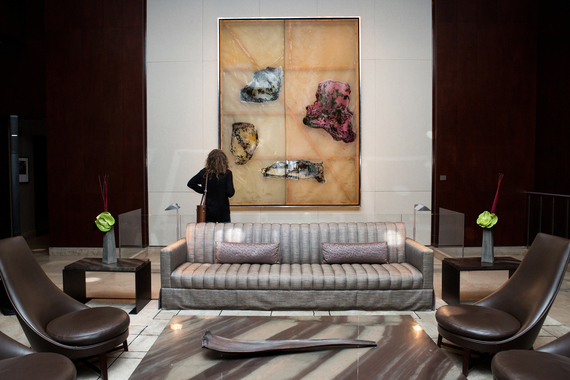 An arty crowd recently braved January's Siberia-like winter weather to assemble at the Park Hyatt Chicago in celebration of the installation of Sigmar Polke's 10-foot tall canvas entitled Siberian Meteorites. The 8-foot wide painting is a consummate example of a period in Polke's eclectic oeuvre and now replaces Robert Rauschenberg's Tropicana/Channel, which was on loan from Hyatt's Executive Chairman Tom Pritzker's private collection. Polke's painting dominates the same space where Gerhard Richter's Domplatz Malland (1968) was once displayed and later sold at Sotheby's for $37 million.
Public art has long been embraced by the city of Chicago, known for its vast number of outdoor sculptures. The Park Hyatts are leading the way globally in boutique luxe hotels that cater to the art world as well, displaying the work of significant, contemporary artists in their gathering spaces. The hotel chain even publishes ARTPHAIRE, a contemporary art magazine curated in-house.
"The Park Hyatt Chicago, and their other global properties, have led the way for luxury hotels to incorporate contemporary art into the luxury experience," said President and Director of EXPO CHICAGO Tony Karman. "This commitment is due in large part to the connoisseurship and art patronage of the Pritzker family and the Hyatt Hotels Corporation--to have works by Richter, Rauschenberg and now a Sigmar Polke in the grand lobby of a hotel is nothing short of extraordinary."
Polke, who died in 2010, was the subject of Alibis: Sigmar Polke (1963-2010), a spring retrospective at MoMA last year. Born in Poland, the German artist was often associated with his brethren painters Gerhard Richter and Joseph Beuys - indeed he was one of Beuys' favorite students at Düsseldorf. Polke assimilated some of Beuys shamanism and mysticism into his own work.
Birte Kleemann, director of the Michael Werner Gallery in New York, which represents the Polke estate, said "This is a museum quality piece that - besides its beauty and combination of several important ideas Polke explored during his lifetime - reveals to us a subject matter that was at heart to the artist: Meteors. The phenomenon of meteorites was crucial to Sigmar Polke and fascinated as he was by those cosmic elements, he was very well informed about their places of origin, their magical powers and properties...he started to integrate mineral material and other substances into his artwork. Siberian Meteorites plays with the materiality of the phenomena (of amber) by way of using artificial resin and other chemical processes in its creation."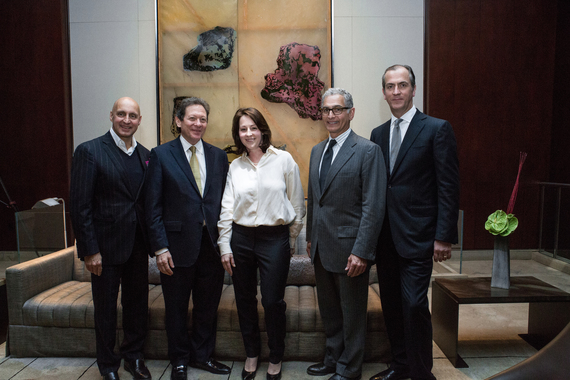 EXPO CHICAGO President/Director Tony Karman, Executive Chairman of Board of Directors for Hyatt Thomas J. Pritzker, Director of Michael Werner Gallery Birte Kleemann, President and CEO of Hyatt Hotels Corporation Mark Hoplamazian and Park Hyatt Chicago General Manager Peter Roth in front of Sigmar Polke's Siberian Meteorites, 1988 at Park Hyatt Chicago, January 7, 2015. Photo by Claire Demos.
The result is a stunning work that pulls us in with its illusion of depth and suggests that the meteorites are in motion.
Popular in the Community