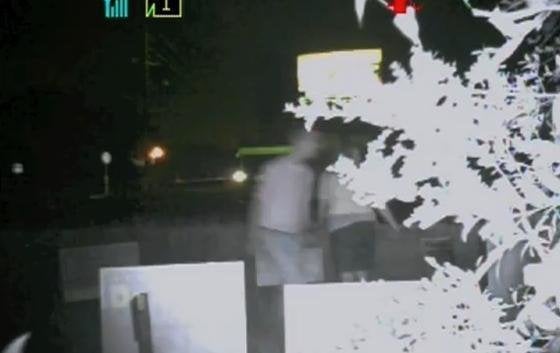 Politico's Jonathan Martin brings us news of how hectic the election season is getting in Florida. Campaign signs are being stolen -- by actual candidates! And other candidates are dispatching people to sit by themselves in the woods at night to catch them with infrared cameras.
Here's the back story: Greg Brown and Doug Broxson are both vying for the GOP nomination for the State House of Representatives, serving Florida's District 1. Jason Broxson, son of Doug, put up some campaign signs on the side of the road. He then trained a camera on the signs and went to hide in the bushes. At least someone in District 1 had something fun planned that evening!
Lo and behold, who should arrive on the scene but Greg Brown and his wife, who immediately began pulling up signs and taking them away. Jason Broxson got it all on tape, and now the Santa Rosa County Sheriff's Office has launched an investigation.
When contacted by phone Monday afternoon, Greg Brown said he and his wife did nothing wrong by removing Broxson's signs from property owned by a Brown campaign supporter.

He said he saw his opponent's signs on a vacant lot owned by Don Dewrell, 69, of Holt after leaving a political rally in Jay on Saturday night. He said he and Dewrell previously agreed that he'd be the only District 1 candidate allowed to put signs on the property.
See! Brown was totally in the right, except he sure acted like he was doing something he knew to be wrong. As he and his wife removed the signs, they voiced concerns over the possibility that they would be spotted by passersby or leave "fingerprints" behind. (I guess the local C.S.I. would have gotten involved in this?)
Anyway, it's a good thing that Brown and his wife didn't try to pull this crap in Alabama, where they have ways of dealing with sign-stealing thugs:
REAL LIFE. REAL NEWS. REAL VOICES.
Help us tell more of the stories that matter from voices that too often remain unheard.