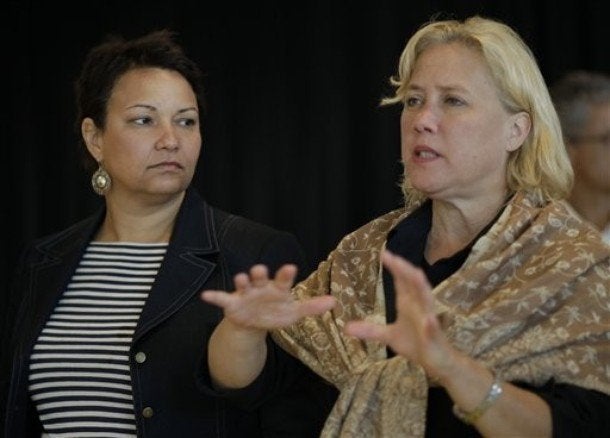 Sen. Mary Landrieu (D-La.) pledged her support for a public health care option less than six months before she announced opposition to such a plan, according to a signed letter she sent to a major reform coalition dated November 4th.
Read the letter, obtained by the Huffington Post, here.
"I'm not open to it. I'm not open to a public option," Landrieu told the Huffington Post early Tuesday afternoon. "However, I will remain open to a compromise, a full compromise. Public option is not something that I support. I don't think it's the right way to go."
It only took a few hours for her rejection of the public plan to become ammunition for the GOP. After lunch with his colleagues on Tuesday, Senate Republican Leader Mitch McConnell used Landrieu's rejection of a public health care option to make the case that the nation doesn't want such a "government plan."
McConnell, after citing a Washington Post editorial opposed to the public option, turned his attention to Landrieu.
"Apparently Sen. Landrieu just made an announcement a while ago that a government plan is a bad idea, and so I would strongly recommend to the administration, and to the majority in Congress, that if we're serious about getting a bipartisan health reform bill...the best way to go forward on a bipartisan basis would be to take out the government plan," a pleased McConnell told reporters.
Landrieu had told the coalition Health Care for America Now (HCAN) in April that she supported a public option, which would compete against private plans. She signed a pledge that she supported a "choice of a private insurance plan, including keeping the insurance you have if you like it, or a public insurance plan without a private insurer middleman that guarantees affordable coverage."
Landrieu went even further and drafted a letter to HCAN specifically spelling out her support for a public option.
"HCAN principles embody an approach that actually delivers a solution of guaranteed quality, affordable health care for all in America. Under this approach, everyone gets a choice of health insurance plans, including the right to keep your current insurance, choose another private plan or to join a public health insurance plan," she wrote in April.
"Again," she concluded, "I support the HCAN Statement of Common Purpose, and I oppose the 'on your own' approaches to health care reform that go against these principles. And, I salute the efforts of the broad grassroots coalition represented by Health Care for America Now to advance this most critical of issues."
The efforts of the coalition that she saluted will now be directed at her.
Throughout her congressional career, Landrieu has raised $1,668,693 from health insurance and health care interests -- broken down by "health professionals" ($607,616), "Insurance" $401,731, "Hospitals/Nursing Homes" $269,645, "Pharmaceuticals/Health Products" $224,696 and "Health Services/HMOs" ($165,005). HuffPost blogger Sahil Kapur helped gather the campaign figures from the Center for Responsive Politics.
Landrieu's office has been getting deluged by calls from reporters since the news of her public plan rejection broke and her spokesman Aaron Saunders responded to a request for a comment with a statement:
"Senator Landrieu is committed to reforming the health care system and ensuring that all Americans are covered. She is reviewing all of the reform proposals. Senator Landrieu does not believe that health care reform starts with a public option. However, she is open to compromise in a comprehensive legislative package, and is focused on appropriate consumer protection and patient-centered care."
REAL LIFE. REAL NEWS. REAL VOICES.
Help us tell more of the stories that matter from voices that too often remain unheard.