Whether you're pro giving to panhandlers or not, a group of artists wants you to at least know a homeless person's story before you pass him by.
"Signs for the Homeless," a project started by artists Christopher Hope and Kenji Nakayama, invites skilled drawers in Massachusetts to give homeless people's drab cardboard signs colorful makeovers. The goal is to enable panhandlers to better express their struggles and needs and the artists then share the before and after images, and a little bit of information about each person, on the group's Tumblr page.
The project is helping to dignify these down-and-out individuals and it may also help change the way passersby look at people living on the streets.
Seriously, would you be able to just look away?
Born and raised in Cambridge, Mass., Bobbi, 52, told "Signs for the Homeless" that she became homeless in 2011 after leaving her abusive partner, an unfortunate trend she said she sees among teens and women living on the streets.
She said she feels passionate about Occupy Boston and chooses to remain on the streets because of the violence she's experienced at homeless shelters.
"I sleep outside because the shelters are nothing but stomping grounds for predators and thieves," Bobbi told "Signs for the Homeless." "I get attacked in the shelter. My things get stolen in the shelters in Boston. So I've decided to stay outside."
Homeless for eight years, Rudolph West, 63, says he wants to get a job, but has trouble securing employment because of his criminal record. To survive Massachusetts' cold winters, West told "Signs for the Homeless," that he often crashes on friends' and family members' couches.
Colleen, 20, says she had a "good" childhood and doesn't want to delve into the reasons for why she ran away from her family. But for the past three years she's been living on the streets and struggling with addiction, a plaguing problem that has led her to overdose and burn relationships with relatives. It's something she believes only a "miracle" will finally fix.
"No one wants to be homeless. I hope that people read this and understand… no one sets out to be on the street," Colleen told "Signs for the Homeless." "It's just that life happens, and it can happen to anyone. Growing up I was told not to judge anyone, so I hope people don't judge me."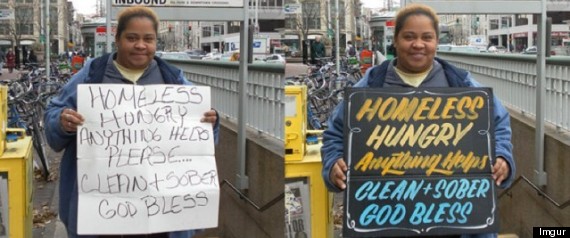 Angela Douyon-Previlon says she grew up impoverished in Boston with three siblings on her mother's side and 25 siblings on her father's side. Douyon-Previlon says she became homeless four years ago after she could no longer tolerate living with her abusive sister who once stabbed her in the head during a fight. She says that the lifestyle is rough, but she tries to remain optimistic.
"[The biggest struggle is] being depressed," Douyon-Previlon told "Signs for the Homeless." "I do not like this lifestyle. I try to stay positive because you could be depressed living in the streets."

Before You Go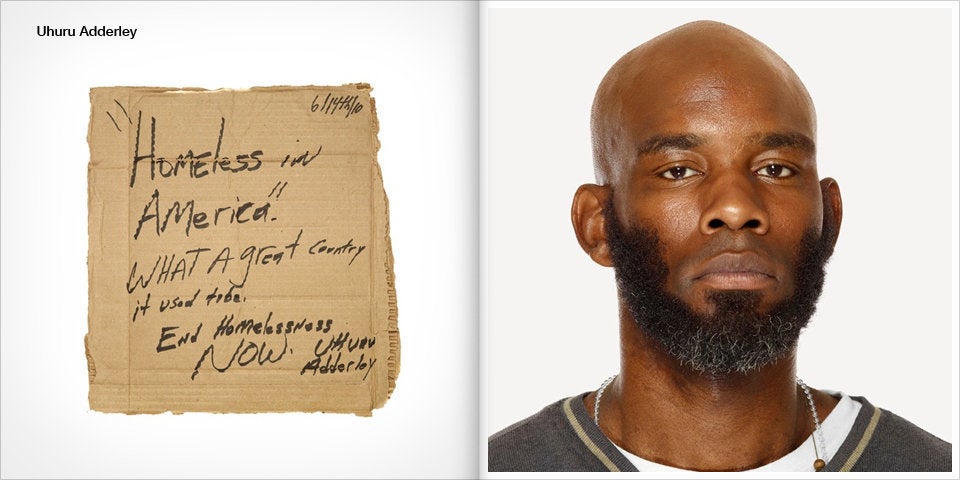 Starving Artists Project NYC
Popular in the Community