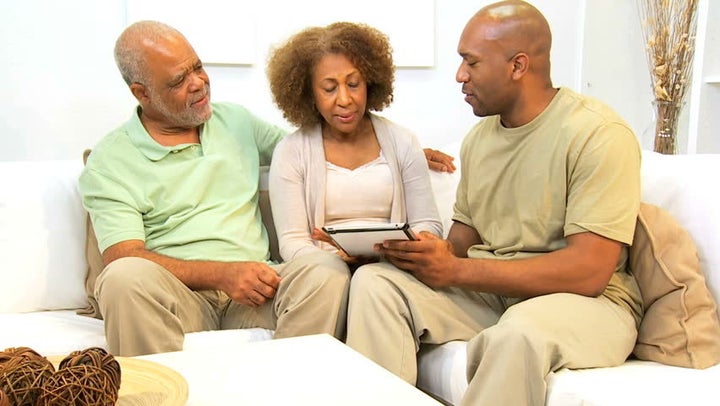 Searching for sales before and after the holidays aren't the only important things to look for in the next few weeks. If you are visiting aging parents and other family members, you should also be looking for signs that your loved ones may be struggling with depression and other health issues.
According to a 2013 study, Christmas and New Year's were cited as risk factors for death in the United States. Senior citizens and people of color were disproportionately represented in that study, each having higher rates of death during these holidays than all other groups. While the rates are high, identifying risk factors early is the best mode of prevention. To me, this is such a personal issue because I lost a friend on Christmas Day in 2015. In his social media posts the few days prior to taking his own life, the tone was upbeat, uplifting and more spiritually at peace than he had been in the months before after losing his mother and sister (also his only living relatives) to various diseases. His health was declining as well. I'd like to say it came out of nowhere, and that was my initial reaction, but I knew; all the signs were there and had been not just for months, but intermittently in the 26 years I knew him. He may have tried when we were teens, but I never thought he would actually kill himself.
The same can be said for the elderly who may not have the same degree of social interaction they had years prior, their friends and people they knew for a lifetime may be ill or have passed away. Family visits may be declining and immobility or poor health can have an emotional impact that isn't always visible when we are so focused on their physical care. However, there are signs that we should take note of this holiday season as we prepare to visit and spend time with our aging friends and family members.
Sharon Roth Maguire, MS, RN, GNP-BC, is the Chief Clinical Quality Officer overseeing the BrightStar Care clinical-quality platform (a full bio is below). Sharon and I talked about the things we need to be cognizant of and address when visiting with aging adults over the holidays. Here's what she had to say about how to recognize signs of distress and how to address them:
Aisha: I'm 43, I am just now coming to terms with the fact that middle age is here. For people my age or older, how do we address this issue with our parents, especially since we never really see them as aging because they've been THE adult our whole lives? How do we broach the subject without having our concerns dismissed and WHEN do we have it?
Sharon: Have the conversation early. Use yourself as the example and say, "this is what I have set up for me, what do you have planned?" Financial planning and having certain medical documents in order is critical regardless of age, anyway. Ask yourself, do a self-assessment, "do I have a will, financial or health care power of attorney?" Then you can pose it to your aging loved ones in the context of you working on your own and saying, "you know, I'm working on this, I wonder about your papers." Don't ask all at once--- funeral arrangements, will, medical directives, elder care, etc., but center it around yourself and ask over time; it's a gentler and easier way to address the issue. Also sharing a real story helps to ease into what is a difficult discussion to have.
Aisha: What physical hazards should we be looking for when we visit?
Sharon: Weight loss, unplanned or unexplained, medication side effects, risk for falls, immunity. There may be some decline in physical or emotional health as well. Is there impaired balance, having an unsteady gait or holding onto surfaces in ways they haven't had to before? Ask yourself what could be contributing to this? Neurological changes, blood pressure changes are also things to look out for, as is dependency on alcohol; this is a more common among the elderly than we acknowledge. Sometimes it [alcohol] is used to dull emotional pain, but some also use it to help them sleep because sleep disturbances occur more as we get older. Also, the home, itself, can present hazards. Throw rugs present a slip and fall hazard. Is there clutter, not hoarding, but if someone who was meticulous about taking care of their home are no longer concerned, this could be a sign of depression or that they no longer are able to move around and do what they used to around the house and may not want to ask for help. Stairs are also a fall risk, as is not having the appropriate lighting to see is a hazard as well.
Aisha: What are the emotional signs of trouble we should look for?
Sharon: We think of holidays as a happy time, but many people experience the 'holiday blues.' Seasonal affective disorder is more prevalent, the weather has changed, we aren't always seeing adequate sunshine, some are not as interested or don't want to attend things they once enjoyed. Are they become more introverted and has personal care declined?
Aisha: How do we initiate a conversation without letting them feel we are infringing upon their independence?
Sharon: One of the strategies I found helpful is to present it in the context of concern and worry. Make it more about you as the interested loved one.Say, "I've been seeing these things." They may shrug it off, but then try again, gently. Explore it in a gentle way. Don't come up with solutions without giving them a chance to understand the need. Tell them it would make you happy to help. Say, "I want to help you the way you helped me." Let them know you see it as a pleasure and honor to help them. Also know that as the loved one, just because you see it and say it won't make it so; not every person will take the help you are offering.
Aisha: What are some support resources we can look for and how do we vet those resources?
Sharon: Use reliable entities that have a track record. Accredited by Better Business Bureau (BBB) are there ways they train and vet their employees. Are they being supervised.
Aisha: If a retirement home is the only option, how do we make that transition as smooth as possible?
Sharon: Ideally, people should stay in their own home as long as possible. The level of complexity in-home care can contain has grown. There's minimal care, like a once-a-day medication visit, to make sure prescriptions are being given, to 24/7, live-in care. It depends on your needs and your budget. There may be a time for residential care, however, and there are some benefits to that kind of care. For one, there is a social environment that may be more robust. There may be a need more for monitoring behavioral issues that require that kind of care. If 24/7 live-in care is not comfortable, assisted living may be the option as they have 24/7 awake staff. Trained caregivers are critical. How do we get them to recognize it is time to go? Remind them of the benefits: all needs are taken care of; no more paying bills for things like yard work. Yes, the loss of independence is often very difficult and is not what we want, but we have to think about what is best for their quality of life, weigh the options, then face it head-on.
Sharon Roth Maguire, MS, RN, GNP-BC, oversees the BrightStar Care clinical-quality platform including operationalizing the client care experience, designing clinical operational systems for domestic and international BrightStar Care locations, and managing clinical policies and procedures. Additionally, she leads Joint Commission accreditation and related processes, clinical program development, and plays a significant role in BrightStar Senior Living, BrightStar's first residential product line focused on assisted living and memory care.
Before coming to BrightStar, Roth Maguire served as Senior Vice President of Health and Ancillary Services at Horizon Bay Retirement Living in Tampa, a senior housing company with over 90 properties in 20 states. In this role, Maguire was responsible for the oversight and execution of strategic company objectives within healthcare and memory care product lines including Medicare home health and private duty home care. Prior to Horizon Bay, Roth Maguire was the Vice President of Clinical Services for Brookdale Senior Living. A publicly traded for-profit senior care and housing company, Brookdale is the nation's largest provider of senior care with over 1000 properties in 42 states.
In addition to Maguire's extensive healthcare background, she has served on numerous boards and associations in the industry, including the Alzheimer's Association, the Assisted Living Federation of America and was the President of the National Conference of Gerontological Nurse Practitioners. She has been published in various professional and industry journals and authored chapters in well-respected textbooks. She speaks at the national level on a variety of topics relevant to senior care including dementia, falls, therapeutic environments, person-centered care, and healthcare informatics. Roth Maguire has taught in both graduate and undergraduate nursing programs, most recently in the role of clinical assistant professor at Marquette University.