My mom is a "young mom." By the time she was my age, while most of her friends were graduating from college, starting new jobs or backpacking through Europe, she'd already had two kids. (Strangers would frequently mistake her as our "big sister.")
But my mom just wasn't a young mom, she was (and still is) a cool mom. The mom that all your friends are jealous of, the mom who you weren't embarrassed to be seen with at the mall, the mom who told you stories about skipping class and going to McDonald's or that time she got caught with cigarettes in her purse during middle school, earning the nickname "Smokey the Bear."
Started from the bottom now we're here.
(Please note the matching gold hoop earrings.)
Though her *~WiLd~* days are behind her, she's still young at heart. Here are 23 signs you know you have a #foreveryoung mama.
1. People have totally referred to you as the "Gilmore Girls." It's a compliment.
2. When you hang a poster of Harry Styles on her bedroom door as a joke and she leaves it there.
3. She has a Lauren Conrad bedding set from Kohl's. And she lets you know when it's on sale so you can buy one for yourself.
4. You send her screenshots of the dudes you go on dates with.
5. Her emoji game is on point.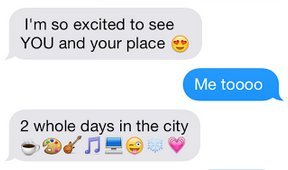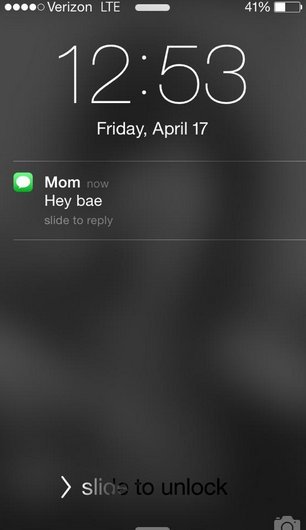 8. And she obviously follows the most important people on Twitter.

9. She shares your excitement when a member of One Direction follows you.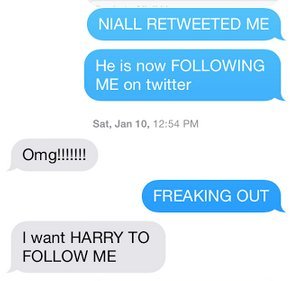 11. She lets you create an OKCupid account for her when you're bored over Christmas vacation.
12. She's more familiar with Top 40 radio than you are.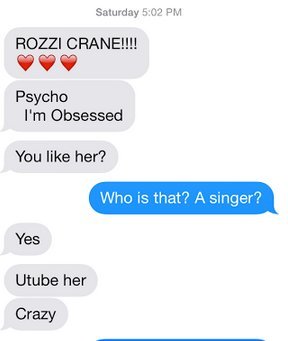 13. She's a selfie ~queen~ in the making.
14. She got her nose pierced when you were in high school, officially setting the standard for "cool."
15. She has a few tattoos. And is open to getting more.
16. Most suburban Connecticut kids went to see Dave Matthews Band at The Meadows with their friends in high school. You went with your mom. #Lifeisshortbutsweetforcertain
17. She doesn't lecture you when you eat chips and hummus for dinner. Instead, she joins you.
18. Your friends are all on a first name basis with her. There's no "Mrs." or "Ms." It's just Kristin.
19. You borrow her clothes. Sure, she's got those Ann Taylor and Talbots "mom" staples in her closet, but she also has super cute Lucky boyfriend jeans that are your size.
20. Sometimes, you even wear matching pajamas.
21. She enthusiastically dyes your brother's hair red, blonde and then back to brown because self-expression, yo.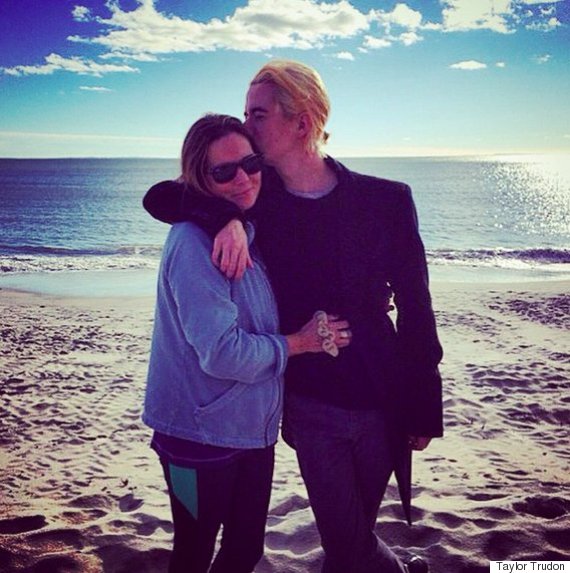 22. She has told you that you can be "uptight" and that you need to "live on the edge a little." WHATEVER, MOM.
23. She's the Katie Holmes to your Suri Cruise, the guac to your chips and the wind beneath your winged liquid eyeliner -- and you wouldn't have it any other way.
Happy Mother's Day to this pretty young thang. Thank you for being the definition of #MotherDaughterGoals.
REAL LIFE. REAL NEWS. REAL VOICES.
Help us tell more of the stories that matter from voices that too often remain unheard.
BEFORE YOU GO
PHOTO GALLERY
Stylish Movie Moms