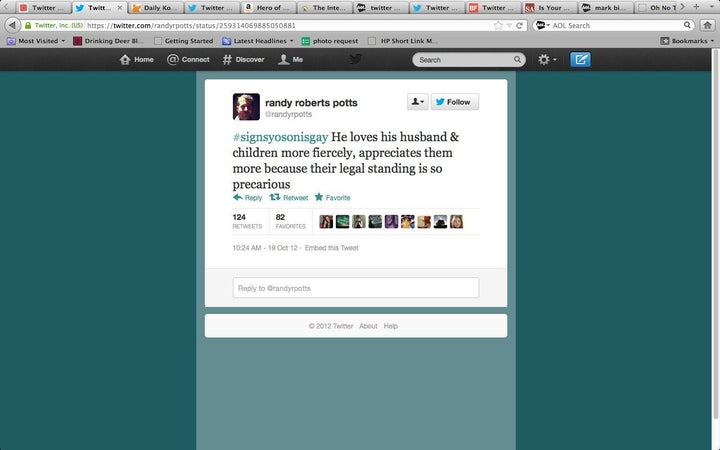 Twitter is a funny place--trending topics on the social media site can range from the mundane to the topical to the truly bizarre and offensive. But a fairly wonderful thing manifested itself yesterday on the Interwebs. Twitter users by the thousands hijacked the inane, anti-gay (not to mention often unintelligible) new hashtag, #SignsYoSonIsGay, flooding it with inspiring messages of positivity.
It's unclear why anyone would start the hashtag in the first place. Apparently, someone who thinks that stereotyping the LGBT community is always good fodder for a joke or two.
Not surprisingly, at first, many people obliged.
But just as many Twitter followers soon started posting messages of their own--with a distinctly different theme. As the Daily Kos wrote, this is what "countering homophobia on Twitter looked like. And it's a beautiful sight to behold."
In a committed relationship for 5 years, which is 4 years and 293 days longer than Kim Kardashian's marriage. #signsyosonisgay

— Tim Bouaphanh (@timbouaphanh) October 21, 2012
#signsyosonisgay He loves his husband & children more fiercely, appreciates them more because their legal standing is so precarious

— randy roberts potts (@randyrpotts) October 19, 2012
Popular in the Community