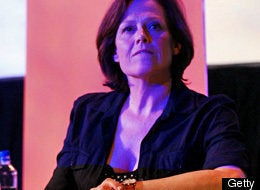 Service comes in many forms. In my article last week I discussed how positive images in television are serving LGBT youth. As Pride month comes to completion this weekend with the largest celebrations occurring throughout the biggest cities in our country (New York, Chicago, San Francisco, etc.), Prayers For Bobby dominates my mind as one of these television movies that provides a significant service to humanity and even helps save lives. It deserves its own discussion.
Prayers for Bobby is a true story of profound tragedy that leads to personal transformation. Mary Griffith (played by Sigourney Weaver) could not reconcile her obsessive adherence to Christian Presbyterian dogma and her son Bobby's homosexuality. It engendered severe self-loathing in Bobby Griffith who threw himself off of a freeway overpass in 1983 when he was 20 years old, leading his mother to renounce her homophobia and fundamentalism and become a pro-gay activist.

Daniel Sladek, one of the Executive Producers on the film shared with me that Sigourney Weaver insisted on meeting Mary Griffith before accepting the role, "It was important to her to ensure that she had Mary Griffith's approval," he said. They visited Mary at her home north of San Francisco and after a meeting that went well, upon sitting with Weaver on Bobby's bed she declared, "We have a responsibility to get this right." Hearing this I realized that Weaver understands that at times an actor can accept a responsibility to help educate and transform our society. Weaver and the other actors in Prayers for Bobby knew that this is what they were up to. As a result Weaver is very well on her way to an Emmy Award for this film and was honored with the Trevor Life Award by the Trevor Project upon which she declared, ""I hope that films such as Prayers for Bobby will send messages of compassion and acceptance to all people, and compel them to create safer, all-encompassing environments for our young people." The Trevor Project is the leading national organization focused on crisis and suicide prevention efforts among LGBTQ youth.
Ryan Kelly who played Bobby in the movie states simply:

I just wanted to do my best to portray the struggle and anguish the real Bobby Griffith was going through, to hopefully show kids around the world that they are not alone. No matter how conflicted they are feeling inside.
Scott Bailey, is a straight actor who plays the role of Bobby's boyfriend. In a blog post he wrote:

I will never forget the energy and emotion on the set while filming Prayers for Bobby. The poignancy and importance of this story fueled a reverence and passion amongst producers, actors and crew alike which resulted in the most visceral movie-making I have ever experienced! Many people involved had experienced similar hardships "coming out" and all were united in wanting to open hearts and minds toward an understanding of homosexuality.
So what are some of the lessons these actors are teaching through their roles in Prayers for Bobby?
1. Unconditional love trumps religious dogma
It is challenging to hear a story of a mother whose rejection led her son to take his life. Nonetheless, what Weaver illustrates in Mary Griffith is the intense love that was always present throughout the Griffith family. Mary loved her son so much that she wanted nothing more than her adherence to a cartoon like idea of religion and god to save him. It took his tragic death for her to realize that it was her profound ignorance that killed him. At fifty year's old she renounced the beliefs she held her whole life, transformed her paradigms and stepped deeply into the unconditional love that she had for her son. She became an advocate for PFLAG (Parent's, Families and Friends of Lesbians and Gays) accepting her role in ensuring that another family does not live this story.

2. There is nothing to "save"
Leroy Aaron's book (upon which this film is based) explains that the beginning of Mary's transformation came in a dream. She dreamed of her son as a baby, who although perfect and happy had an odd shaped head, but nonetheless was a divine child of God. She awoke to realize that the message in the dream was that God had not saved Bobby in the way for which she fervently prayed, because he was already perfect, homosexuality and all. Her attempt to "save" him was misguided.

3. Listen for the truth
The Griffith's tragedy illustrates what occurs when someone chooses to remain blindly entrenched in dogma as Mary Griffith did for the first fifty years of her life. As a result, she was unable to hear Bobby's truth. Listening for the truth means to listen beyond the words you hear. If Mary Griffith could hear Bobby's truth when he "came out," she would have heard, "Mom, I'm gay and I am still the son you gave birth to. I am in deep pain and I need you to love me for who I am not for who your dogma tells you I should be."
4. Stand up for what's right
This is a message from Scott Bailey's blog: "As a straight white guy I think it is right and important for me to stand up for the minority, don't you? I hope I'd have stood up to give my seat to Rosa Parks, don't you? I hope if I'd been a founding father I would have risked my life to create a better future, don't you? I hope if I'd been around during WWII that I would¹ve volunteered to fight for freedom, don't you? In this day and age I am proud to see an African American President, not merely because he is black but because he was the best man for the job, aren't you? I am also very disappointed that anyone in this great country is discriminated against, aren't you? I therefore think it is a moral imperative that movies like Prayers for Bobby are made and seen! DON'T YOU?!"

5. A few people can make a significant difference
Bobby's death ignited Mary Griffith's fierce advocacy for PFLAG (Parent, Families, and Friends of Lesbians and Gays). PFLAG was inspired by Jeanne Manford in 1972. The year prior she watched her gay son on television being thrown down an escalator at a Gay Rights Demonstration, which the police stood by and watched. In her anger and love for her son she marched with him in that year's Gay pride parade. As a result other young gay people approached her and asked her to talk to their parents. That was the beginning of PFLAG, which has grown into a national organization with 200,000 members and supporters, and local affiliates in more than 500 communities across the U.S. and abroad.
There's a scene in Prayers for Bobby where after Bobby's death, Mary Griffith is marching in the gay pride parade in San Francisco with PFLAG. She spots a young man watching the parade with a grim look on his face. He reminds her of Bobby. She steps out of the parade to go up to him and give him a hug. In that moment you see this young man's whole world shift.
Here are some examples solicited by the Prayers for Bobby website (www.prayersforbobby.com) that illustrate the impact this film has had, (which took Executive Producers Daniel Sladek, Chris Taaffe and David Permut twelve years to make):

I am writing to say thank you (although it doesn't even scratch the surface on the impact this story has made on my life). I happened to catch the movie on tonight while planning out how to end my life. I felt so connected to Bobby (almost like it was about my specific situation). I live in the southeast and being gay is worse than committing murder according to most churches I've been to. Despite all the stereotypes, oppression, and ignorance, we must band together, family, friends, and those going through "it" themselves. This has been the hardest thing I have ever gone through and I almost didn't make it through the week. I know there are so many more young men out there in the same boat. We need love. We need compassion. We need to be given an opportunity to live.

Your story has saved my life. This movie was just in time for me. I never cry when I watch movies, but Prayers for Bobby really hits home with me. I'm 15 years old, bisexual, and I've always wanted to become a nun. My church has rejected me though, and I'm not welcome anymore at my church's youth service unless I am in the mood to be pinned against the wall. This movie has, indeed, saved my life. And I thank you for this.

I loved this movie so much. I cried from beginning to end. He is just like me and his mother is just like my mother. Everything she did my mom did. Everything that happened to Bobby in this movie happened to me in real life. I just don't want my life to end like his did. I know my mother loves me and I love her but she won't accept me for me.

I just wanted to thank you for making this movie. I know now that I'm not alone and I don't need to end my life like he did. I almost overdosed on pills a few months ago in my apartment alone. I was rushed to the hospital and I'm better now. This movie has helped me realize how many people are going through what I'm going through. Thank you.
If you are an LGBT youth reading this article know that we care about you and you have options. There are resources available to support you. Here is a list of national resources that serve LGBT youth.
Please share your stories and comments below.
Prayers for Bobby is under consideration for Primetime Emmys, including Best Made for Television Movie, Sigourney Weaver for Best Actress, and Ryan Kelley for Best Supporting Actor. The film will have a special screening with a panel discussion including cast and producers on Sunday, July 19, 2009 at 12pm at the DGA as part of Outfest 2009. The film premiered on January 24, 2009 to 3.8 million viewers and was aired again on June 23, 2009

In an ever-changing world Jason's coaching empowers you to start living life on your terms, creating a career and life based on personal integrity and authenticity! Learn more at www.jmannino.com and request a free copy of Jason's e-book: Mind Your Mind, Manage Your Thoughts: Tips to Turn Your Mind Into Your Ally by e-mailing info@jmannino.com